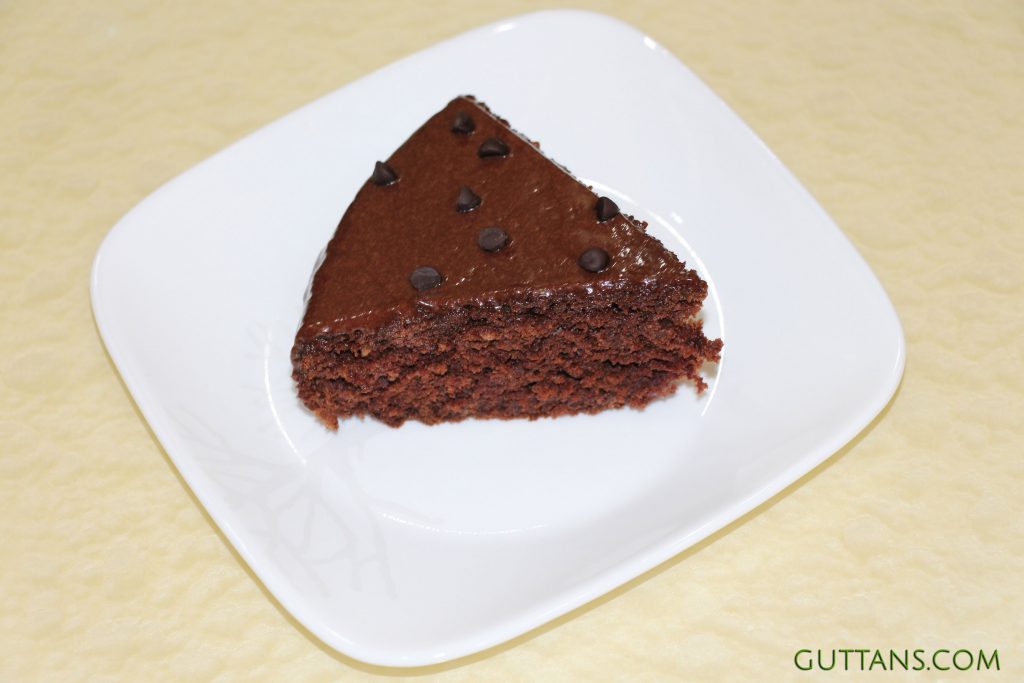 Easy Chocolate Cake Recipe – The easiest and BEST chocolate cake recipe, using simple classic baking ingredients.
Cooking is an art and baking is a science. Always cooking or baking involves lot of Mathematics and Science, though it is unnoticed. First do your math (knowing the right proportion of ingredients used in the recipe, cooking time, cooking temperature etc…) and then follows the science (chemistry of reactions of ingredients). Here are some interesting findings.
BAKING SCIENCE IN EASY CHOCOLATE CAKE
BUTTER & OIL : Easy Chocolate Cake Recipe uses both butter and oil because it gives the best taste with soft and fluffy texture. Oil cakes tend to bake up loftier with a more even crumb and stay moist and tender far longer than cakes made with butter. Oil is a guaranteed moist-maker in cakes and cupcakes.
Cakes made with butter often taste better with good, rich flavour. Using melted butter instead of oil does make the cake texture slightly different, it is still delicious and worth trying if you would prefer to use butter in place of oils in the chocolate cake.
COCOA FOR DARK AND CHOCOLATEY CAKE : Natural unsweetened cocoa powder is recommended for this cake. It is rich in cocoa butter and dissolves perfectly into the batter to create a nice, smooth texture, dark colour and strong chocolate flavour. Hershey's Unsweetened Cocoa powder is recommended if you wish.
There are two types of cocoa. Naturally unsweetened and Dutch processed. When using a recipe with baking soda only or baking powder only, the type of cocoa matters. Dutch processed cocoa is more alkaline than natural cocoa, and will not react with baking soda to rise. Generally, Dutch processed cocoa requires baking powder to rise. So make sure to use natural cocoa powder.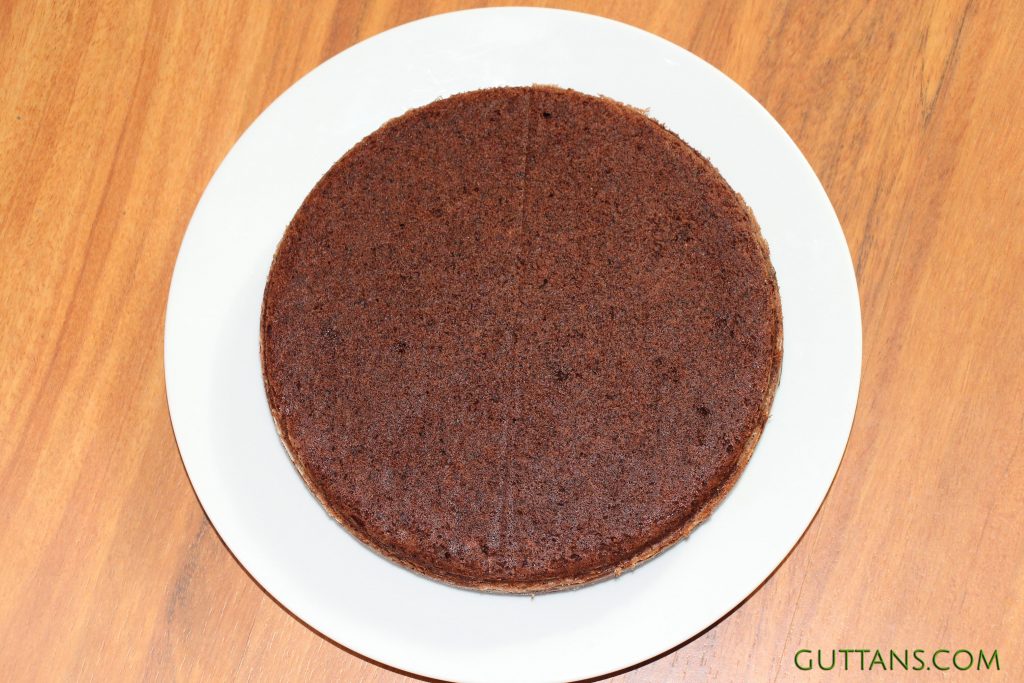 SALTED OR UNSALTED BUTTER : Unsalted butter is traditionally recommended for baking, as we can easily control the quantity of salt in the baked goods. It also has a light, fresh and smooth flavour to make the cake. Incase, if you use salted butter, adjust the salt in your recipe accordingly. Rule of thumb to follow is that, most butter brands add about ¼ teaspoon salt per ½ cup butter.
BAKING SODA & ACIDIC COMPONENT : In baking, the usual acidic components include: buttermilk, brown sugar, molasses, vinegar, yogurt, lemon juice (or other citrus juice), natural cocoa powder (dutch processed cocoa powder is not acidic), and chocolate.
Baking soda is ideal to be used instead of baking powder if there is an acidic component because it is about two to four times more effective than baking powder. When paired with the acidic ingredients (cocoa & buttermilk) in this chocolate cake recipe, baking soda adds lift to the cake with better leavening.
BUTTERMILK : Tangy buttermilk brings beautiful flavour and tenderness to sweet and savoury recipes. The acidity of the buttermilk reacts with the baking soda, leaving a delicious and delightfully light texture. Buttermilk can be used in biscuits, cakes, pancakes, quick breads, and countless other delicious recipes. The acidity in buttermilk pairs well with the richness of the chocolate cake. So don't omit buttermilk from this recipe.
SALT, FOR ENHANCING THE FLAVOUR : Never skip the salt in a chocolate cake recipe. While the 1/4 teaspoon of salt in a recipe might seem small and negligible, this salt does wonders for all cakes, especially chocolate ones. As a flavour enhancer, it packs a big punch, making the cocoa more prominent while balancing out the sweetness.
EGGLESS CHOCOLATE CAKE (MAKE THE EGGLESS RECIPE)
Replace Egg with milk, baking powder and oil in this recipe to make eggless chocolate cake. Baking soda in the recipe is a leavening agent that gives cake the structure and strength. Small quantity of baking powder is added and maintained the balance of baking soda and powder to get desired softness. Note that substitutions always do not give exactly the same results. Substitute egg with
4 Tbsp of milk + 1 tsp oil + ¼ tsp baking powder.
There are many substitutes for fresh eggs, but they do alter the recipe. As per the nutrition facts, egg provides approximately 5gm fat (Egg white 0.05g + Egg yolk 4.5g) and 6 gm protein (Egg white 3.6g + Egg yolk 2.7g). Here, in this substitution, 4 tbsp milk provides approx. 2g protein + 2g fat and 1 tsp oil provides 4.5g fat.
Usually yoghurt is used as egg substitute. But here, instead of yoghurt, milk is used to balance the sweet sour flavour of the cake and to avoid an overriding sour taste by using yoghurt.
Eggs are the backbone of many baked goods and contribute to its structure – it binds, leavens and moistens. Eggs also provide steam for leavening or moisture for starch. Egg yolks add moisturizing fat and give the baked good a smooth and creamy texture. The egg whites act as strengthens.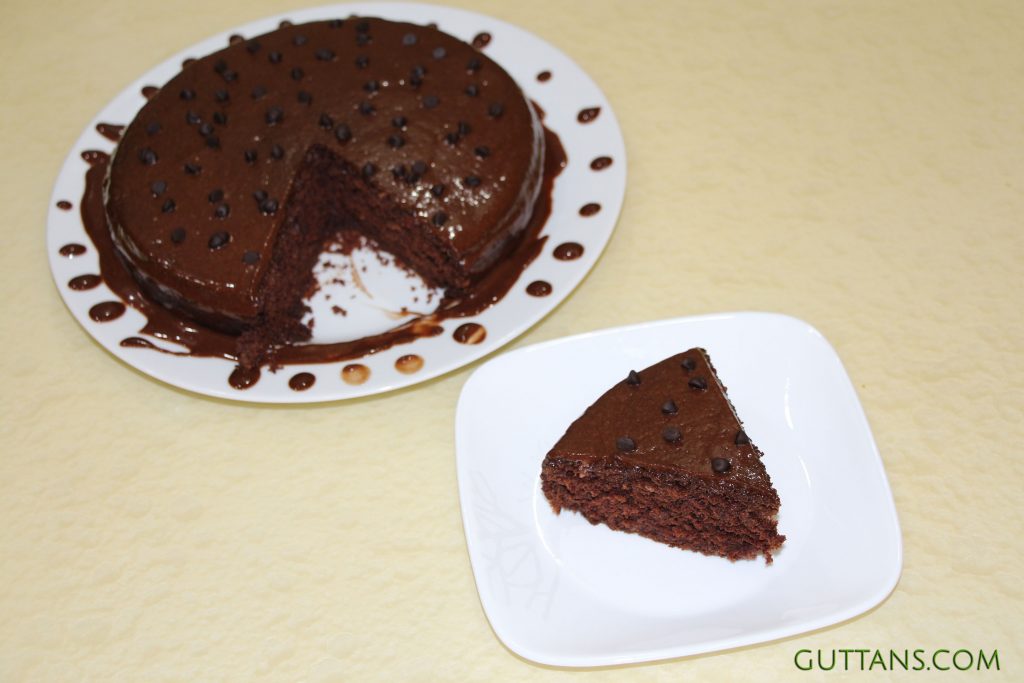 MAKE A SUPER MOIST CAKE (HOW??)
Make sure all ingredients are at room temperature before beginning. Avoid overbeating, while mixing dry ingredients with the wet ingredients. Just fold the dry ingredients with the wet ingredients. Fold until it is mixed well and the batter is smooth with ribbon consistency.
OVEN AND COOKING TIME
Baking time varies with oven. It is recommended to bake until a skewer inserted comes out clean. But, avoid opening oven doors in between baking. As soon as you open the door to look, heat escapes, altering the temperature of the oven and leading to uneven baking. Make sure not to open the oven door in the first 20 minutes of baking to give the batter a chance to properly set. After that, open only to check for doneness toward the end, rather than opening multiple times during baking.
Baking Science References : Epicurious , Taste of Home Baking Guide , Chocolate Guide , Butter Guide , Sallys Baking Addiction , Baker Bettie , Mashed
EASY CHOCOLATE SAUCE
Easy and simple chocolate sauce frosting recipe is made with Cocoa Powder, Milk, Sugar and Vanilla Extract. It is a quick recipe that is ready in minutes with easily available ingredients.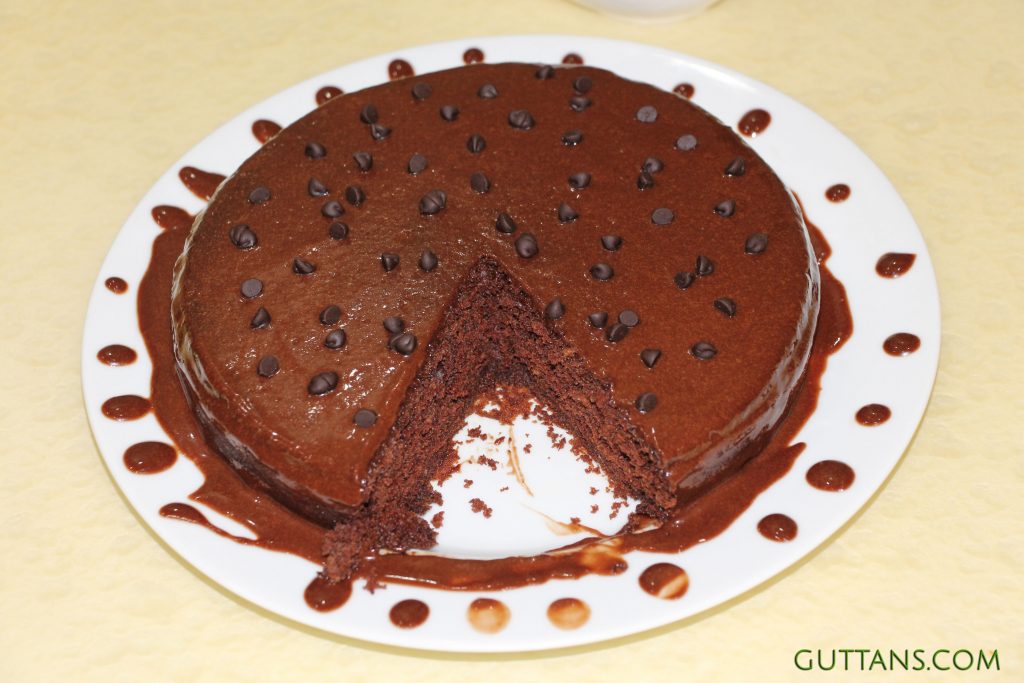 INGREDIENTS TO MAKE THE EASY CHOCOLATE CAKE
Ingredients to make the easy chocolate cake are butter, oil, sugar, buttermilk, egg, vanilla extract, all-purpose flour, baking soda, cocoa powder and salt.
STEPS TO MAKE THE EASY CHOCOLATE CAKE
Easy chocolate Cake making involves classic cake making steps:
Prepare the oven and pan
Make the batter
Bake the cake
Check the below recipe card for ingredient's measurements and detailed instructions.
★ We love your Feedback !! Have you tried this Easy Chocolate Cake Recipe? Please click on the stars in the recipe card below to rate. You can also follow GuttansFood on Facebook, Instagram to see what's latest Guttans Kitchen.
Easy Chocolate Cake
The easy and best chocolate cake recipe, using simple classic baking ingredients.
INGREDIENTS
CHOCOLATE CAKE
4

tbsp

unsalted butter

(57 g, melted)

2

tbsp

vegetable or canola oil

(30 ml)

¾

cup

granulated sugar

¾

cup

buttermilk

(180 ml)

1

egg

1

tsp

vanilla extract

1

cup

all-purpose flour

½

tsp

baking soda

4

tbsp

unsweetened cocoa powder

¼

tsp

salt
CHOCOLATE SAUCE FROSTING(OPTIONAL)
2

tbsp

Cocoa Powder

6 

tbsp 

Brown Sugar (or White Sugar)

½

cup

Full Fat Milk (or ½ cup milk + 1 tbsp butter)

(or ½ cup fresh cream)

½

tsp

Vanilla Extract
INSTRUCTIONS
PREPARE OVEN AND PAN
Prepare an 8" or 9" round pan or any loaf pan for making the cake.

Grease the pan with softened butter, ghee, oil or baking spray (if using flour based baking spray, no need to dust the pan). Grease evenly using a pastry brush or hand.

Trace the bottom of the cake pan onto parchment paper with a pencil. Cut out round or square or the traced shape following pencil marks.

Line the base by placing the cut out piece of parchment paper at the bottom of the pan and then smoothing out to remove any creases or air bubbles. Grease the parchment paper.

Dust the greased surface adding a couple of tablespoons of flour (Dust with sifted cocoa instead of flour in chocolate cakes). Use a strainer for even coating. Shake it around the pan until the side is lightly and completely covered. Invert the pan and shake out excess flour. Keep aside the prepared pan.

Note : Sides of the pan can either be greased and dusted or it can be greased and lined with baking paper.

Preheat oven to 175°C degrees for 10-15 minutes.
MAKE CAKE BATTER
In a large mixing bowl, whisk together melted butter, oil and sugar until combined.

Whisk in buttermilk, egg and vanilla. Stir well and mix until thoroughly combined.

Sift in flour, cocoa powder and baking soda into the wet mixture.

Add salt and fold dry ingredients gently into the wet mixture using a spatula until the flour has disappeared.

Make sure to scrape the side and bottom of the bowl while folding and do not over mix.
BAKE THE CHOCOLATE CAKE
Pour batter evenly into the prepared pan.

Make sure to fill cake pans only about 2/3 full with batter.

Smooth top and tap the bottom of the cake pan on the kitchen counter or some hard surface to eliminate air bubbles from cake batter and even out the surface. This ensures even baking.

Bake in the middle rack for 30-40 minutes (it varies depending on oven), until a skewer inserted in the middle of the cake comes out clean.

Allow to cool 10-15 minutes in pan, and then run a knife or spatula along the edge of the cake to loosen the sides.

Invert the pan and turn out the cake completely on wire rack and cool before cutting or frosting.

Easy Flip Tip: Place an upside down cooling rack over the top of cake pan. Flip the pan (together with rack) over, so the cake rest on the cooling rack and then remove the pans.
EASY CHOCOLATE SAUCE
In a small saucepan, over medium heat, melt butter, if using.

Pour milk followed by the sugar and cocoa powder.

Whisk continuously and boil until mixture thickens.

Remove from heat and whisk in the vanilla.

Cool it completely. Sauce thickens more after cooling.

Spread over the cake or Serve with ice cream or brownies and enjoy!
Notes
MEASURING TOOLS USED : 240 ml cup, 15 ml tablespoon and 5 ml teaspoon.
♥ Share The Recipe !! Did you try this Easy Chocolate Cake Recipe? Please share the recipe  link on facebook, pinterest and twitter. Mention @guttans or tag #guttansrecipes when you share in Instagram!! Thank you & Happy Cooking!!