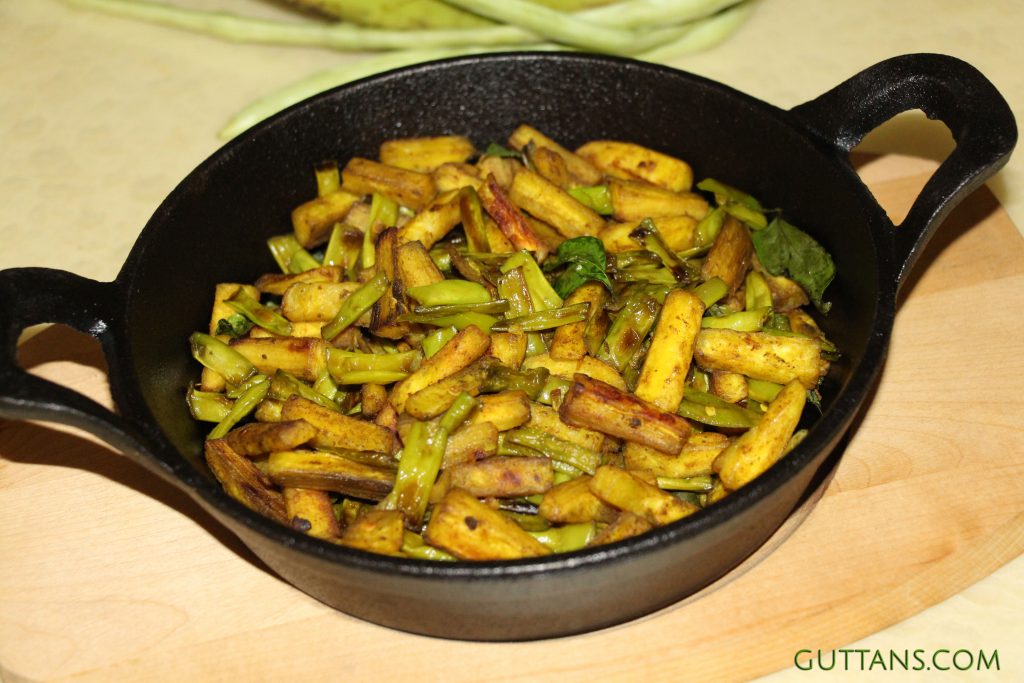 Kaya Achinga Payar Mezhukkupuratti Recipe – Raw banana and long beans stir fry recipe made in Kerala Style. Achinga Payar Kaya Mezhukkupuratti is a tasty side dish for rice.
Long beans (cowpea string beans) are called achinaga payar in Malayalam. Mezhukkupuratti or stir fried vegetables can be made with vegetables like potato, beetroot, long beans, french beans, raw banana (kaya), tindora(kovakka), lady's finger (vendakka), pumpkin(mathanga), snakegourd(padaval), jackfruit seeds(chakka kuru), elephant yam(chena), chinese potato(koorkka) etc…
Stir fry or mezhukkupuratti can be made alone or can be mixed with 2 or 3 veggies to make a combination fry. Achinga payar and kaya, yam and long beans, beetroot and potato, beans and carrot & beetroot and carrot are the commonly used combinations. Stir fries are great accompaniments for rice. Use tender achinga payar (long beans or cowpea string beans) and Kerala nendra variety of raw plantains for best taste. It can also be made with other raw bananas varieties too.
Payar kaya mezhukkupuratti is not a special onam recipe. But, like other kerala sadya delicacies viz. olan , aviyal, erissery etc…, achinga payar kaya mezhukkupuratti and achinga payar thoran is also served with onam sadya in some parts of Kerala. This quick and easy raw banana and long beans stir fry recipe is also a popular side dish along with rice and curry in daily lunch.
Kaya Achinga Payar Mezhukkupuratti
Kerala style raw banana and long beans stir fry recipe.
INGREDIENTS
1.5

cups

long beans

((or about 15 pieces))

1.5

cups

raw banana or plantain

2

tbsp

shallots or onion, chopped

((optional))

2

green chilli

((slitted))

2

tbsp

coconut bits

((optional))

½

tsp

turmeric

3

tbsp

oil

1

sprig curry leaves

salt – as needed
INSTRUCTIONS
PREPARE THE LONG BEANS & RAW BANANA
Wash beans, cut off the ends and chop into 1″ long pieces. Keep aside.

Peel the plantain skin and cut banana into small 1" long pieces and keep in salt water.

After 5 minutes, drain the water, rinse banana well with fresh water and keep aside.
COOKING LONG BEANS & RAW BANANA
In a pan (cast iron or non-stick) or kadai, heat 1.5 tbsp oil.

Add cut beans, banana, green chili, coconut bits, turmeric and salt. Saute well.

Cook in medium fire with a closed lid, stirring occasionally, until beans and banana becomes soft.
SAUTEING AND ROASTING
Once all the moisture dries up and the vegetables are tender, open the lid, add 1.5 tbsp oil, shallots, curry leaves.

Saute well, fry for few minutes, until the vegetables are lighly roasted.

Turn off the flame and serve with hot rice.
Notes
Measuring Tools Used : 240 ml cup, 15 ml tablespoon and 5 ml teaspoon.
★ We love your Feedback !! Have you tried this Kaya Achinga Payar Mezhukkupuratti (Raw Banana & Long Beans Stir Fry) Recipe? Please click on the stars in the recipe card below to rate. You can also follow GuttansFood on Facebook, Instagram to see what's latest in Guttans Kitchen.
♥ Share The Recipe !! Please share the recipe link on facebook, pinterest and twitter. Mention @guttans or tag #guttansrecipes when you share in Instagram!! Thank you & Happy Cooking!!