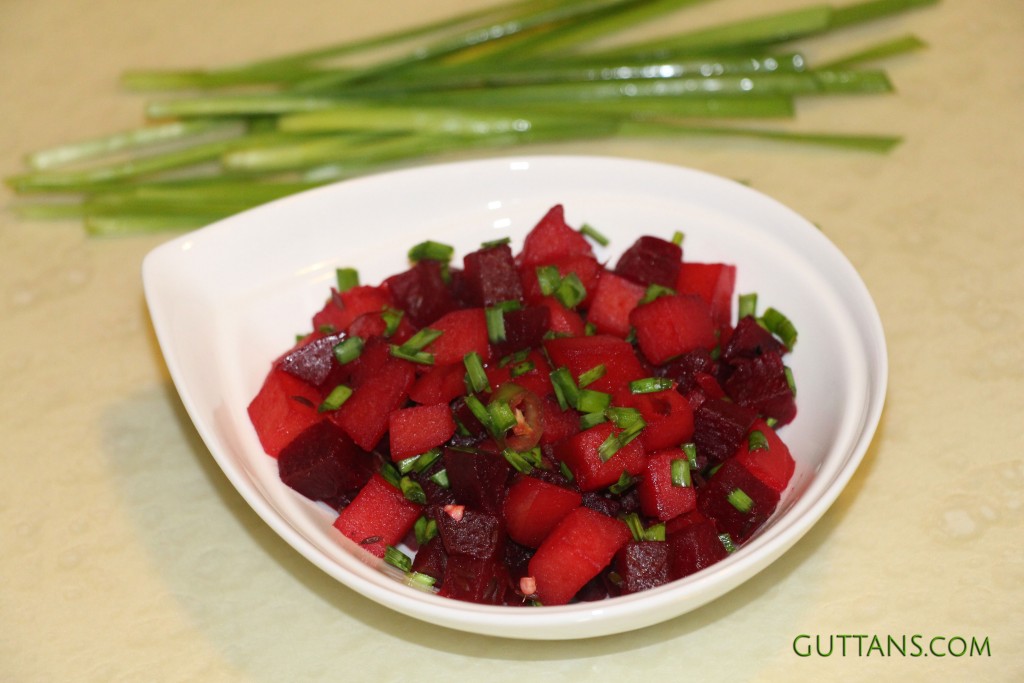 Healthy, delicious and quick Beetroot Potato Stir Fry with chives. Beetroot are packed with many nutrients and is a natural blood purifier. The sweetness of the beets works great with potatoes and the mild spices. This stir fry is a simple, flavourful and vibrant coloured dish.
INGREDIENTS
Beetroot – 1 cup (diced small)
Potato – 1 cup (diced medium)
Garlic Chives or Spring Onion – 4 tbsp (sliced small pieces)
Green Chilli (4" length, mild hot) – 1 (sliced round)
Cumin Seeds– ½ tsp
Oil – 1tbsp
Salt – to taste
DIRECTIONS
Peel and dice the potatoes and beetroot into cubes. Cut the beetroot cubes slightly smaller than potatoes as beetroot needs more coking time.
Slice green chilli into small round pieces. Cut the chives (or spring onion) into 1 cm long pieces. Keep it aside.
Heat oil in a pan, add cumin seeds and let it splutter. Lower the flame, add green chilli, potato, beetroot and salt. Stir and saute for a while and cover and cook on low flame till it is done. It will take 8-10 minutes.
When done, turn off the flame, garnish with chopped chives, mix well and serve with rice or phulka or roti.