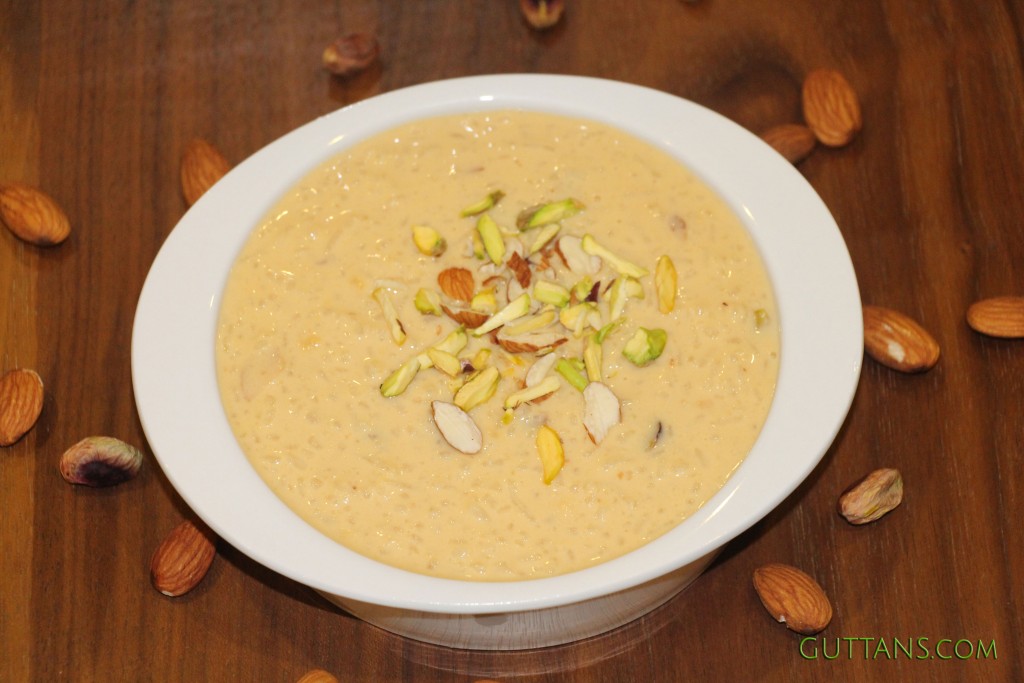 Rice Kheer (Rice Pudding) is one of the popular Indian desserts recipe cooked during festive seasons and celebrations. Sweet and delicious rice kheer or payasam, cooked with milk, condensed milk, evaporated milk and nuts is made as a sweet dessert to serve after meals.
INGREDIENTS
Broken Rice – ½ cup
Milk – ¼ cup
Condensed Milk – 1 cup
Evaporated Milk – 1¾ cups
Ghee – 1 tsp
Pistachio – 1 tbsp chopped
Almonds – 1 tbsp chopped
Cardamom – 2
Water – 3 cups
METHOD : HOW TO MAKE RICE KHEER (PAYASAM)
Cooking Rice : Wash and rinse rice (any short grain broken or crushed white rice or basmati rice) until water runs clear. Soak rice in enough water for 20 minutes. Boil 3 cups water and ¼ cup milk in a heavy bottomed pot, add soaked rice. Boil, reduce the heat to low, cover and cook it until the rice is very tender and soft. If the rice is not very soft, add more water and let it cook for a while longer. [Pressure cooker method : Pressure cook rice for 1 whistle. Once the pressure settles, open the lid.]
Add evaporated milk and condensed milk and cook on low flame until the milk is thickened and the kheer reaches desired consistency. Stir frequently to avoid sticking to the bottom of the pot. Once done, kheer has a thick creamy texture with absolutely soft mashed rice.
Heat a small pan, add ghee and roast the pistachios and almond in it. Garnish kheer with roasted nuts and mix well. Serve warm or chilled.
Rice Kheer, the sweet dessert pudding is made on almost all special occasions like Diwali, Navrathri, Ugadi, Onam, Vishu etc. Thanks to my friend Naisha Khemani who inspired me with the idea and procedure to try this Kheer recipe.