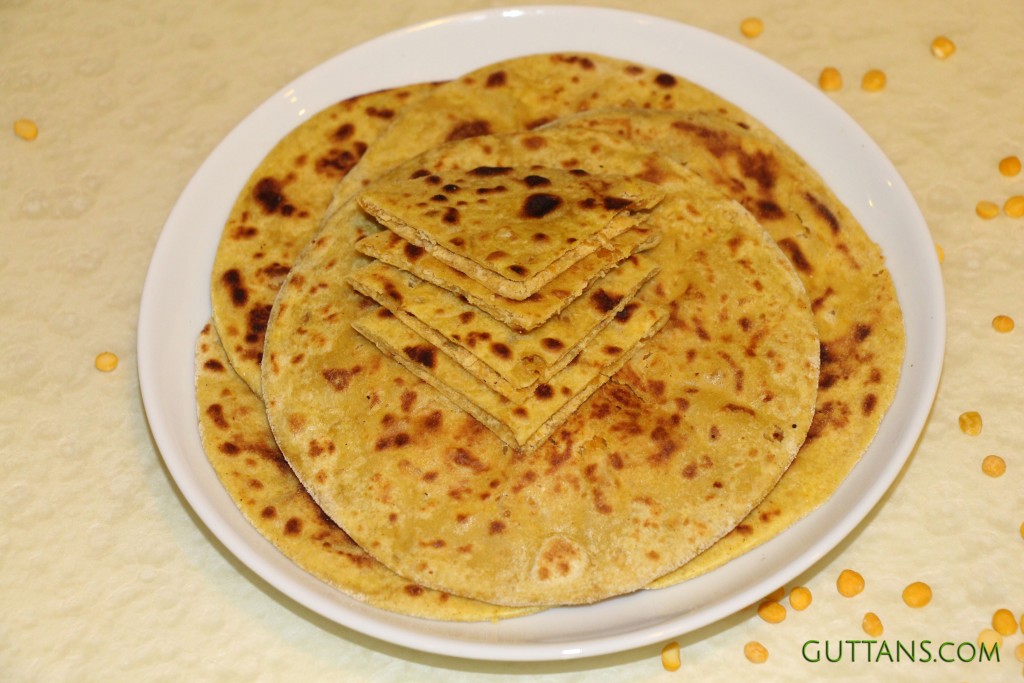 Puran poli is a flat stuffed roti or bread with sweet filling. The puran (stuffing) mixture is made with skinned chana dal and jaggery. Delicious poli (roti) is filled with the mixture and rolled as flat breads and fried in pan or tawa with ghee. Puran Poli – Diwali, Navratri, Ugadi Festival Recipe.
Different variations of puran poli is made in north to south in India. Maharashtrian and Gujarati way of making puran poli is almost similar with some minor differences in stuffing. The various names for this flatbread include puran poli in Marathi, boli (Malayalam / Tamil), bobbatlu / bakshalu (Telugu), holige and obbattu in Kannada, ubbatti, or simply, poli.
Puran poli is a popular Maharashtrian recipe made during Ganesh Chaturthi, Diwali, Navrathri and other festive occasion. Maharashtrian style puran poli is made with jaggery and chana dal (or tuvar dal). During Ganesh Chaturthi festival, modak, puran poli and coconut ladoos are usually prepared in Maharashtra.
In Tamil Nadu and Karnataka the south Indain style obattu or holige is made with grated coconut, jaggery and chana dal (or tuvar dal). Gujarati style pooran poli is made with sugar and tuvar dal. Mostly, pooran poli is made with plain flour. This puran poli recipe is with whole wheat flour (atta) and plain flour (maida).
INGREDIENTS
PURAN MIXTURE (SWEET FILLING)
Chana dal (skinned spilt bengal gram) – ½ cup
Grated jaggery (gur) – ½ cup
Cardamom Powder – ¼ tsp
Nutmeg Powder – a pinch
Ghee – 2 tsp
Water – 1 ½ cups
POLI (ROTI) DOUGH
Whole Wheat Flour (Atta) – ½ cup
Plain Flour (Maida) – ½ cup
Turmeric – ¼ tsp
Ghee – 1 tsp
Water as required
Extra flour for rolling
METHOD : HOW TO MAKE PURAN POLI (POORAN POLI)
Cooking Chana Dal : Wash and rinse chana dal (skinned, split yellow chick peas) until water runs clear. Pressure cook chana dal with 1 ½ cups water. After the first whistle, simmer and cook the dhal for another 5 minutes in low flame or until dal is cooked well. Wait until all steam has escaped. Once the pressure settles, open the lid. Drain any excess water from the dal and then gently press it so that the dal will get mashed a bit.
Jaggery Syrup Prepping : In a small sauce pan, melt jaggery with 1 tbsp water. Once it starts boiling and jaggery has melted, remove from the gas stove and strain it to remove the impurities. Keep the jaggery syrup aside. If the jaggery comes with out any impurities, you can use it directly with chana dal.
Puran (Stuffing) Preparation : Heat ghee in a pan and add the dry cardamom powder and nutmeg powder and saute for a while. Add the cooked and mashed chana dal and jaggery (or jaggery syrup). Stir continuously and cook on low flame until puran mixture becomes dry. It will take approximately 15-20 minutes. It should cook well and come together like a ball. To check consistency of the mixture, take spatula or spoon, insert in the center vertically. Then, if the spoon does not fall, the mixture is thick enough and ready, turn off the stove. If spoon falls down then cook for another 2-3 minutes until the mixture is ready. Turn off the flame and keep the mixture aside until it cools down to room temperature. Once cooled down, divide the mixture into 8 equal portions and roll into balls.
Poli Dough Preparation : Meanwhile, take whole wheat flour, plain flour and turmeric powder in a bowl and mix well. Add ghee and little water and mix well. Then, begin to knead gradually adding water as required to form a smooth and soft dough. Dough should be softer than roti dough. Very loose, soft and sticky dough gives soft polis. Cover with a damp cloth and keep aside for 15 minutes. After 15 minutes, knead it again and divide into 8 equal portions and roll into balls.
Puran Poli Rolling : Take a ball portion from the dough, press and flatten it a little, coat it with flour and then roll it in 2-3 inches in diameter using a rolling pin. Keep a ball portion of puran mixture in the center of the rolled dough. Bring the edges together towards the center. Join all the edges and pinch them and give it a round shape. Press stuffed ball a bit like pattie, coat it with flour and roll it to a circle of 5-6 inch diameter.
Puran Poli Cooking : Heat the tawa or skillet on medium heat. Once hot place one poli (roti) and let it cook on bottom side, you will see small bubbles on top. As you see bubbles, flip it. Smear some ghee on top. Cook by pressing gently with spatula. When you see bubbles again, flip it and then smear some ghee, by this time bottom part has few brown spots and it is cooked. If required, repeat flipping until both sides are cooked evenly with golden brown spots. Once cooked from both sides, remove and stack it in a plate or serving casserole or kitchen napkin. Serve Puran Poli warm or at room temperature with milk, ghee or yogurt.
GUTTANS TIPS
FLOUR : We can make the dough with all purpose flour(maida) or whole wheat flour (atta) or half-half of both the flours. Use rice flour to make gluten-free poli. While rolling, the dough pattie can be coated with plain flour or whole wheat flour or rice flour. Don't use too much flour while rolling. This will make hard polis.
CHANA : Cooking chana dal for the correct time is important. Once it is ready and drained, it can be mashed or ground without lumps. If it gets over cooked then when you grind this, it will leach out water and become mushy, like a paste. Then it's very difficult to stuff and roll.
ROLLING : Make very soft dough and use oil while handling it. Roll very gently. Do not make very thin or thick puran polis. Very thin pooran polis tend to become hard around the edges. Thick puran polis may remain uncooked inside.
STUFFING : Stuffing should be smooth without any hard lumps of dal and jaggery. Consistency of stuffing should be soft and but not watery. It should spread till the edges.
STORING : Poli can be stored in air tight container for up to three days. If you want to keep for a longer time, then store it in fridge or freezer and microwave it when needed.
Puran Poli, the sweet flat bread made with sweet lentil filling. This is made as a vrat bhog (naivedhyam) on almost all special occasions like Diwali, Navratri, Ugadi etc. Thanks to my friend Chandrika Chickermane Gunvante who inspired me to try this Puran Poli recipe.