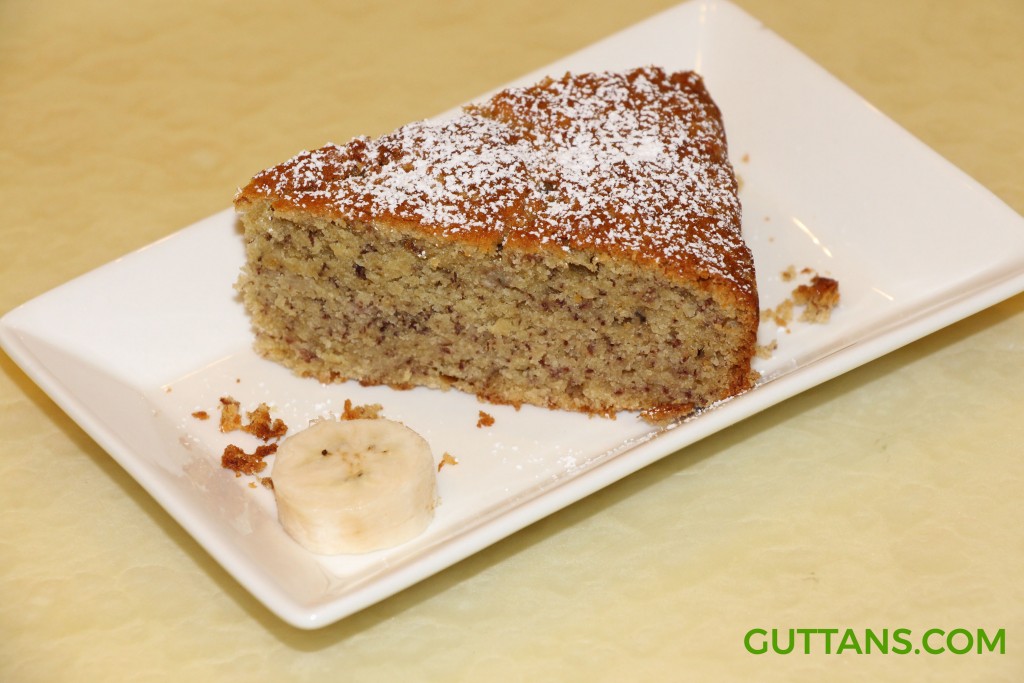 Whole Wheat Banana Cake Recipe – A banana falvoured cake recipe prepared with banana and other classic cake baking ingredients. This soft and tasty banana cake is made with whole wheat or atta to make it healthier. It is a quick, easy recipe. Use extra ripe or over ripe bananas to make it sweeter.
BAKING SCIENCE IN BANANA CAKE
DISSOLVING BAKING SODA IN MILK : Dissolving the soda ahead of time in milk allows it to disperse more thoroughly and evenly. Pre-mixing the baking soda (base) into milk (very slightly acid) is to increase the amount of leavening that occurs.
USING BAKING SODA & BAKING POWDER : Baking soda (bicarbonate of soda), an alkaline substance, is a chemical leavener and it works works best in conjunction with an acidic ingredients like buttermilk or brown sugar or molasses or bananas (usually, bananas become less acidic as they ripen).

For every 1 cups of flour, 1 tsp baking powder is required. This recipe requires total 1.5 tsp baking powder. Baking soda is roughly 2 to 3 times as powerful as baking powder. So 1 tsp baking powder is removed from the recipe to add ½ tsp baking soda.

Recipes that call for both baking soda and baking powder usually have to do with the fact that the recipe contains acid that needs to be neutralized by the baking soda. So recipes generally include baking soda to balance the acidity in the batter. But quantity of baking soda is possibly not enough to do the amount of leavening desired. The baking powder picks up the slack to give additional leavening required.

Here baking soda and powder is balanced to get best leavening, browning and softness. More baking soda or powder gives metallic or soapy taste for the cake. Baking soda helps in browning the cake and makes cakes and cookies rise. Baking soda softens the baked goods and has a browning effect. Small amount of baking soda in cookies gives a crisp texture.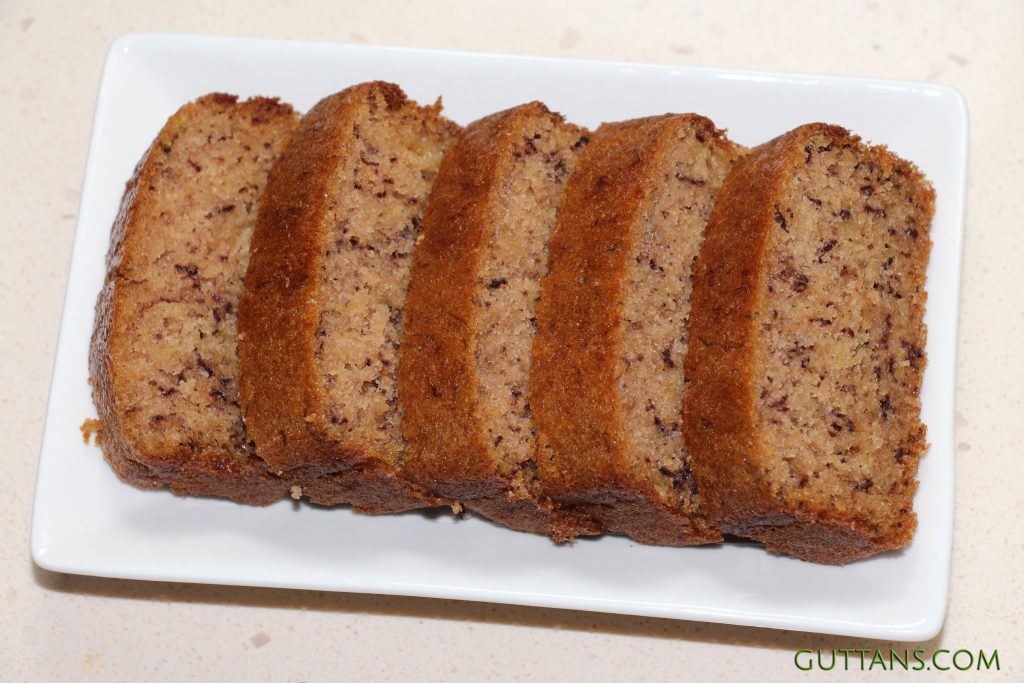 HOW TO MAKE EGGLESS BANANA CAKE
Replace Egg with yoghurt (curd) and oil to make eggless banana cake. Substitute egg with 4 Tbsp of yoghurt and 1 tsp oil. Baking soda in the recipe is a leavening agent that gives cake the structure and strength. Note that substitutions always do not give exactly the same results.
INGREDIENTS & STEPS TO MAKE THE WHOLE WHEAT BANANA CAKE
Ingredients to make whole wheat banana cake are butter, sugar, egg, vanilla, bananas, milk, baking soda, whole wheat flour, baking powder and salt.
Whole Wheat Banana Cake is very easy to make. This involves classic cake making steps : prepare the oven and pan, make the batter and baking. Check the below recipe card for ingredient's measurements and detailed instructions.
Whole Wheat Banana Cake Recipe
A banana falvoured whole wheat banana cake recipe prepared with banana and other classic cake baking ingredients.
INGREDIENTS
½

cup

(113 gm) Butter

¾

cup

Sugar

1

Egg

1

tsp

Vanilla Extract

1

cup

Bananas (2-4 very ripe peeled & mashed big bananas)

½

cup

(120 ml) Hot Milk (Or Water)

½

tsp

Baking Soda

1 ½

cups

Whole Wheat Flour

½

tsp

Baking Powder

1

pinch

Salt
INSTRUCTIONS
PREPARE OVEN & PAN : Prepare an 8″ round pan or any loaf pan for making the cake. Grease or line, baking pan, bottom with parchment paper and set aside. Preheat oven to 180°C degrees for 7-10 minutes.

MAKE CAKE BATTER : Beat butter and sugar until creamy. Beat in eggs, then bananas and vanilla. Heat the milk in a pan until warm and dissolve baking soda in hot milk. Add it to mixture and stir to combine. Sift in flour, baking powder and salt, and fold gently into the mixture using a spatula until the flour has disappeared. Make sure to scrape the side and bottom of the bowl while folding and don't over mix.

BAKING WHOLE WHEAT BANANA CAKE : Pour batter evenly into the pan. Fill cake pans only about 2/3 full with batter. Smooth top and then tap cake pan several times on counter to eliminate air bubbles from cake batter. Bake in the middle rack for 30-40 minutes (it varies depending on oven), until a skewer inserted comes out clean. Allow to cool 10-15 minutes in pan, and then run a knife along the edge of the cake to loosen the sides and turn out completely on wire racks and cool before cutting or frosting.
Notes
MEASURING TOOLS USED :  240 ml cup, 15 ml tablespoon and 5 ml teaspoon.