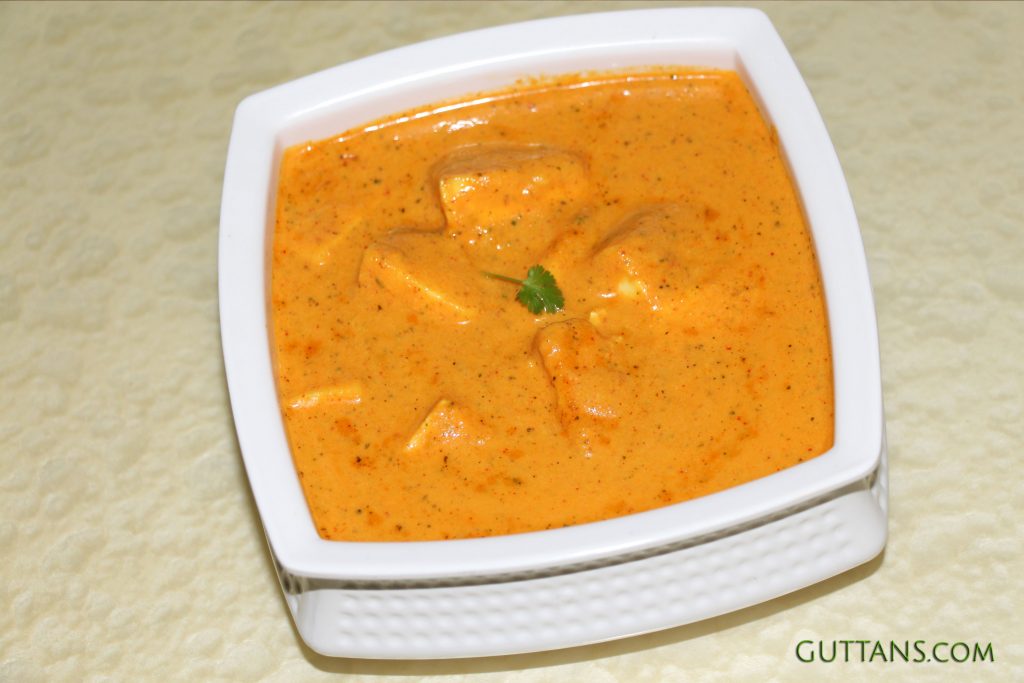 Paneer Butter Masala Recipe – Easy, step by step instructions to make restaurant style Paneer Butter Masala at home. This rich and creamy Butter Paneer Masala is made with Paneer (cottage cheese), tomato and cashew nut.
This is a quick and easy Paneer Butter Masala is made with easily available ingredients. Paneer Butter Masala is also known in various names such as Butter Paneer or or Butter Paneer Masala .
Paneer Makhani (Butter) and Butter Paneer sound similar, but authentic Paneer Makhani doesn't use Onion. Both Butter Paneer and Paneer Makhani uses tomatoes. But for rich and creamy Butter Paneer gravy, each restaurant or home follows and uses different ingredients like cashew or almond or cream or melon seeds or poppy seeds etc.
TIPS TO MAKE RESTAURANT STYLE PANEER BUTTER MASALA
Butter : Use butter (no oils) to get rich and butter flavoured Paneer Masala.
Paneer : Use homemade paneer, if possible. If you are using store bought paneer, make sure to soak in hot water before cooking to soften and bring it to room temperature.
Cashew Nuts : Butter Paneer is usually made with cream for thick gravy. Here right combination of cashew and milk is used to get thick and rich gravy same like cream based Butter Paneer Masala.
Milk : Usually most of the Butter Paneer Masala recipe calls for fresh cream. Use milk with cashew nuts instead of fresh cream to get make restaurant style Butter Paneer Masala.
Turmeric : Enhances the red colour, and gives the curry, Butter Paneer Masala, a nice orange-red colour. Saute turmeric with chilli powder in butter.
Sugar : Use sugar to balance the flavours in Paneer Butter Masala. Sugar enhances butter, cashew nut cream and milk tastes.
STEPS TO MAKE THE BEST PANEER MASALA
Saute and Grind gravy ingredients (Onion, Ginger, Garlic, Tomato & Cashew Nuts)
Prepare and cut the paneer (If the paneer is store bought, remember to soak in hot water, before cutting)
Saute ground masala with spices and butter. Add liquids (milk & water) to get right consistency.
Add paneer and cook in medium heat. Add garam masala, sugar, salt and kasuri methi.
Garnish with cream (optional) and coriander leaves.. Enjoy
★ We love your Feedback !! Have you tried this Paneer Butter Masala Recipe? Please click on the stars in the recipe card below to rate. You can also follow GuttansFood on Facebook, Instagram to see what's latest Guttans Kitchen.
Paneer Butter Masala
Restaurant Style Paneer Butter Masala to serve with roti or naan or rice or paratha
INGREDIENTS
FOR BUTTER PANEER
200

gm

Paneer,

(cut into cubes)

2

tbsp

Butter

1.5

tsp

Chili Powder

½

tsp

Turmeric Powder

1

cup

Water

½

cup

Milk

½

tsp

Garam Masala

½

tsp

Kasuri Methi

1

tsp

Sugar

Salt, as needed
SAUTING & GRINDING
2

tbsp

Butter / Oil

2

medium

Onions

1"

piece

Ginger

1

tsp

Garlic

1

medium

Tomato

20

Cashews

½

cup

Water
GARNISHING
2

tbsp

Coriander Leaves

(, chopped)

1

tbsp

Cream

( (optional))
INSTRUCTIONS
Prepare and keep Paneer : This recipe uses 200 gm paneer. It is good to keep store bought paneer in hot water (2 cups) for about 10 minutes to bring it to room temperature. While it soaks, prepare and grind gravy masala. Later, cut paneer into cubes or rectangular cubes and keep aside.

Prepare Gravy Masala : Heat butter or oil in a thick bottomed pan on medium flame. Once the oil is hot, add the onion, garlic, ginger, garlic, and saute for 3-5 minutes until the onion is translucent. Once done, add the tomatoes and cashews and mix and saute for another 2-3 minutes. Turn off the stove.

Grinding Masala : Once the mixture cools down a bit , transfer to a blender, add about ½ cup water and grind the masala to a smooth paste. (Always make sure to cool down the sauted mixture for sometime, otherwise with hot steam pressure, it will blow up from the mixer jar)

Butter Paneer Gravy : Add 2 tbsp of butter and heat in the same pan, on medium flame. Once the butter melts, add the red chili powder and turmeric and fry for few seconds. Turmeric enhances the red colour and gives the curry a nice orange-red colour. Saute for 3-5 minutes, till you get bright, dark red colour.

Butter Paneer Masala : Now, add the ground paste to the pan and mix well. Stir and cook for 2-3 minutes, till the oil leaves the sides of pan. Add 1 cup water, ½ cup milk, mix well and boil the masala. Once the gravy boils, and slightly thickens, add garam masala, sugar and salt. Mix well.  Add in the paneer and cook for 3 to 5 minutes on medium heat. Finally add crushed kasuri methi, mix gently and turn off the flame.

Serving : Garnish paneer butter masala with cream and chopped coriander leaves and serve hot with roti or naan or rice or paratha.
Notes
MEASURING TOOLS USED :  240 ml cup, 15 ml tablespoon and 5 ml teaspoon.  
♥ Share The Recipe !! Did you try this Paneer Butter Masala Recipe? Please share the recipe  link on facebook, pinterest and twitter. Mention @guttans or tag #guttansrecipes when you share in Instagram!! Thank you & Happy Cooking!!