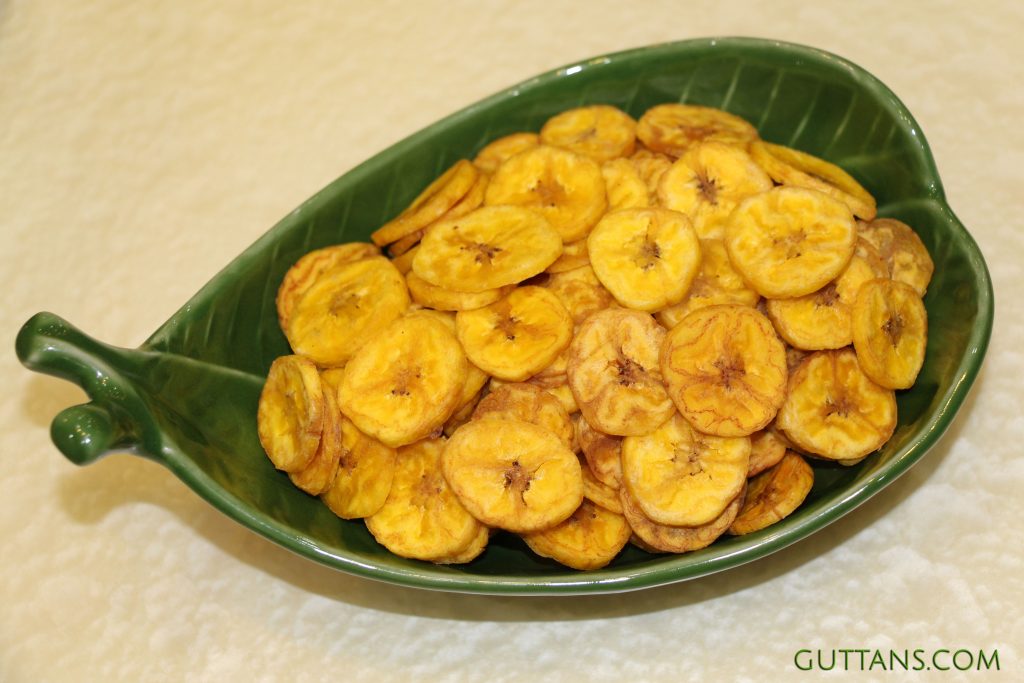 Banana chips recipe (Ethakka Upperi) – Deep fried banana snack recipe (upperi) made with green raw banana (pachakaya). This tasty upperi is very easy to make with only 3 ingredients viz. banana, oil and salt to taste.
Banana chips or ethakka upperi is served on banana leaf during traditional Kerala Sadya during Onam, Vishu, Weddings and other occasions. It is also a tasty tea time snack. Banana chips can be either made as salty or sweet chips.
Sarkkara Varatti or Sarkkara Upperi is prepared by cutting bananas into a thick piece, deep fried and then mixed into melted jaggery. Banana Chips or Ethakka Upperi are made out of finely sliced round banana pieces and deep fried in oil.
GUTTANS TIPS FOR BANANA CHIPS MAKING
SOAKING BANANA IN SALT WATER AFTER PEELING
Soaking in salt water prevents the banana from darkening
This salt water helps to preserve the banana colour.
Salt water also removes stickiness of the banana.
OIL FOR FRYING KERALA BANANA CHIPS
Mostly, banana chips are fried in coconut oil. It can also be fried in sunflower oil.
Do not mix coconut oil with other oils as it foams.
Oil should neither be too smoky nor dull and low heat.
PEELING BANANAS
Score the banana along the ridges to easily peel it.
Banana gives a milky sap on cutting. This makes hands sticky and stains the fingers.
Dip hands in salt water or rub hands with oil before peeling to avoid this.
SLICING BANANAS
Wipe banana with a tissue, if needed, before slicing.
Use a mandoline slicer or knife to cut banana in to thin pieces.
If you are using a slicer, keep 2 tbsp of oil in a small bowl and dip the tip of the banana in the oil after making few slices. This helps you to slice the banana easily and also keeps the slices separate.
Keep sliced pieces in baking sheet or in a plate lined with kitchen tissue to absorb moisture. Ensure that the banana pieces are dry before cooking.
Use a mandoline slicer to slice the chips directly into the oil.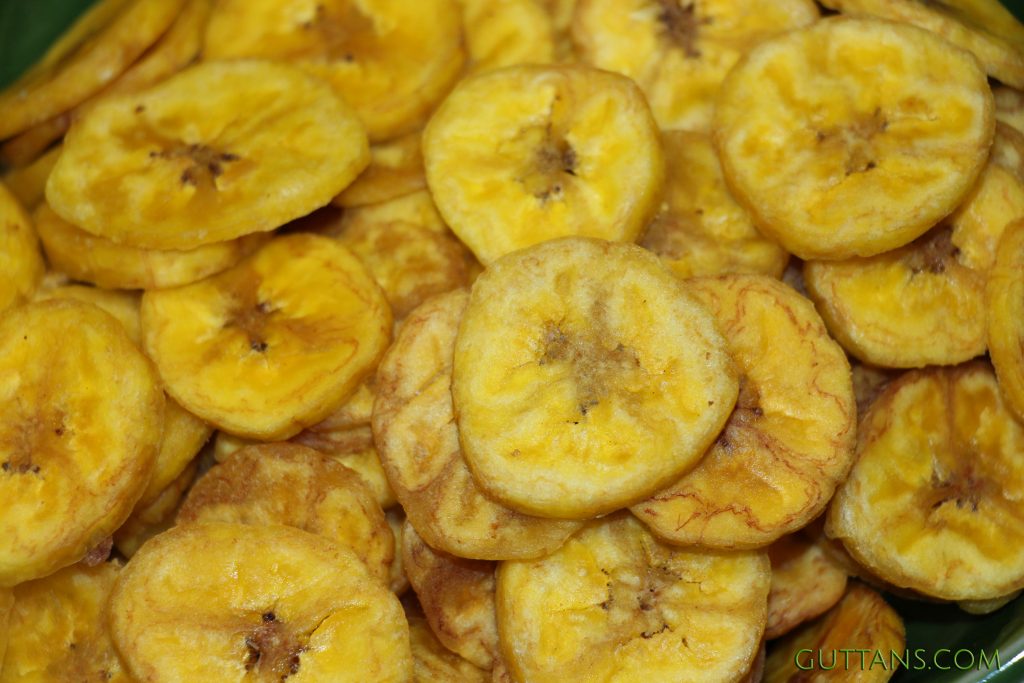 Banana Chips (Ethakka Upperi)
Deep fried banana chips (upperi) made with green raw banana (pacha kaya).
INGREDIENTS
4

medium raw banana

(plantain /nendra kaya)

1/2

tsp

turmeric powder

¼

cup

salt water

(1 tsp salt mixed with 1/2 cup water, for drizzling)

cooking oil for frying

(use coconut oil for authentic taste)
INSTRUCTIONS
PREPARE THE PLANTAIN BANANAS
In a big bowl, mix together the water and salt. Keep aside.

Cut the top and bottom tips of the plantains.

Score the banana skin from top to bottom, along the ridges.

Peel the outer skin of the bananas. Make sure to remove the green part fully.

Immerse the peeled bananas in the salt water for 10-20 minutes.

Scrub bananas well in salt water and rinse 2-3 times in clear water to remove sap.

Drain and keep aside for another 10-20 minutes.
SLICING AND COOKING THE BANANAS
Heat the oil in a deep, wide frying pan on medium heat.

Pat the drained banana with a tissue paper to dry it, if needed.

Slice the drained banana into thin round pieces.

Reduce the heat and slide the sliced bananas into hot oil. Make sure that the pan is not over crowded .

Increase the flame to medium high and stir gently to avoid slices sticking together.

Stir occasionally and flip the chips for even cooking.

Fry for 10-15 minutes, until chips turns crisp.

Remove the fried banana chips with slotted spoon and then drain on paper towels.

Drizzle ½ to 1 tsp salt water on the fried, hot chips and mix well.

Follow the same procedure to cook the remaining batches.

Once the chips cool completely, store it in an airtight container.
Notes
Measuring Tools Used : 240 ml cup, 15 ml tablespoon and 5 ml teaspoon.
★ We love your Feedback !! Have you tried this Banana Chips (Ethakka Upperi) Recipe? Please click on the stars in the recipe card below to rate. You can also follow GuttansFood on Facebook, Instagram to see what's latest Guttans Kitchen
♥ Share The Recipe !! Please share the recipe link on facebook, pinterest and twitter. Mention @guttans or tag #guttansrecipes when you share in Instagram!! Thank you & Happy Cooking!!