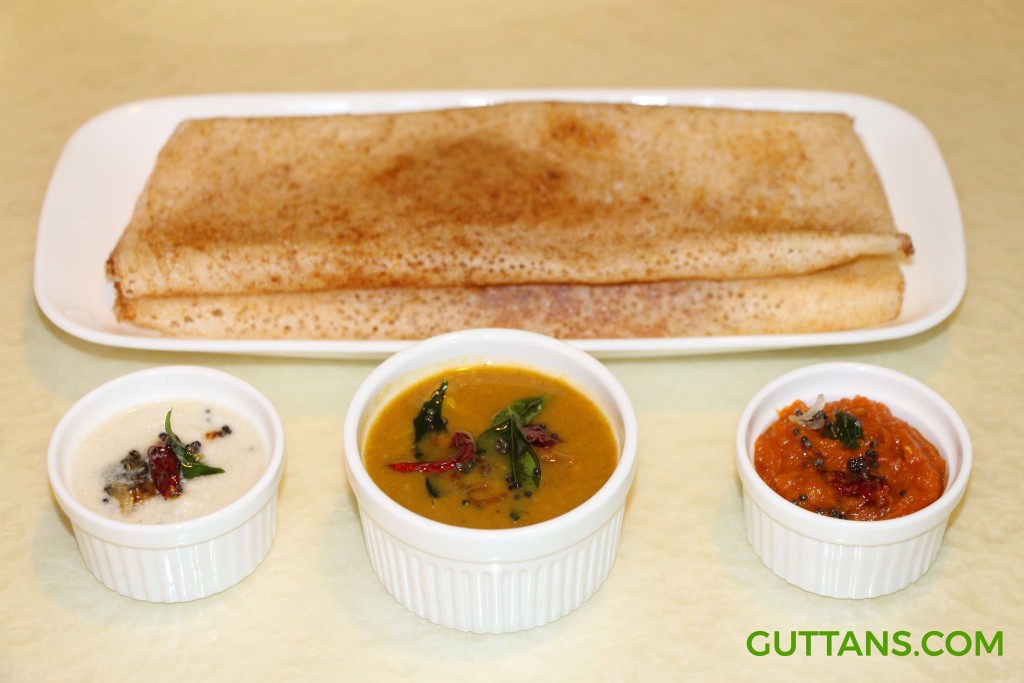 Ghee Roast Dosa Recipe makes Dosa Ghee Roast, crispy and tasty Plain Dosa with ghee (clarified butter) topping. Dosa Ghee Roast or Nei Roast or Ney Dosa is one of the popular south Indian breakfast and can be served with Coconut Chutney or Sambar or Chickpeas Curry. It is very easy to make ghee roast dosas with All-in-One Idli Dosa Batter.
GUTTANS TIPS TO MAKE BEST GHEE ROAST
DOSA PAN TEMEPERATURE
Pan temperature is very important to get dosa correctly. If pan is very hot, it is difficult to spread the batter in round shape. Sprinkle some water on the iron griddle to reduce the temperature. For non-stick pan, lift pan from the flame and keep aside for a while. Once the temperature is slightly reduced, again start cooking in medium flame.
DOSA STICKING TO PAN
Traditionally, dosa is made in iron pan. Don't make dosa in an unseasoned pan. Spread oil or ghee using silicon brush or onion slice or kitchen tissue to avoid dosa sticking to the pan. It is safer to spread oil each time before making a dosa in cast iron pans.
GET CRISP DOSAS
Between dosas, grease the iron pan lightly with oil or ghee and then pour the batter. Add extra oil or ghee after the batter is poured on the skillet. Bring refrigerated batter to room temperature before making dosa, so make sure to take out the batter in advance about two hours before cooking.
GET GOLDEN DOSAS
If you make dosa in iron pan, it will automatically come in golden color. Optionally, add about ¼ teaspoon of sugar to the dosa batter to get nice golden color dosas if it is made in a non-stick pan.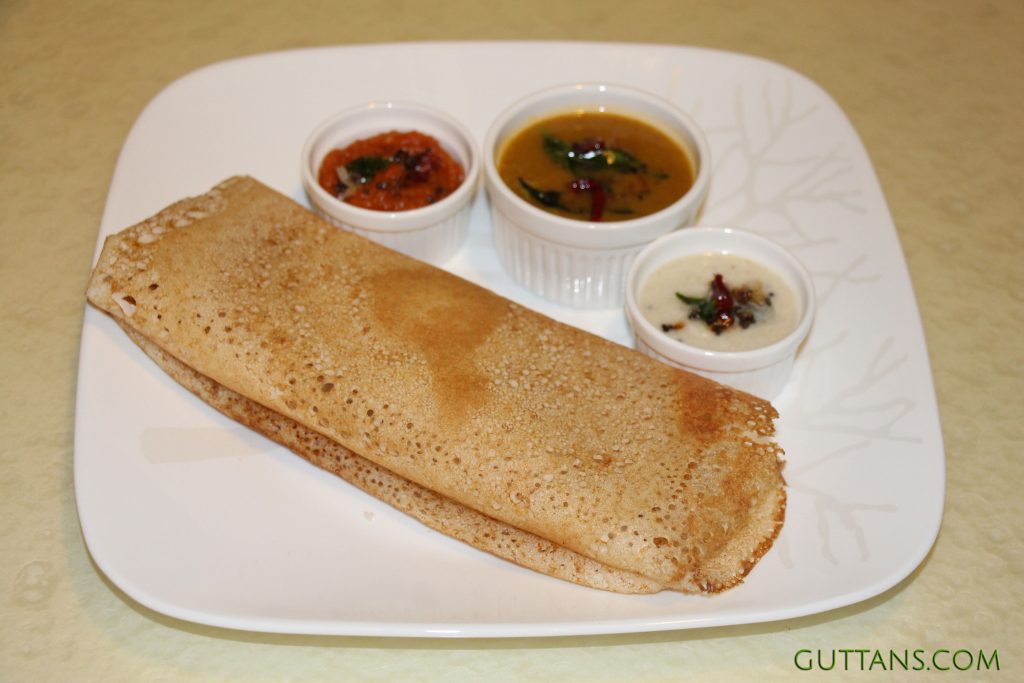 IDLI DOSA BATTER INGREDIENTS
Idli Batter – 3 cups
Water – ¼ cup
Ghee – as required
Gingelly Oil – as required
HOW TO MAKE GHEE ROAST DOSA
PREPARING DOSA BATTER : Take about 3 cups of All-in-One Idli Dosa Batter and add about ¼ cup water, mix gently without disturbing the air bubbles, until combined well.
PREPARING THE DOSA PAN : Heat a cast iron pan or non-stick tawa. To cook dosas properly iron pan, spread about ¼ to ½ gingelly oil or ghee using silicon brush or onion or kitchen tissue. Once hot, keep pan in medium-low flame to easily spread the dosa.
MAKING GHEE ROAST DOSA : Pour a ladle full of batter in the center. Gently spread out the batter in a circular motion to get thin dosa in round shape. Keep pan medium hot while cooking dosas. Once the dosa top is cooked, sprinkle and spread about ½ to 1 tsp ghee on the top and sides of the pan. To get crisp dosas, cook till the dosa bottom is golden in colour. Once done, fold ghee roast dosa into half. Serve hot with coconut chutney or Sambar.
NOTES
QUANTITY : This recipe makes 10 medium (8″ ) dosas.
MEASURING TOOLS USED :  240 ml cup, 15 ml tablespoon and 5 ml teaspoon.
★ We love your Feedback !! Have you tried this Ghee Roast Dosa (Nei Roast) Recipe? Please click on the stars in the recipe card below to rate. You can also follow GuttansFood on Facebook, Instagram to see what's latest Guttans Kitchen
♥ Share The Recipe !! Please share the recipe link on facebook, pinterest and twitter. Mention @guttans or tag #guttansrecipes when you share in Instagram!! Thank you & Happy Cooking!!