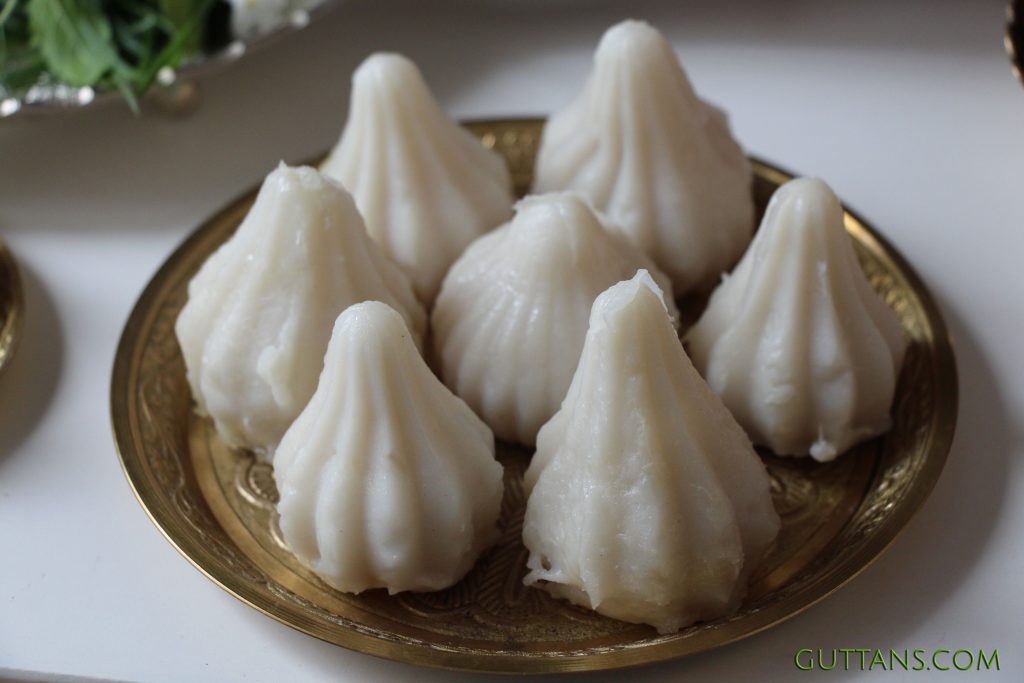 Modak Recipe – Modak or Modakam or Kozhukatta are steamed, sweet stuffed rice dumplings. Modakam is made with rice flour dough and filled with coconut jaggery stuffing.
South Indian name of Modak is Kozhukatta or Kozhukattai or Modakam. Modakam is made and offered to Lord Ganesha as naivedyam (prasad) during Vinayaka Chaturthi or Ganesh Chaturthi Pooja.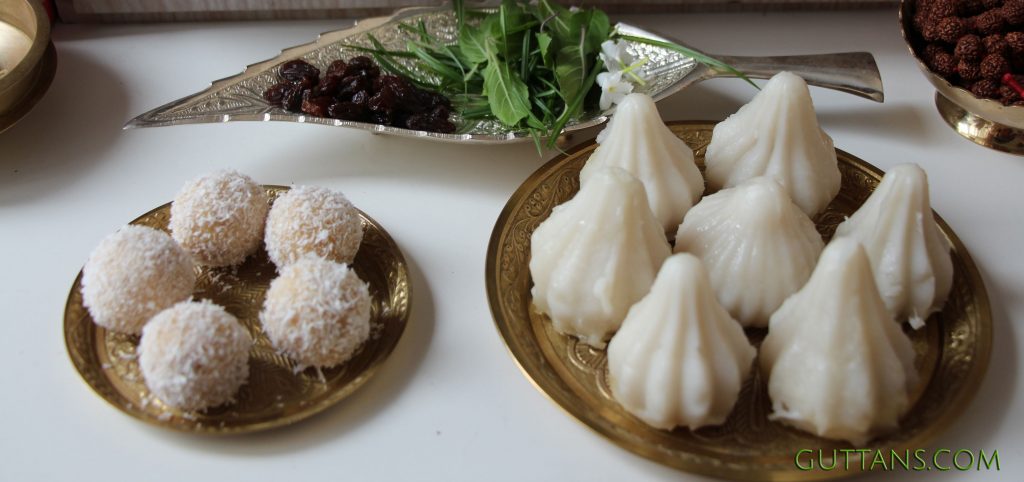 PURAN OR POORNAM (STUFFING) FOR MODAKAM
The puran or poornam (stuffing) mixture is made with coconut and jaggery. Make the coconut jaggery stuffing first. Boiled, melted and strained jaggery is mixed with grated coconut. Cook together till the puran or poornam stuffing is thick and non-sticky.
Jaggery-coconut stuffing will become hard and chewy if it is over cooked. Sprinkle few teaspoons of hot water in the mixture if it turns hard. Hot water helps to loosen the mixture and make it soft.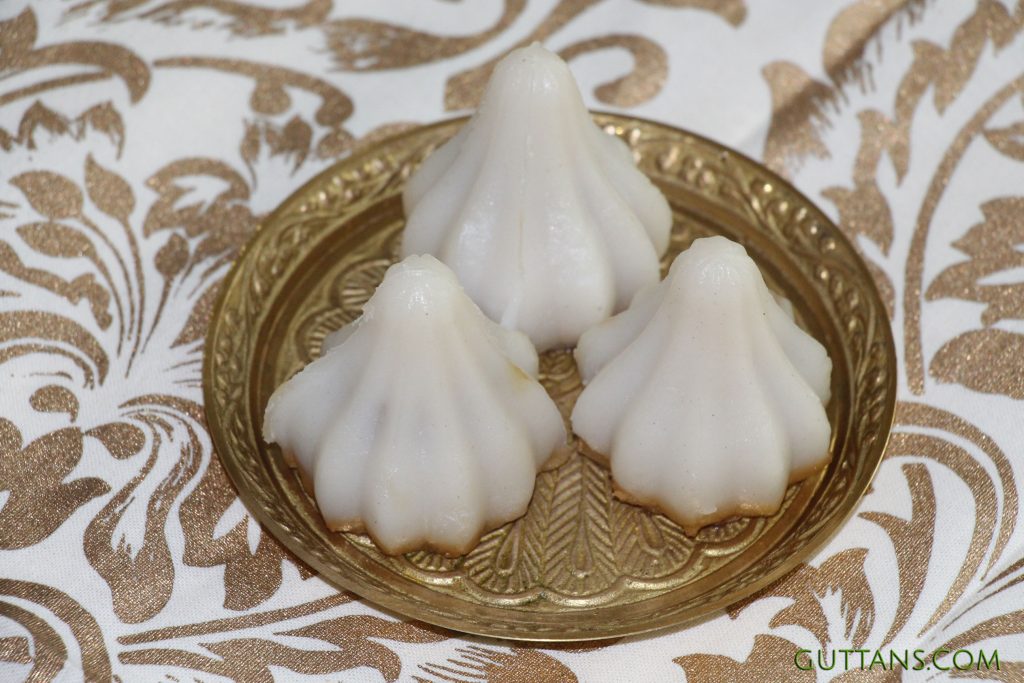 MODAK RECIPE – RICE DOUGH PREPARATION
Correct texture of the rice dough is very important for getting smooth modak without any cracks. If the dough is dry, it is difficult to shape and it will form cracks. Always dough is prepared after making the stuffing to avoid the dough getting dried up.
This Modak is made with roasted rice flour (Used Double Horse Appam / Idiyappam / Pathiri Powder). Correct proportion of rice flour to water gives smooth and soft dough. Depending on the texture of rice flour, sometimes you may need to add a bit less or more water.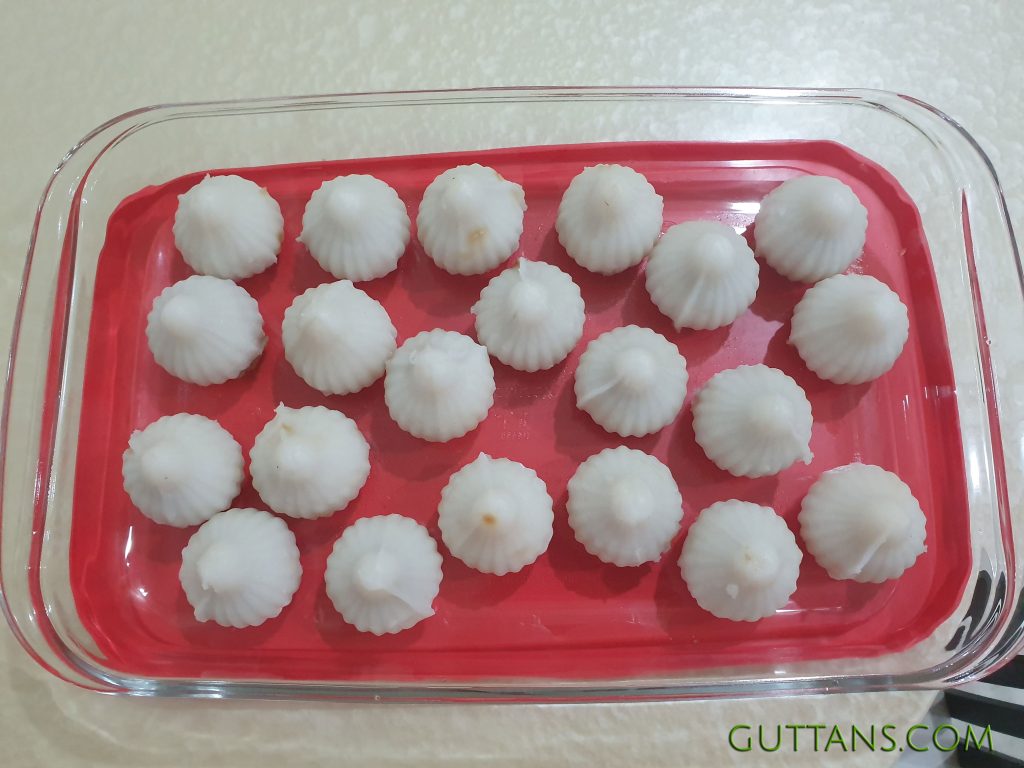 MODAKM (MODAK) SHAPING (HAND OR MOULD)
Modak can be shaped either with hand or using a mould. Mostly, Kozhukatta is made in Kerala in round or oval shape. Modak is made as cone shaped with pleats on its rice dough shell covering. Shaping cones with pleats using mould is quick and easy compared to shaping with hands. It can also be made in half-moon shape like in gujiya recipe.
If it is shaped with hand, make sure not to flatten it very thin. Thin sheet may tear while shaping and the filling leaks.
★ We love your Feedback !! Have you tried this Modak (Modakam) Recipe? Please click on the stars in the recipe card below to rate. You can also follow GuttansFood on Facebook, Instagram to see what's latest Guttans Kitchen.
Modak Recipe (Modakam)
Modak or Modakam or Kozhukatta are steamed, sweet stuffed rice dumplings.
INGREDIENTS
MODAK RECIPE SWEET FILLING (POORNAM OR PURAN)
1

cup

fresh grated coconut

1

cup

powdered or grated jaggery

2

pinch

cardamom powder
MODAK RICE DOUGH INGREDIENTS (OUTER COVERING)
1

cup

rice flour

1.5

cups

water

½

tsp

oil

¼

tsp

salt
INSTRUCTIONS
MAKING SWEET STUFFING
Heat a pan, add grated jaggery with ¼ cup water. Once the jaggery dissolves completely in water, strain it to remove dust and sand particles. This is an optional step to remove impurities in jaggery. If using sugar or brown sugar, no need to boil with water.

Heat the pan with the strained jaggery juice. Boil jaggery juice and add grated coconut and cardamom powder. Mix well.

Coconut absorbs the jaggery and the mixture turns thick. Saute continuously until the moisture in the mixture begins to dry. (It is a loose semi-dry mix). Don't overcook. Mixture will become thicker once it cools. Transfer the coconut poornam in a bowl and allow it to cool off.
MAKING RICE DOUGH
Heat a heavy bottom pan with water, oil and salt. Bring the water to rolling boil.

Slowly add rice flour to the water and turn off the flame. Mix well to combine.

Cover and keep the dough for 5-10 minutes until the temperature comes down to handle.

While it is warm, knead the mixture with wet hands to get smooth and soft dough.

Divide and roll the dough to make about 10-12 equal size balls. Keep it covered.
SHAPING MODAK USING MOULD
Grease the mould with oil. Close the mould. With wet hand, place a dough ball inside thorough the hole.

Make a dent in the dough center, inside the mould, with wet fingers. Using finger, shape by pressing the dough towards the mould wall.

Place the sweet filling inside the space created and seal the modak carefully using dough.
SHAPING MODAK USING HAND
Take a ball and flatten it into a disc. Using thumb and forefingers of both hands, spread the dough to make a round disc or shallow cup with a dent in the center.

Make pleats, in equal distance, by pinching outer side of the cup with thumb and index fingers. (optional step)

Place the sweet filling in the center. Join the pleats and shape carefully into a cone or a round shape with or with out pleats.
STEAMING MODAK
Grease a steamer pan lightly with oil. Place the shaped modak in the greased pan with some space between them. Cover with a lid .

Take about 1 to 1.5 cups water in a pot. Bring to rolling boil and place the steamer pan in the large pan.

Cover the pan and steam modak for 10 to 15 minutes on a medium-low flame.

Offer delicious Modak to Lord Ganesha and celebrate Ganesh Chaturthi.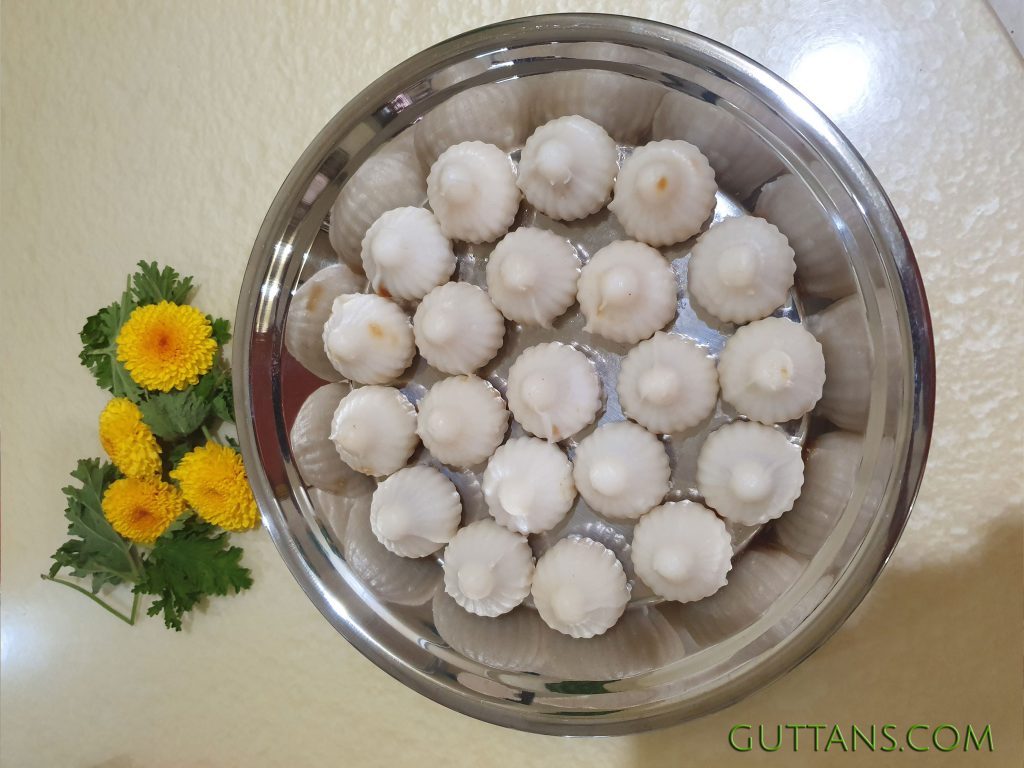 ♥ Share The Recipe !! Did you try this Modak (Modakam) Recipe? Please share the recipe link on facebook, pinterest and twitter. Mention @guttans or tag #guttansrecipes when you share in Instagram!! Thank you & Happy Cooking!!