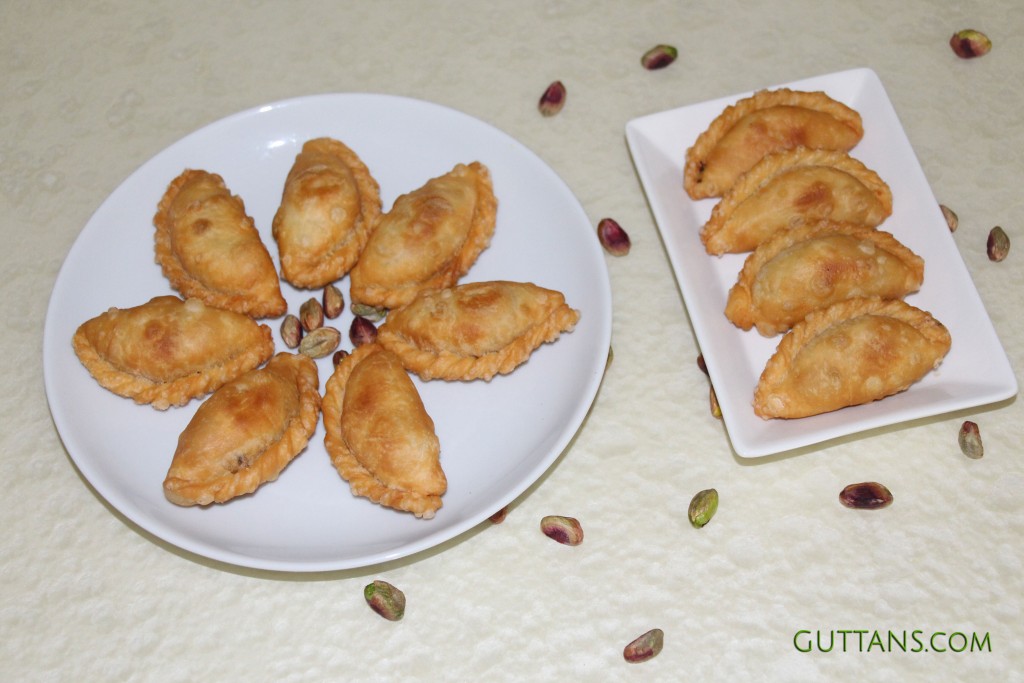 Gujiya, Sweet Puff, is a traditional sweet delicacy. This fried sweet puff has got a very crunchy texture with sweet and soft filling. Gujiya or Gujia is served on special occasions and to celebrate the festival of lights – Diwali and the festival of colors – Holi.
INGREDIENTS
PUFF PASTRY INGREDIENTS
All Purpose Flour – 2 cups
Melted Ghee – 1/3 cup
Water – ½ cup
Salt – A pinch
FILLING INGREDIENTS
Khoya or Mawa (dry evaporated milk) – ½ cup (grated or crumbled)
Grated Coconut – ¼ cup
Semolina (sooji)– 3 tbsp
Golden Raisins – 1 tbsp (finely chopped)
Cashews or Almond or Pistachios – 1 tbsp (finely chopped)
Sunflower Seed Kernels – 1 tbsp
Cardamom Powder – ¼ tsp
Fine Brown Sugar – ½  cup
Ghee – 1 tsp
Oil for frying
DIRECTONS
 PREPARING PUFF PASTRY
Take all-purpose flour in a bowl and add melted ghee (or melted butter) in the centre. Start mixing with your hands softly till the flour forms a bread crumbs like texture.
Now add little water and knead the dough. Keep adding water slowly and little by little to form stiff firm dough. Once the dough is pliable, yet firm, cover it with a damp cloth and set it aside to rest for at least 30 minutes.
PREPARING SWEET FILLING
Dry roast the coconut on medium flame for 5-7 minutes until they turn golden brown and keep aside. Dry roast the chopped raisins, chopped pistachios and sunflower seeds separately and keep aside. Make sure that all these are roasted and kept separately, and never together once done.
Heat ghee in a pan and add semolina (sooji) to it and roast till light golden brown. Remove and keep in a separate plate to cool. Now in the same pan add khoya or mawa and stir on low flame for about 4-5 minutes. Once it is light brown remove it from flame and keep aside to cool.
Once all the ingredients are cooled, mix all dry roasted ingredients, khoya, semolina, sugar and cardamom powder. The delicious khoya filling for the Gujiya is ready now and can be set aside to use later.
ASSEMBLING AND PREPARING GUJIYAS
Once the dough is well rested, knead dough again for 2-3 minutes to make it soft. Make big gooseberry size balls with dough and place all the balls in the same bowl covered with a moist kitchen towel.
Roll each of these balls into a flat thin circular shape of 3" to 4" diameter. Diameter or size depends on the size of your Gujiya mold (if you are using the mold). The dough has enough oil so no need to apply oil or flour for rolling.
Apply water all over the circumference edge, of the rolled pastry circle, with your finger tip. Place 2 teaspoons of the filling (towards the centre) on one partition of the circle, keeping the edges empty. Carefully fold the other half and bring together both the edges. Close the dough completely, forming a half circle shape and gently press the edges. With a small pizza cutter or knife, trim the extra edges. Seal Gujiyas either by fork or pleated design method.
Fork Design : Press the edge with a fork to seal. Fork is used to make nice design and to seal tightly. Make sure that the Gujiya is pressed and sealed well to avoid the filling coming out. If you have Gujiya mould then use that for pressing and sealing and then trim the edges.
Pleated design: It is always recommended to make pleated design at the edges. This way the stuffing does not come out while frying and the Gujiyas look good too. Just keep on folding and twisting the edges till the end.
Prepare Gujiyas this way and arrange them on a plate or tray. Cover the Guijyas with a moist napkin so that the dough does not dry out. Once done, keep it aside to be fried.
Finally, deep-fry all the prepared Gujiyas in hot oil, turning them continuously till they turn golden brown.
GUTTANS TIPS
GHEE OR BUTTER : Ghee can be  replaced with butter
SEALING : While sealing or closing the Gujiya apply water on the edges of the circle and seal properly. This way Gujiya is sealed well and it will not open.
FILLING : Do not over fill the Gujiya with stuffing otherwise they might open while frying. If you have any leftover filling, just add some melted ghee and roll them into ladoos.
KEEPING: Always keep dough and prepared Gujiya covered with a damp cloth, otherwise it will get dry.
FRYING : Fry Gujiyas on medium low flame so that the outer layer becomes crisp. Always try to handle the Gujiya gently or else it may break.
MEASURING TOOLS USED :  240 ml cup, 15 ml tablespoon and 5 ml teaspoon.
Gujiya Sweet Puff, Gujia or Ghugra is a traditional sweet in different parts of India like Maharashtra, Gujarat etc. Karanji, Karjikai, Kajjkayalu, Gujia, Ghugra etc is same name for Gujiya.  The Karanji is a must have crunchy delicacy that is filled with oodles of delicious soft goodness of coconut, jaggery, sesame and spices.  Nuts and dry fruits make every single bite of it a heavenly experience.