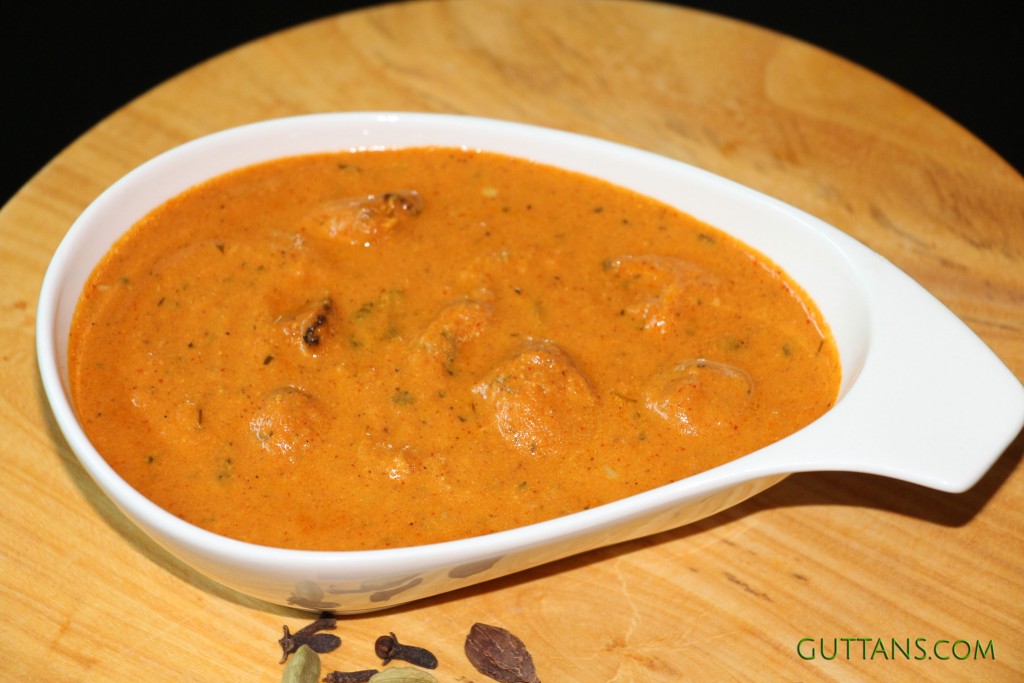 Chicken Tikka Masala is, chicken tikka cooked in a flavourful silky sauce with cream, tomato and red peppers. This super tender and delicious Chicken tikka is grilled or roasted and served with a gravy or sauce that has deep and rich flavours.
INGREDIENTS
Chicken – 400 gms
MARINADE
Yoghurt – ½ cup
Chilli powder – 1.5 tsp
Coriander powder – 1.5 tsp
Turmeric powder – ¼ tsp
Cumin powder – 1.5 tsp
Garam Masala – ¼ tsp
Ginger Paste – 1 tbsp
Garlic Paste – 1 tbsp
Oil – 1 tbsp
Salt – ½ tsp
Lemon Juice – 1 tbsp
 WHOLE SPICES
Cloves – 4
Cinnamon – 1 inch
Green Cardamom – 2
Black Cardamom – 1
SAUCE
Red Capsicum – 1 large or 2 medium (1 cup cubed, measured after roasting)
Onion – 2 medium ( 1cup cubed)
Tomato – 1 medium ( ¼ cup puree)
Chilli powder – 1.5 tsp
Coriander powder – ½ tsp
Cumin powder – 1.5 tsp
Cashews – 6 ( 1 tbsp)
Dried fenugreek leaves (Kasoori Methi ) – 1 tbsp
Oil – 2 tbsp
Butter – 1 tbsp (unsalted butter)
Cream – ¼ cup (cooking or whipping cream)
Water – 1 cup
Sugar – 2 tsp (optional, but recommended)
Salt – to taste
Coriander leaves – 1tbsp for garnish
DIRECTIONS 
CHICKEN GRILLING OR ROASTING – Cut chicken (preferably, boneless) into bite size pieces and keep aside. In a bowl, whisk and combine together all the ingredients in the marinade to make a smooth paste. Marinate chicken with this paste. Cover and chill for 20-30 minutes. Grill or pan roast the marinated chicken and set aside.
CAPSICUM ROASTING – Roast the red capsicum over a gas stove flame until the skin is charred black. Turn the burner to the highest setting and set your pepper directly on the flame.  Use a pair of tongs to turn the pepper until the skin is completely blackened. Place the charred pepper in a bowl and cover tightly to let it steam for about 15-20 minutes. This helps to peel the skin quickly. When the pepper is cooled enough, rub the skin off. Remove the stem and seeds. Wash and wipe the bell pepper. Cut the pepper into small cubes and keep this aside. Usually one large pepper or two medium peppers yields one cup cubed capsicum.
TOMATO PUREE – To make the puree, dip tomato in boiling water for a few minutes (blanching), drain and keep aside uncovered. Once it is cooled, slip off the skins. Blend the skinned and deseeded tomatoes in a food processor or grinder.
GRINDING WHOLE SPICES – Grind the whole spices into fine powder with an electric grinder or mortar and pestle and keep aside.
SAUTE AND GRIND – In the meantime, roast the onions in the pan with one tbsp of oil until lightly browned. Add the cubed red peppers and cashew nuts and toss them for a couple of minutes. Take it off the stove and cool until ready to handle. Blend the mixture into a fine puree. Add a few tablespoons of water only if necessary.
TIKKA MASALA SAUCE
Heat a pan (use the same pan used for sauteing onion) with a tablespoon of oil and a table spoon of butter. When the butter just melts, add the spice powders (whole spices powder, cumin and coriander) and saute until their aroma wafts around.
Add the tomato puree and saute for 1-2 minutes. Add the red capsicum, onion and cashew puree and gently saute for 3-4 minutes.
Add the chilli powder, salt and sugar. Crush kasoori methi in your hands before adding to the mix and cook for 2 minutes. Add the left over marinade (if any) and saute for a while. Mix well and add the cream and add hot water and adjust the gravy consistency.
Now add the grilled chicken pieces and toss to coat well in the sauce. Check taste and adjust salt or chilli powder as desired. If you want a thinner consistency add a few more tablespoons of hot water and a sparing splash of cream. Gently simmer for 5 minutes.
Garnish with chopped coriander leaves and serve with Naans, roti or rice.
GUTTANS TIPS 
SPICE LEVEL : Adjust the amount of chilli powder for less spicy or hot tikka masala.
RED CAPSICUM : Use either fresh red pepper or store bought roasted red capsicum. Capsicum may be roasted using direct flame method or in the oven.
MARINATION : Leaving the chicken to marinate overnight is a great way to add extra flavour to the meat and make it succulent and juicy to cook too. The yogurt helps tenderize the chicken and the garlic, ginger, and spices in the marinade infuse it with lots of flavor.
MEASURING TOOLS USED :  240 ml cup, 15 ml tablespoon and 5 ml teaspoon.
Chicken Tikka Masala is chicken tikka, chunks of chicken marinated in spices and yogurt, that is then grilled in a tandoor oven, and served in a masala. This recipe was adapted from here and here. This chicken tikka masala is a red capsicum based gravy. Roasted capsicum paste and tomato are used to give natural orange red colour to the gravy without using any food colours. It tastes great and gets a robust mouth feel with red peppers. And it is not too hot, but rich and creamy.