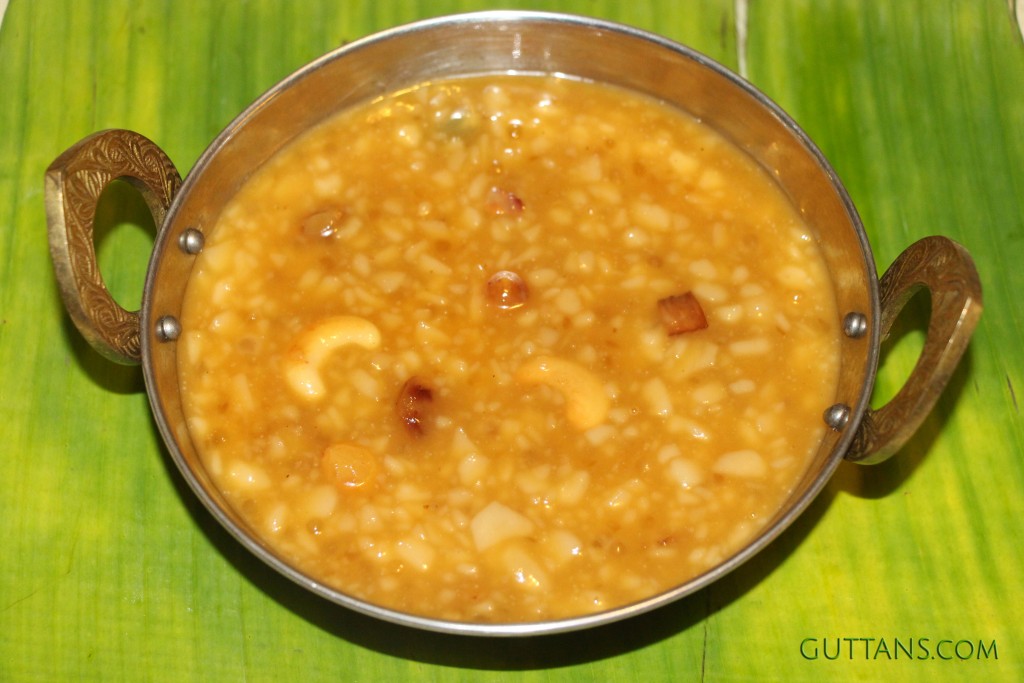 Ada Pradhaman, rich and delicious dessert prepared using rice pasta flakes, coconut milk and jaggery. This traditional dessert is quintessential part of traditional Onam Sadya. Ada Pradhaman Recipe, this most popular dessert of Kerala, has a silky texture and is mild in flavor.
The word "Pradhaman" means "the first" or "number One of many". Of course! it is the first and the most important dessert in Kerala. There are several Payasam or Pradhaman varieties in vibrant Kerala cuisine. But the royalty is the Ada Pradhaman. The difference between the two is that while Payasam uses milk and sugar, Pradhaman is made with coconut milk and jaggery. Pradhaman is mostly made with ada(rice pasta), lentils like kadala parippu and cheru payar and ripe fruits like jackfruit and banana.
Ada is a kind of pasta usually made of rice flour. This Pradhaman is prepared with ada (diced strand like dry rice pieces  or dry rice flakes) which is soaked or cooked in hot water and later slow cooked in jaggery and then cooked in various extracts of coconut milk. We can also make ada at home using rice flour, sugar, salt and ghee. But now a days, we get them in readymade packets.
INGREDIENTS
Ada (Rice flakes) – 200 gms
Jaggery (Sharkkara) – 500 gms (2 ½ cups grated or crushed dark Jaggery)
Sago Pearls or Saboodana (Chowari) – ½ cup
Thin Coconut milk – 4 cups (3rd Extract – Moonnam Paal)
Semi Thick Coconut milk – 4 cups (2nd Extract – Randaam Paal)
Thick Coconut milk – 2 cups (1st Extract – Onnam Paal)
Ghee – 2 tbsp + 2 tbsp + ¼ cup ( total ½ cup)
Cashew nuts –  ¼ cup (4 tbsp)
Kismis – ¼ cup
Coconut Pieces – ¼ cup (cut in to small pieces)
Dried ginger Powder – 1 tsp
Cardamom Powder – 1 tsp (or 10 cardamoms)
METHOD : HOW TO MAKE ADA PRADHAMAN
Coconut Milk – Prepare different sets of coconut milk as per the instructions given in tips section. Use either fresh coconut milk or store bought packet coconut milk.
Ada or Rice Pasta –  Heat 2 tbsp of ghee in a frying pan, put ada (rice flakes) into the pan and fry in low flame till the ada turns light brown. Transfer it to another big vessel. Boil about 3 to 4 cups of water and pour over this ada. Cover tightly with a lid and keep aside for 30 minutes.  Drain and then rinse it well in cold water 2-3 times to avoid sticking. Again, drain and keep aside.
Jaggery Syrup – Boil jaggery with ½ cup water in a heavy bottom pan. Once it starts boiling and jaggery has melted, remove from the gas stove and strain it to remove the impurities. Keep the jaggery syrup aside. Use dark jaggery to get good dark colour for the pradhaman.
Boiling Jaggery – Heat a big heavy bottomed pan (approx 5 litre capacity), pour melted jagerry int to the pan. Boil, cook the jaggery until it is slightly thick (almost like honey consistency) and turns dark brownish. While cooking, keep stirring it so that it does not stick to the bottom of the pan and to avoid it getting burnt or caramelized.
Cooking Ada with Jaggery –  Once, it is thick, add the cooked and rinsed ada, mix well. Keep stirring, now the mix will again become little thin. Keep boiling on medium flame, stirring continuously. It is a little long process. Make sure it doesn't stick to the bottom or burns. Once it is very thick, all the water will be evaporated and then it will be in a gooey form. Now add ¼ cup ghee. Mix it well, stir continuously for another few minutes until it is very thick and jaggery is melted, blend well with ada and turned dark colour.
Add 3rd extract of coconut milk – Slowly and gradually add third extract or thin coconut milk into this mixture. Mix and blend it well. Rinse ½ cup of sago pearls in water and add to this mixture at this stage. Mix well, the mixture has again turned thin now. Boil, stirring continuously to avoid sticking to the bottom of the pan. Boil on medium flame until it turns thick.
Add the 2nd extract of coconut milk – Now add the semi thick or 2nd extract of coconut milk. Mostly, this semi thick coconut milk is added when ada is almost cooked. Add dry ginger powder and cardamom powder (or crushed cardamoms). Stir and mix well. Now again, the mixture is loosened. Bring it to boil, stir continuously and cook on medium flame until it is thick again.
Once the ada and sago are cooked well and when the mixture starts to condense, finally add the 1st extract of coconut milk and turn off the flame. Keep stirring in between to avoid skin formation on top while cooling.
Tempering – Heat 2 tbsp ghee in a pan, fry thin coconut pieces, cashews and kismis until light brown. You can also fry it advance and keep aside while cooking pradhaman. Add fried cashew nuts, kismis and fried coconut pieces along with the tempered ghee. Mix it well with the pradhaman. Cover and keep for 10-15 minutes before serving. Later on, once the flavours and aroma is stabilized, open and stir occasionally until it is at room temperature.
This yields about 2.5 – 3 litres of pradhaman and can be served for about 12-15 people normally. During sadyas, if one more dessert is there, we can serve this much quantity for up to 25-30 people. The perfect consistency for the ada pradhaman will be that if it is poured on banana leaf or plate, it would stay there without running watery. Usually, the pradhaman thickens as it rests, so adjust the consistency accordingly using the quantity of first extract of coconut milk before turning off the flame.
GUTTANS TIPS
FRESH COCONUT MILK EXTRACTION: Grate 2 coconuts (8 cups), grind it in a mixer adding 1 cup of warm water in batches and extract the first milk. Blend the coconut in batches for best results. First, blend a small batch of coconut with some water so that the grated shreds become smaller. Transfer to a big wide bowl and repeat the same with rest of the grated coconut. Gently mix the coconut and water mixture with your fingertips, take a handful and squeeze well. This yields about 2 cups (480 ml) of thick coconut milk (1st extract). Usually one medium big coconut yields about ½ cup milk. So 2 coconut and 1 cup of water mostly yields approximately around 2 cups thick milk. Next, add 4 glass of water to the ground coconut (do in batches) and grind again and extract 4 cups (960 ml) of coconut milk (2nd extract). Now add 4 cups of water and grind it (do in batches) again and extract 4 cups (960 ml) of milk ( 3rd extract).
COCONUT MILK FROM TETRA PACKS OR CANNED THICK COCONUT MILK : Get 400ml (1 can or 2 tetra packs) of thick coconut milk. Shake well and pour ¾ cup (180 ml) coconut milk with 1 ¼ cup (300 ml) of water and mix well to get about 2 cups (480 ml) coconut milk (thick first milk). Next, take about ¾ cup (180 ml) coconut milk and mix with 3 ¼ cups (780 ml) to get about 4 cups (960 ml) coconut milk (semi thick second milk). Finally, mix the remaining 40 ml (2 tbsp + 2 tsp) coconut milk with approx. 920 ml water (3 ¾ cups + 1 tbsp + 1 tsp) water to get 4 cups (960 ml) coconut milk (thin third milk).
DICED DRY READYMADE ADA : If using diced ada (big strand like pieces), break ada into smaller pieces, saute in ghee, then cook in pressure cooker for one whistle. After 10 minutes, release the pressure, open the cooker, drain ada and rinse ada in cold water and keep aside.
HOME MADE ADA : Mix these ingredients with enough water in a blender. Rice powder – 200 gm , ghee – 2tbsp, coconut oil – 2tbsp, sugar – 4 tbsp. Mix well to form a smooth batter(like dosa batter consistency). Take a piece of banana leaf, wash it and wilt it on gas flame. This prevents the bananana leaves from getting torn during ada making process. Drizzle the batter over it. Roll it gently and tie with a string. Boil water in a large pot. Once the water comes to a rolling boil, add the rolled banana leaves and cook for 4 to 5 minutes. Now remove the rolls from water .Keep it aside to cool down. Once cooled, peel the ada carefully out from banana leaves. Cut it into small squares. If needed, drop the ada rolls in to a pot of water (rrom temperature) to easily remove ada. Rinse and drain the ada and keep aside to make pradhaman.
MEASURING TOOLS USED :  240 ml cup, 15 ml tablespoon and 5 ml teaspoon.