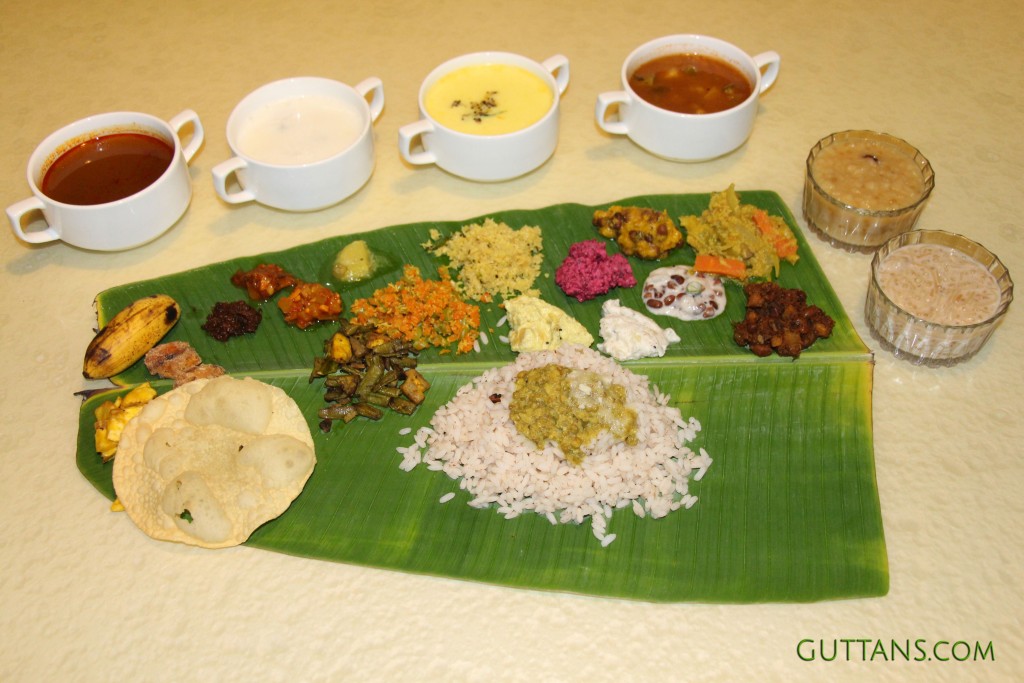 Kerala Sadya or Onam Sadya or Sadhya (thali feast) is the traditional vegetarian feast served on banana leaf. The sight of the veggie delights lavishly spread on sparkling banana leaves and the tempting aroma garners an appetite for everyone. Onam Sadya Recipes.

Happy Onam!
SADYA ON BANANA LEAF
Sadhya is traditionally served on a banana leaf, laid with the tapering end point to the left of the seated guest. Eating food on a banana leaf is considered healthy. Placing hot food on the leaves emanates several nutrients that enrich your food. It also adds to the aroma of food and enhances the taste. Leaf is folded and closed once the meal is finished. Closing the leaf towards you (top to bottom – inward) signifies complete satisfaction with the food and closing it away from you would mean a signal to the cooks that it needs improvement.

SIT CROSS-LEGGED ON MAT AND EAT WITH HANDS TO RELISH SADYA
During a traditional Sadhya celebration people are seated cross-legged on mats laid on the floor. Now a days, on many occasions, sadhya is served on tables, as people no longer find it convenient to sit on the floor.
Food is eaten with the right hand, without cutlery. The fingers are cupped to form a ladle. Eating food with your hands feeds not only the body but also the mind and the spirit. This tradition has its roots in Ayurveda. Eating is supposed to be a sensory experience and eating with your hands evokes emotion and passion. According to Vedic wisdom, the hands are the most precious organs of action.
One of the Ayurvedic texts reveals, every finger is an extension of the five elements. Through the thumb comes space, with the forefinger comes air, the middle finger is fire, the ring finer is water and the little finger represents earth. Eating with your fingers stimulates these five elements and helps in bringing forth digestive juices in the stomach. The nerve endings on your fingertips are known to stimulate digestion. Feeling your food becomes a way of signaling the stomach that you are about to eat. You become more conscious of the taste, textures and aromas.
VEGETARIAN PREPARATIONS – SADYA RECIPES
A normal Sadhya can have about 24-28 dishes served as a single course. In cases where it is a much larger one it can have over 64 items in a Sadya like the Sadya for Aranmula Boat race (Valla Sadhya). Preparations begin the night before, and the dishes are prepared before ten o' clock in the morning on the day of the celebration.
It's well known that the sattva guna (quality of balance or goodness) diet, vegetarian Onam Sadya is supposed to be served in a traditionally-followed healthy order that helps digestion. Serving the Onam Sadya is an art. And eating the onasadya is an even bigger art. The traditional method of eating helps in digesting such a huge vegetarian banquet (feast).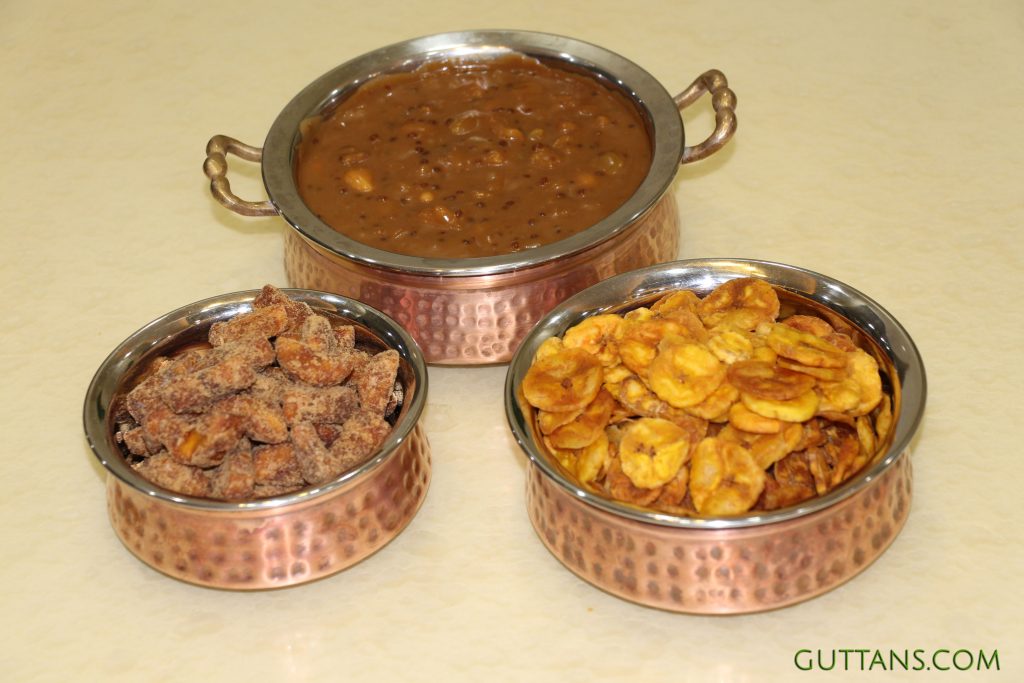 HOW TO SERVE KERALA ONAM SADYA
Sadya is a traditional Kerala feast served on a clean green banana leaf. It is a sumptuous spread of rice, a variety of pickles, followed by different varieties of delicious vegetable dishes and payasams (desserts). Sadya is served in a very unique way. The banana leaf is placed before a person so that its narrow part always points to the left side.
Sadya is served from the bottom left corner of the leaf, on which is placed in order, a small yellow banana, sarkara varatti, upperi and papad. Then the inji puli, lime pickle, mango pickle, lemon pickle are placed on top left of the leaf. Then thoran (dry veggie), mezhukkupuratti (stir fry), pachadi, kichadi, kalan, olan, aviyal, erissery and koottu curry are placed in order on the rest of the upper half of the leaf.
Once all these items are placed, the rice (either matta rice or white rice) is served at the bottom center of the leaf. Only just 2 big spoons of rice are served initially. Then, first parippu curry is served with melted ghee, followed by sambar. Then another big spoon of rice is served and then pulissery and rasam are served in order. On completion of the meals, a variety of payasams (paal payasam, semiya payasam, ada pradhaman, parippu payasam etc) are served. The third and final round of rice is served with buttermilk at the end to complete the meal and to help digestion.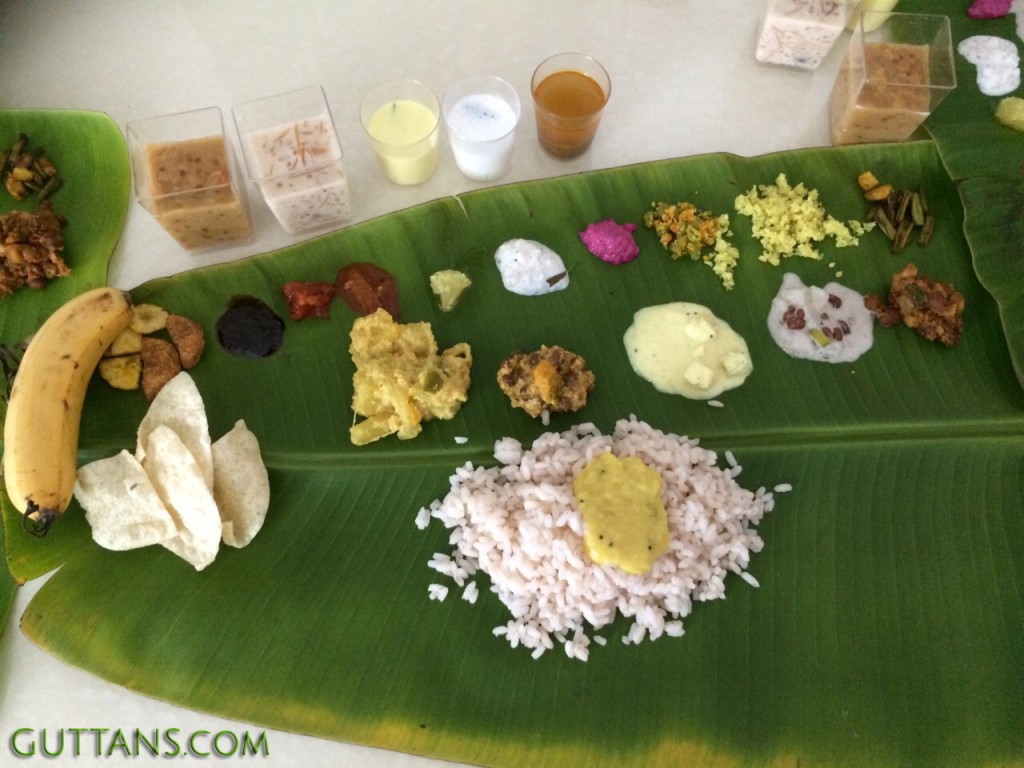 KERALA ONAM SADYA MENU – SADHYA RECIPES
Sumptuous, irresistible and tempting sadya on banana leaves… It is a strictly vegetarian meal with rice as the main ingredient. The sadya is served on banana leaves and serves rice along with minimum 4 dishes excluding traditional pickles and papadam followed by at least one dessert. Following are the usual sadya items.
FRUIT, CRISPY CRACKERS, CHIPS & SWEET CHIPS
Pazham (Ripe Banana)
Pappadam (Fried Urud Dal Crackers)
Upperi (Banana Chips)
Sarkara Varatti ( Jaggery Coated Banana Chips)
PICKLES
DRY DISHES
Cabbage Thoran (Dry Vegetable Dish with Coconut and Cabbage)
Carrot Beans Thoran (Dry Vegetable Dish with Coconut, Beans and Carrot)
Kaya – Achinga Payar Mezhukkupuratti (Raw Banana Long Beans Stir-fry)
SEMIDRY DISHES
Beetroot Pachadi (Yoghurt Coconut with Beetroot)
Vellarikka Pachadi / Kichadi (Yoghurt Coconut with Kerala Cucumber)
Pineapple Pachadi (Yoghurt Coconut with Pineapple)
Pineapple Grapes Pachadi (Yoghurt Coconut with Pineapple and Grapes)
Vendakka Pachadi / Kichadi (Thick Yoghurt with Lady's Finger)
Potato Ishtu / Stew (Potato cooked in Coconut Milk)
Ethakka Kurukku Kaalan ( Raw or Ripe Kerala Banana in Coconut and Yoghurt)
Manga Kurukku Kaalan (Ripe Mango in Coconut and Yoghurt)
RICE & CURRIES
Boiled Rice (Palakkadan Matta Brown Rice or White Rice)
Parippu Curry (Moong Dal Curry with Coconut)
Nei (Ghee or Clarified Butter)
Pulissery or Moru Kachiyathu (Yoghurt Curry with or without Coconut)
Rasam ( Spicy Curry Soup)
DESSERTS
Semiya Payasam (Vermicelli and Milk based Dessert)
Parippu Payasam (Channa Dal and Jaggery in Coconut Milk)
Paal Payasam (Dessert made with Rice and Milk)
FINALLY, BUTTERMILK FOR DIGESTION
Morum Vellam (Kerala Spiced Buttermilk)
KERALA ONAM FESTIVAL AND ITS IMPORTANCE
Onam is the state festival of Kerala which has a history as old as the history of Kerala. It is celebrated as a joyous annual reminiscence of the golden rule of a mythical King Mahabali, who ruled Kerala a very long time ago. Every year, in honour of the King, thousands of Malayalis across the world get together to celebrate in all grandeur. Food is usually the centre of all celebrations. We can see grand feasts organized in almost every nook and corner of 'God's own country'.
Onam falls during the month of Chingam, the first month of the Malayalam Calendar, usually in August–September. The celebrations begin within a fortnight of the month Chingam and go on for ten days. The last day called the "Thiruvonam" is the most important. All these ten Onam days, flower arrangements( athapookalam) are beautifully created on the floor outside the houses. These pookalam is much similar to rangolis.
The most important things about Onam are Onapookalam (multi-coloured floral decoration on the ground in the front of home), Onakodi (the new clothes worn on the day of thiruvonam), Vallamkali (the snake boat race) and ofcourse, cooking elaborate meals, Onasadya (the grand Kerala feast)
All Keralites prepares Onasadya in a grand fashion irrespective of their wealth. There is a saying in Malayalam on the harvest festival Onam "kaanam vittum onam unnanam." It means a man must eat sadya (a grand vegetarian lunch banquet) even if he is forced to sell his property. Enjoy Sadya… relish your taste buds!