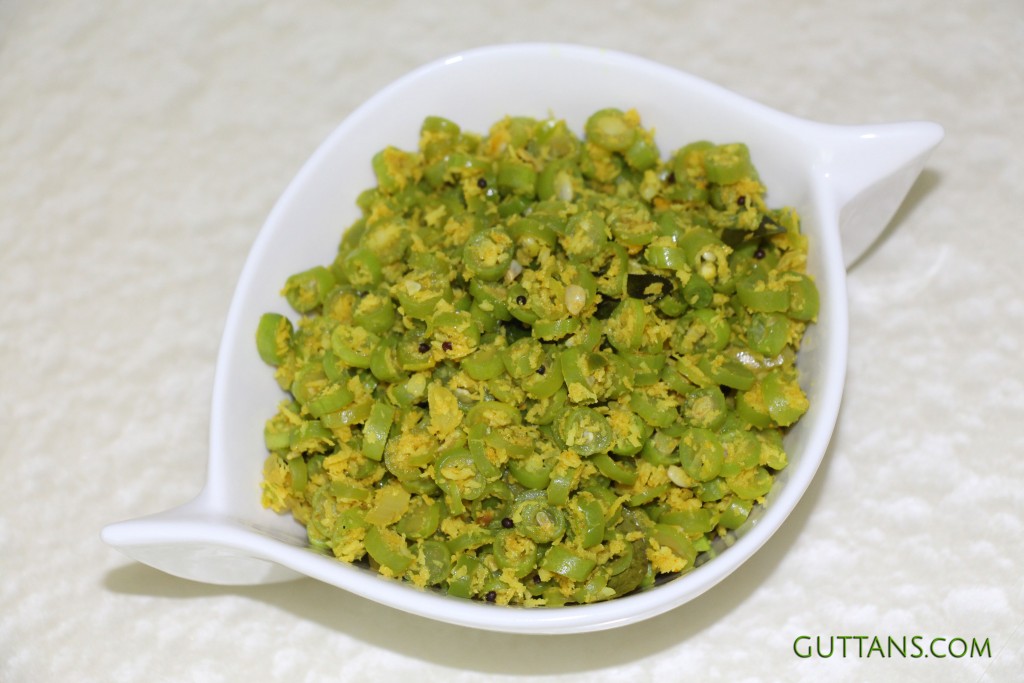 Long Beans Thoran or Achinga Payar Thoran is made with long beans, coconut, turmeric powder, cumin and garlic. Thoran is a dry vegetarian stir fry dish made with coconut. This can be prepared with any vegetables or dals or lentils or beans and is a great side dish with rice.
INGREDIENTS
Chopped Long Beans – 2 cup
Chilli Powder – 1/8 tsp
Turmeric powder – ½ tsp
TEMPERING
Coconut Oil – 2 tsp
Shallots – 3-4 finely chopped (1 tbsp)
Red Chilli – 2 nos (optional)
Mustard seeds – ½ tsp
Salt – to taste
Curry Leaves – few
GRINDING
Grated coconut – ½ cup
Green chilli – 1
Garlic – 1 pod
Cumin seed – ¼ tsp
DIRECTIONS
Cut or chop the beans into fine thin circle slices and finely chop the shallots and keep aside. Crush or pulse together coconut, green chilli, garlic and cumin in a mixer.
Heat oil in a pan, add mustard seeds and let it splutter. Add red chilli, chopped shallots and curry leaves and saute for a while. Next, add long beans (achinga payar), turmeric powder, chilli powder and salt. Stir and saute for a while and add the coconut mixture and mix well.
Bring everything to the center of the pan to make a heap. Cook uncovered on low flame for 8 – 10 minutes until soft, stirring in between (sprinkle 1-2 tsp water if necessary). When done, cook on medium-high flame for a while until the thoran is completely dry. Serve with rice and other side-dishes. 
GUTTANS TIPS
GREEN COLOUR : Uncover and cook the beans to retain its bright green colour. It takes little longer to cook.
MEASURING TOOLS USED :  240 ml cup, 15 ml tablespoon and 5 ml teaspoon.
Long Bean Thoran or Achinga Payar Thoran is  a very easy and quick side dish in Kerala, South Indian cuisine.