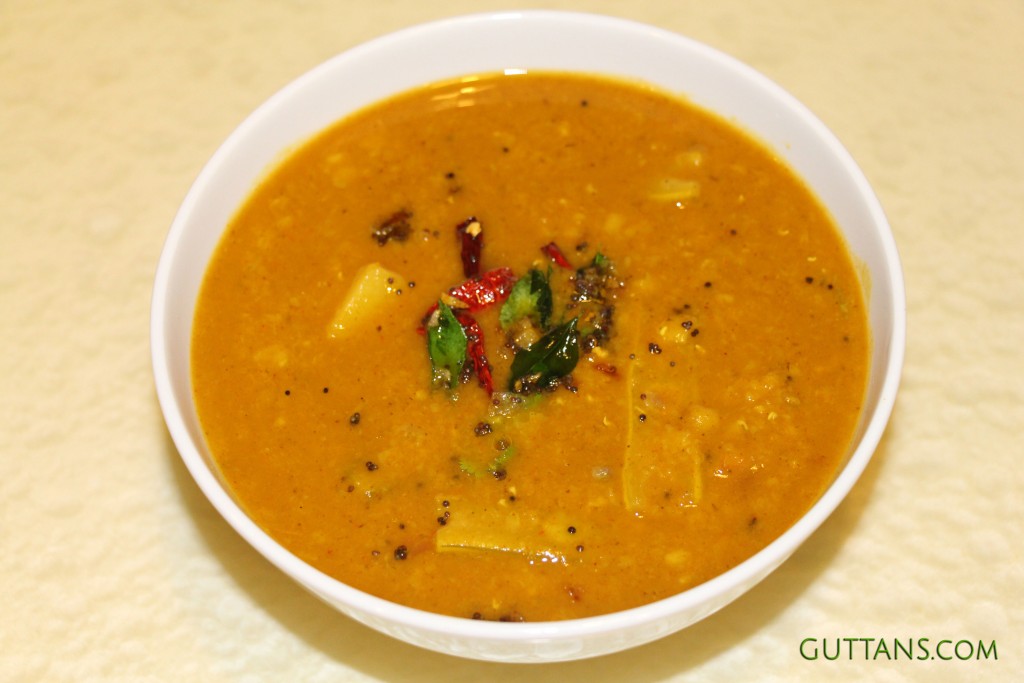 Kerala Sambar (Vegetable Toor Dal Curry) is aromatic, semi spicy, nutritious and delicious. Sambar or Sambhar is a mildly tangy lentil based soup made with vegetables, shallots and tamarind. This simple, thick and creamy toor dal curry is served as side dish with dosa, idli, vada, rice etc.
Typical south Indian sambar recipe calls for lot of vegetables like potato, pumpkin, ashgourd, drumstick, eggplant, lady finger, onions or shallots and tomatoes. The choice of vegetables is based on a personal preference or liking and are optional. Each vegetable lends a different flavor and taste.
This South Indian, Kerala Sambar is prepared with potato, lady finger, drumstick, shallots and tomatoes. Shallot Sambar is another very easy and simple sambar prepared with drumstick and shallots as the main ingredient. No need to add the vegetables potato, tomato and lady finger. Just add few more shallots (about 6-8 more small shallots) and one more tsp tamarind in this sambar recipe to make yummy shallots sambar.
INGREDIENTS FOR LENTIL SOUP
Toor Dal – ¾ cup (split and skinned pigeon peas)
Potato – 1 large size
Ladies Finger – 1 medium size
Drum Stick – 3 pieces (2.5" each)
Tomato – ½ large size
Shallots – 8-10 pieces
Garlic – 1 clove
Green chillies – 1-2 nos. (optional)
Tamarind – 1 tsp
Water – ½ cup + 1.5 cups + 2.5 cups + ½ cup (5 cups)
Salt to taste
TEMPERING
Coconut Oil – 1 tbsp
Mustard Seeds – 1 tsp
Dried Red Chillies – 2 (cut into pieces)
Fenugreek Seeds – 1 pinch
Sambar Masala – 1 tbsp
Turmeric Powder – ¼ tbsp
Chilli Powder – ¼ tbsp
Coriander Powder – ¼ tbsp
Asafoetida (Hing) Powder – ¼ tsp
Curry leaves – 2 sprig
Coriander leaves – 2 sprig
 METHOD : HOW TO MAKE KERALA SAMBAR
Soak tamarind in ½ cup of warm water for some time (about 15-20 minutes), squeeze and take the extract from it. Keep aside.
Pressure cook toor daal (split and skinned pigeon peas) with enough water (approx. 1.5 cups) for one whistle. Turn off the flame. After the pressure settles open the cooker and mash the cooked dal with a wooden spoon. Add more water (approx. 2.5 cups) to the mashed dal and mix it well. Add the vegetables like potatoes, drumsticks, ladies finger, garlic, shallots and tomato and bring to boil. Now add salt and tamarind juice to cooked dal. Stir well and simmer on low flame for some time (15-20 minutes).
Meanwhile, heat oil in a pan; add the mustard seeds and allow it to splutter. Next, add fenugreek seeds, dried red chillies and half of the curry leaves and fry for a while. Add in the sambar powder, turmeric powder, coriander powder and chilli powder and saute for couple of minutes on low flame. Take care not burn the masala powders. Turn off the flame and add asafoetida powder and mix well.
When the vegetables are cooked and mixed well with dal, add the tempered spice powder mix to the cooked dal mixture. Add ½ cup water in the masala seasoning pan, rinse any leftover masala and pour this masala water to the dal mixture.
Mix everything well and bring to boil. Simmer for few more minutes. (5-10 minutes). Remove from flame and add chopped coriander leaves, remaining curry leaves. Cover with a tight lid till served, so that the flavors get locked in the curry.