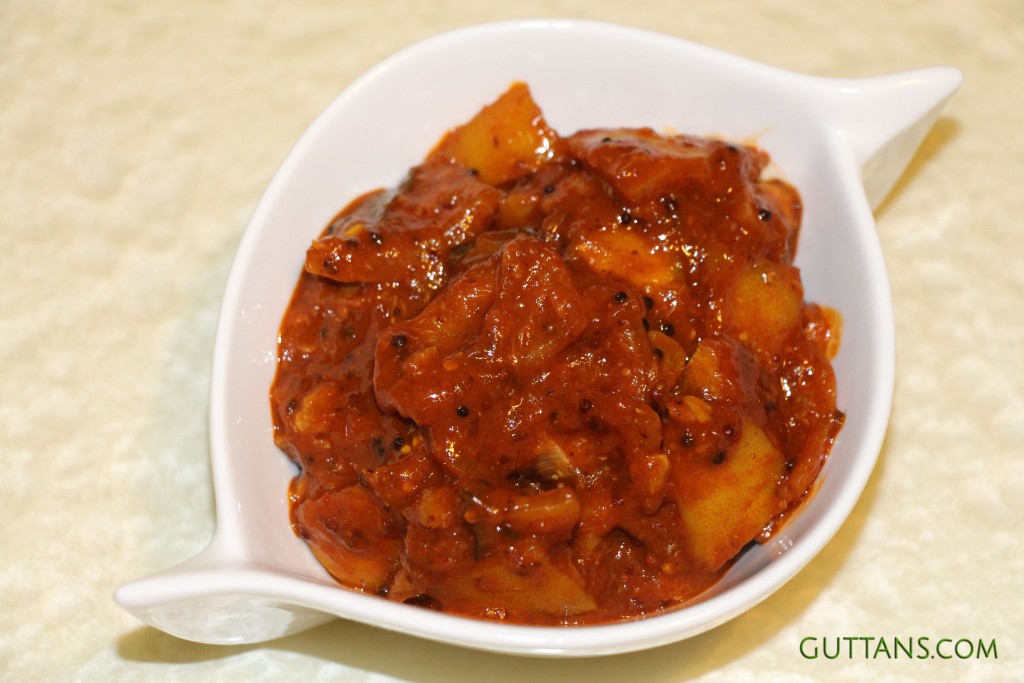 Kerala Lemon Pickle (Naranga Achar) is a spicy tangy pickle made using lemon (yellow lime) and spices. Yellow Lime Pickle is usually made during Onam or Vishu Sadya. This is very easy and quick lemon pickle that is ready to use within three days.
Lemon Pickle or Naranga Achar is one of the pickles served on banana leaf during traditional Kerala Sadya as a side dish during Onam, Vishu and occasions.
INGREDIENTS FOR LIME (CHERU NARANGA) ACHAR
Small Yellow Lime – 10 Nos. (approx. 2 cups cut pieces)
Garlic – ½ cup (sliced)
Chilli Powder – 4 tsp
Turmeric Powder – ¼ tsp
Fenugreek Powder – ¼ tsp
Mustard Seeds (coarsely ground) – 1 tsp
Asafoetida (Hing) Powder – ¼ tsp
Salt – according to taste (approx 2 ½ to 3 tsp + extra if needed)
Sugar – ½ tsp
Water – 1 cup
TEMPERING
Gingelly (Sesame) Oil – 2 tbsp
Mustard seeds – 1 tsp
Curry leaves – 1 sprig
Dried Red Chillies – 2 (cut into pieces)
METHOD : HOW TO MAKE KERALA LEMON / LIME PICKLE (NARANGA ACHAR)
Prepping : Wash all small yellow lime (lemon) and wipe them with a kitchen towel. Steam the lemon in a steamer for about 10-15 minutes. Turn off the fire and remove the lemon from the steamer. Keep it aside for cooling. Cut the lemon into quarters and then cut each quarter into a half along the length. While cutting, keep or hold the lemon in a plate or bowl to collect the juices.
Heat gingelly oil in a pan and splutter mustard seeds. Add dried red chilies, curry leaves and saute for a while. Next, add garlic cloves or slices and saute till it is light brown in colour. Add chilli powder, turmeric powder, fenugreek powder and asafoetida powder. Saute for 1-2 minutes, until the mixture turns a dark reddish brown and fragrant.
Add water, bring to boil, reduce the flame to low and cook till the mixture is thick. Add the cut lemon pieces, salt and sugar to this mixture, stir and mix well. Taste and add salt if needed.
Cover and cook for another 5-10 minutes in low flame. Turn off the flame and keep it covered till it cools. Once cooled, store in a glass jar. Keep outside for two to three days for the flavours to set in and then refrigerate the pickle. The longer you keep pickles sealed and stored in a cool, dry place the better they taste. Longer they are allowed to blend in with the spices the more they absorb flavours and taste better.
 GUTTANS TIPS 
STEAMING : Steaming makes the lemon very soft.
GARLIC CLOVES : Use small cloves from small garlic bulbs or sliced cloves from big bulb.