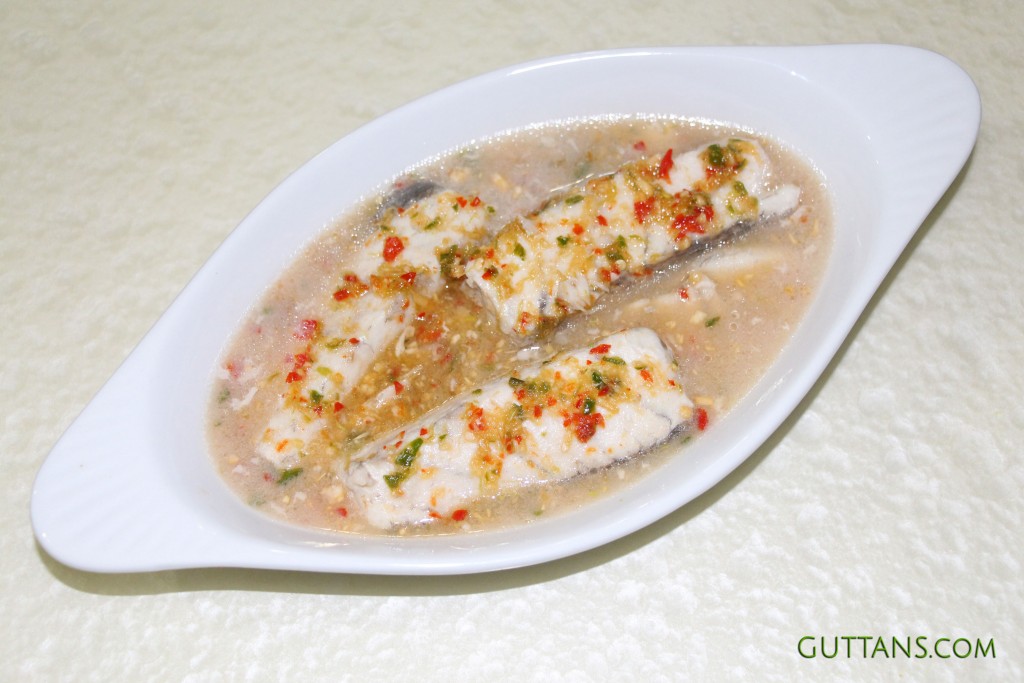 Extremely tasty and aromatic Thai Sea Bass Lime. Steamed sea bass fish with a tangy lime, hot chilli and garlic sauce with wonderful flavours. Delicious, refreshing, healthy and super easy to make Thai style steamed sea bass recipe.
INGREDIENTS
Whole Sea Bass – 1 or Sea Bass Fillet – 500 gm
CHILLI & LIME SAUCE
Green Chilli Padi – 2 (deseeded)
Red Chilli Padi -2 (deseeded)
Garlic – ½ tsp (chopped)
Coriander or cilantro roots – 2 (8" long)
Lime Juice – 3 tbsp
Fish Sauce – 3 tbsp
Sugar – 4 tsp
METHOD : HOW TO MAKE THAI SEA BASS LIME
Prepping : Clean and rinse the fish (or fish fillets) and pat dry with a paper towel. Wash the coriander roots well and peel the root and cut into medium size pieces. Chop the garlic and keep aside.
Steaming : Place the sea bass fish on a heat proof plate and then keep it inside the steamer. Steam over moderate heat for about 15-20 minutes or until cooked. Steam preferably on the same platter in which it will be served. If the sea bass is steamed on another platter, transfer to the serving platter along with the steam juices.
Make Sauce : Meanwhile, grind together all the ingredients for the sauce in a blender until combined and coarsely ground. The sauce should be hot, sour, salty and sweet – but this can be altered to taste. Fish sauce is salty, so most of the time, no need to add extra salt. Taste the sauce and ensure the balance of these flavours and adjust the taste if necessary.
Once fish is cooked, pour the chilli and lime sauce over the fish and serve with hot rice.
GUTTANS TIPS
STEAMING : Steam the sea bass fish over a moderate heat to ensure a tender texture.
FISH SAUCE : Thai cooking relies heavily on fish sauce, as do the cuisines of Vietnam, Indonesia and southern China. Fish sauce is the seasoning that provides much of the saltiness in Thai recipes. As the fish sauce is salty, most of the time, no need to add extra salt.
CORIANDER ROOTS : Use the root with about 2 inch of the green stem portion attached to each root. Use almost 8" length root with 2" green steam and 6" down root.
Some of the Asian style fish recipes use sea bass. If you can't find sea bass, substitute with any meaty white fish like Grouper, Cod or Haddock. Grouper fillets are not thick as Sea Bass. Five varieties of fishes and its substitutions were found in the link types of fishes. This Thai Sea Bass Lime recipe is adapted, as taught at Dining Inspirations Cookery School, Singapore, during one of our Thai cooking classes.