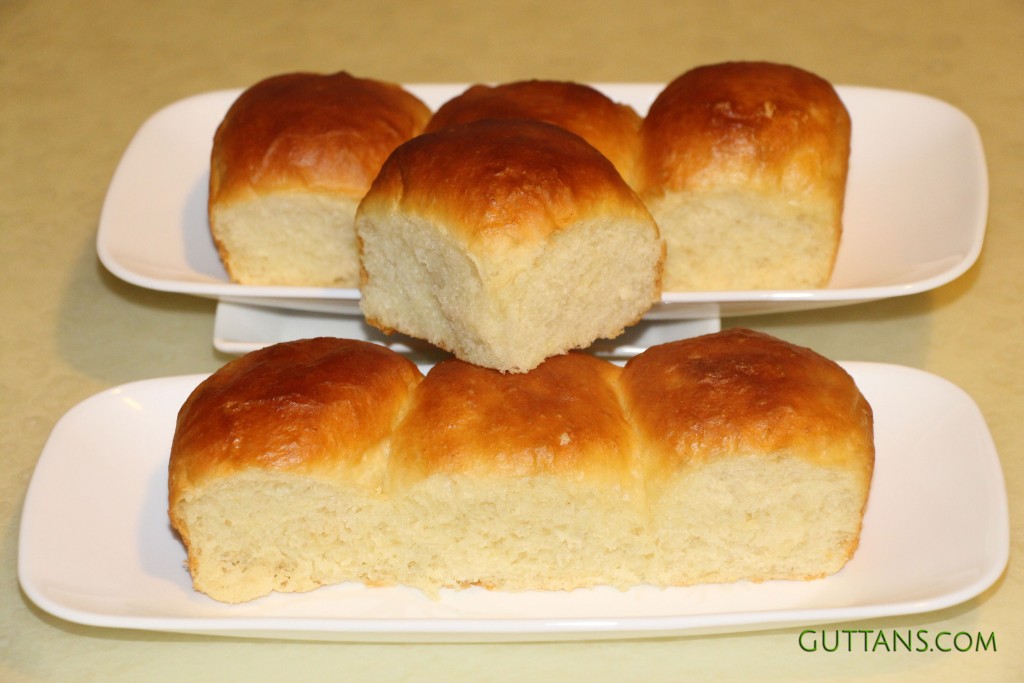 Pav Buns, Ladi Pav or Pav Bread or Laadi Pav or Dinner Rolls. Pav or Pao means a 'small loaf of bread'. These eggless soft and buttery Pav Buns or Pao Buns  (Dinner Rolls) are perfect accompaniment  for  Pav Bhaji, Vada Pav, Debeli and Burger.
Pav or Pao is basically a small loaf of bread, introduced by the Portuguese in India. Usually, pavs are always made with all-purpose flour. We can make these bread rolls with whole wheat flour or unbleached plain flour.
The pav for Pav Bhaji is also called "ladi pav" or  "laadi pav" which means a 'slab of bread rolls' as the rolls are baked as one big slab and the individual rolls are pulled apart. For Pav Bhaji, the pav is slit sideway in half and placed, cut side down, in hot butter till lightly toasted and brown before serving it with the bhaji.
BREAD DOUGH for PAV BUNS
Plain Flour – 2 cups
Butter – 2 tbsp (28gm softened) + 1 tbsp for glazing
Yeast – 1.5 tsp
Sugar – 2 tbsp
Milk – ¼ cup + 1 tbsp for brushing
Water – ¼ cup
Oil  – 1 tbsp + 1 tsp
Salt –  ½   tsp
FOR ROUX PREPARATION
Plain Flour – 3 tbsp
Water – ¼ cup
Milk – ¼ cup
METHOD : HOW TO MAKE PAV BUNS BY ROUX METHOD
Make Roux : Mix the ¼ cup water, ¼ cup milk and 3 tbsp of plain flour (or bread flour) in a sauce pan. Make sure the flour is mixed well with no lumps. Heat it on low flame. Let it boil until thick. Keep stirring. Cook until it forms thick custard. Turn off the heat and let it cool. Cover it with cling film and keep it aside.
Proof Yeast : Mix yeast (dry yeast) with ¼ cup of warm water and two tbsp sugar in a bowl. Cover the bowl and set aside for 10-15 minutes until it dissolves and blooms. Mixture becomes foamy or bubbly and frothy.
Make Dough : Whisk together the flour and the salt. Make a well in the center of the flour mix and add the yeast mixture, warm milk, butter, roux and knead (2-3 minutes in the mixer or 8-12 minutes by hand) till all the flour comes together into a ball of dough. Add the 1 tbsp oil to the dough, half a tbsp at a time, and knead (6-9 minutes in the mixer or 12-18 minutes by hand) to get smooth dough. Usually, the kneading process takes about 8-12 minutes in a mixer,  20-30 minutes by hand and 1-5 minutes in a food processor.  Do the windowpane test to see if the dough is ready. (How to do windowpane test? See Guttans Tips at bottom). The dough should pass the windowpane test.
Proof Dough : Grease a large bowl with a tsp of oil, turn the dough in the oil so that it is evenly coated with the oil, and cover the bowl. Keep for 1 hour to 1.5 hour to double. Dough should be all airy and puffed up. Poke a finger in the dough and make an indent (or a small hole with your finger) in the dough. If the hole or indent remains and the dough doesn't bounces back that means dough is ready for the next step.
Deflating & Punching : Once dough is ready, deflate and knead the dough for another minute until it makes a smooth dough ball. Dough elasticity and gluten formation is enhanced by kneading. After the first rise, some sort of deflating is necessary in order to reinvigorate the yeast cells and this ensures a better rise once you've shaped the dough into balls and also improves the flavor of the finished bread. Punching dough down, really deflates the dough, collapsing all the air pockets already formed.
Shaping :  Transfer the dough ball to a lightly floured cutting board and knead for a while with enough flour to make it easy to handle. Next, divide the dough into 9 equal size parts. Grease a baking tin (8"x8" square tin used).   Roll dough in the form of balls and set them in the baking tin. If your tin size is smaller, then keep in two pans. Make sure to leave gap between the balls, because they will expand while they rest.
Proof Pav Rolls : Loosely cover the rolls with aluminum foil or plastic wrap or keep inside a covered space (can keep inside any covered kitchen cabinet) or oven to proof. Let the rolls rise for about 30-45 minutes, until doubled. All the raised, proved balls will stick to each other, it is 'ladi pav'! Brush pavs with milk.
Bake Yummy Pavs : Pre-heat the oven to 175 deg C. Bake in the middle rack for about 15-20 mins till top of the pavs turns golden brown. Keep checking it after 15 minutes. All oven temperatures vary and so the cooking time too. Stop the oven once its golden brown colour. Once it's done, keep in oven for another 2 more minutes.
Butter Glazing : Take a blob of cold butter and rub it over the top of the freshly baked pav buns. This gives the buns a lovely shine and soft crust and keeps them covered under a towel to maintain softness.
COOLING : Once pav buns are out of the oven, after 5 minutes, remove the pavs from the baking tin and allow them to cool down on a wire rack. If allowed to sit too long in the baking tray buns will turn moist and remain wet at the base due to heat condensation.
GUTTANS TIPS
TYPES OF YEAST : DRY YEAST & INSTANT YEAST : This pav buns recipe uses active dry yeast. Active dry yeast has a larger granule and needs to be dissolved in water before using, while instant yeast has a more fine texture and can be mixed right into dry ingredients. If using Instant yeast, that needs to be added to the recipe directly. No proofing required. (Reference : What's the Difference Between Active Dry Yeast and Instant Yeast?).
WINDOWPANE TEST : The windowpane test is one of the best ways to tell if you've sufficiently kneaded your bread dough. First, cut off a small piece of the dough about the size of a golf ball. Hold it between your thumb and first two fingers. Next, gently spread your fingers and thumbs apart, stretching the dough into a thin translucent membrane (ie, a windowpane). If you can stretch the dough without it breaking that means the gluten is well-developed and your dough is ready to rise. Pat the ball back into the larger batch and you're good to go! If the dough breaks then you need to knead it more. (Reference : How to do the Windowpane Test when Kneading Bread).
BUNS : This pav dough recipe can be used to make homemade burger buns too. Shape into round balls. Proof it, brush with milk, sprinkle sesame seeds and then bake. Burger buns are ready. Knot bun dinner rolls can also be made with this dough. Check Whole Wheat Bread Rolls recipe to learn how to make knots.
WHOLE WHEAT VERSION : Rolls can also be made with whole wheat.  Pavs made with 100% whole wheat flour has dense texture and it is bit chewy.
TIME AND QUANTITY : The buns in this recipe are cooked in top to bottom setting with oven rack in the middle rack position. All oven temperatures vary and so the cooking time too. This recipe makes 9 pav buns.
MEASURING TOOLS USED : 240 ml cup, 15 ml tablespoon and 5 ml teaspoon.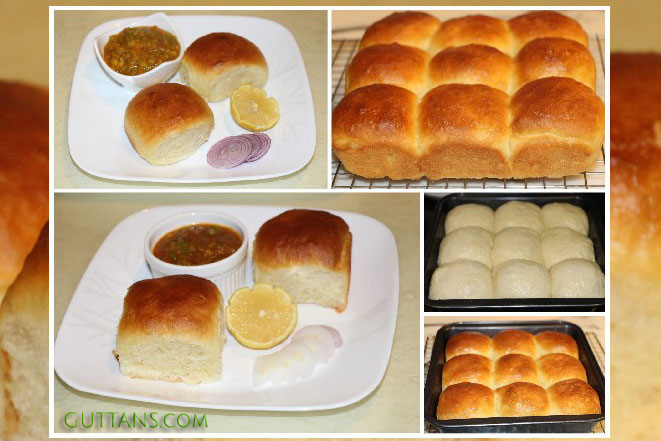 The smell of fresh bread is said to be the most universally loved smell. Fresh and warm, right out of the oven, these basic homemade dinner rolls or pavs are really irresistable! This pav buns recipe makes fast and easy dinner rolls or pavs  from scratch. Water roux makes bread extra soft, tender and fluffy. It's roux magic.
Pav Bhaji – Dinner Rolls with Mixed Vegetable Curry – is a fast food dish from Maharashtra, India. It is a combination of thick vegetable curry (bhaji) usually prepared in butter and served with soft roll buns (pav).
Vada Pav (Indian Burger) – Potato Patty with Buns – sometimes spelled wada pav or vada paav or vada pao or wada pao or bada pav, is a vegetarian fast food dish native to the Indian state of Maharashtra. It's Mumbai's very own burger. The vada is made of a spicy potato filling deep fried in a gram flour batter and it is served inside a small Pav Bun or Laddi Pav.
Dabeli or Kutchi dabeli or Double Roti ((Buns filled with potato masala) is a snack food of India, originating in the Kutch region of Gujarat. It is a spicy snack made by mixing boiled potatoes with a dabeli masala, and putting the mixture between pav bun (bread rolls) and served with chutneys made from tamarind, date, mint, coriander etc. and garnished with pomegranate and roasted peanuts.
This recipe was referred to me by my friend Premalatha Aravindan and it is adapted from her Pav Buns Recipe found here. She learned bread making from Suhaina Aji and the source bread dough recipe is from here. Enjoy making these absolutely cottony soft and fluffy pav buns.