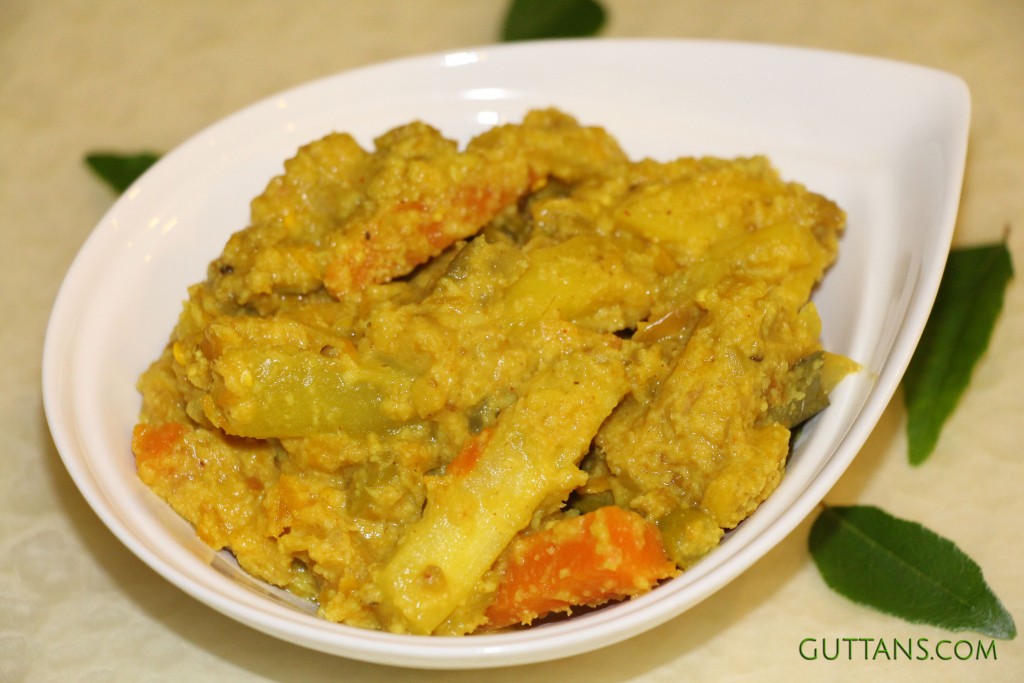 Mixed Vegetable – Aviyal – is a unique sumptuous, nutritious and delicious dish. Aviyal or  avial is made with various vegetables, coconut and seasoned with coconut oil. This light, delicately spiced, tangy side dish is served as an accompaniment to rice.
INGREDIENTS
Vegetables – 8 cups *
Green chillies – 4 nos.
Turmeric Powder – 1 tsp
Chilli Powder – 1/8 tsp
Tamarind – 1 tsp **
Coconut oil – 2 tsp
Curry leaves – 10 Nos.
Salt – as required
GRINDING
Coconut – 2 cup
Garlic – 1 tsp (3-4 pods)
Cumin – ½ tsp
DIRECTIONS
Peel and cut the vegetables lengthwise. It's important to cut the vegetables the same way for even cooking. Generally, the vegetables are cut into 2″ long ½" wide strips.
Mix the veggies with green chilli, turmeric powder, chilli powder and salt in a large cooking pot. Cover and cook the veggies with ½ cup water on low flame. Vegetables let out a fair amount of water while cooking. So no need to add more water.
Meanwhile, grind coconut, garlic and cumin into a thick coarse paste. You can add little water, ¼ to ½ cup (4-8 tbsp) if needed.
When the veggies are ¾th cooked (it takes about 10-15 minutes), add the ground coconut paste and tamarind (tear the tamarind to small pieces). Mix well.
Cover and cook few minutes, till raw taste of coconut paste is gone. Uncover and cook for few more minutes, until all the vegetables are cooked well and it reaches required consistency.
And just before removing from the fire, add the coconut oil and curry leaves. Mix well. Note that aviyal is not tempered so it's important to add the oil at the end.
Take care not to mash the vegetables. Serve hot with rice.
GUTTANS TIPS
*VEGETABLES : Vegetables used in this recipe are Raw Plantain (banana), Potato, Cluster beans, French beans, Long beans, Drumstick, Snake Guard, Bottle gourd, Carrot, White Carrot(Radish), Green Brinjal, Purple Brinjal, Winter Melon (Ash gourd), Pumpkin, Tomato and Onion. This recipe is with 7 cup vegetables + ½ cup tomato + ½ cup onion. You can use any vegetables available. You can also add vegetables like Taro root (arabi), Yam, Jack fruit seeds, Kerala Cucumber (Vellari) etc.
**VARIATIONS : Aviyal has many variations within Kerala and it's made in a few different ways.  This recipe is the semi-dry avial without adding curd. Tomato and tamarind is added for tartness and that works perfectly without making the avial too watery. Avial can also be made using raw mango or curd to get the tangy taste.
MEASURING TOOLS USED :  240 ml cup, 15 ml tablespoon and 5 ml teaspoon.
Mixed Vegetable Aviyal is a unique traditional dish of Kerala (South India). This tangy side dish is served at almost every traditional festival sadya (feast) in Kerala.  It is known for its special flavours and thick texture.