Chocolate Ganache is a rich, chocolate topping or decoration. Ganache is a French term referring to a smooth and velvety blend of chocolate and cream. Ganache is easy, delicious and versatile too. It can be used in different ways like frosting, glaze, mousse, filling, dip etc.
THICK GANACHE INGREDIENTS
Heavy Whipping Cream – 1 cup
Dark Chocolate in chunks or chips – 2 cups ( 16 oz / 454 gms)
Butter – 2 tbsp (optional for glazy finish when pouring)
DIRECTIONS 
Coarsely chop the chocolate and place in a medium to large bowl. Bring heavy cream to a simmer on the stove top, stirring occasionally. Just as soon as you see a simmer, remove from heat and pour over chocolate chips, swirling the bowl to make sure all chips are covered.
Let it sit undisturbed for 5 minutes. Mix the chocolate chips or chunks, starting in the center and working outward until smooth. To make the mixing easier, place water in a large saucepan on medium heat, and set the bowl of ganache over it. Stirring with a spatula or fork or whisk continue to heat the ganache until smooth. Do not stir with a wooden spoon, stay away from wood, as you want no moisture involved here.
Take the ganache off the heat, let it sit and set. Allow ganache to cool before pouring over cakes as a glaze. Wait at least a few hours before applying to the cake. The longer you allow the ganache to cool, the thicker it will set. You can also pour into an airtight container and refrigerate it overnight. Bring it back to room temp when needed, or soften in the microwave oven on 30 second intervals until fully melted again. Any leftover ganache can be frozen and saved for next time.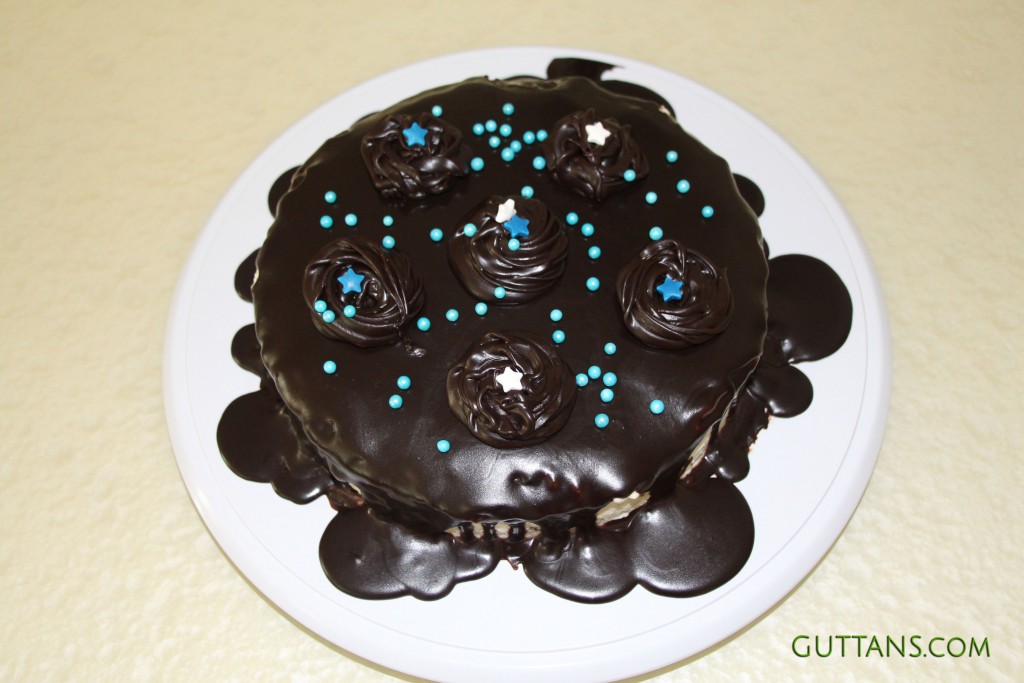 GUTTANS TIPS
VARIATIONS : Thick Dark Chocolate Ganache, that can be used as a thick glaze, filling, piping etc. uses a ratio of 2:1 (by weight) ; as shown in this recipe; that is 2 parts semisweet or bittersweet chocolate and 1 part heavy cream. Thin Dark Chocolate Ganache that will be used as a thin glaze, fondue, frosting, or for making whipped ganache, uses a ratio of 1:1 (by weight.); that is 1 part semisweet or bittersweet chocolate and 1 part heavy cream. White Chocolate Ganache uses 3 parts white chocolate and 1 part cream.
POURING : for pourable ganache, it is best to allow it to cool until no longer hot, but still a liquid pourable consistency. Then you can pour it over a cake as a glaze or on top of brownies as a glaze like frosting. For pouring thick glaze, allow the ganache to thicken for about 10 to 15 minutes. If it is made in advance, soften in the microwave to get pouring consistency. If the ganache is too thin it will just pour off the cake without coating well. It should be just above room temperature. Add butter or corn syrup to give a glaze extra shine. Other flavourings such as vanilla or liqueurs can be used to boost flavour. This recipe uses thick ganache of 2:1 ratio for the thick glaze and for filling, after cooling for about 1-2 hrs.
PIPING OR SPREADING : for piped ganache or for spreading and levelling the ganache filling, allow the ganache to cool completely, for about two to four hours, until it begins to set up but is still soft. Spoon this into a pastry bag with a piping tip and pipe as desired for a rich dark chocolate frosting.
WHIPPING : for whipped ganache frosting, allow it to come to room temperature, approximately 2-4 hours. Cover and keep with plastic wrap so that it doesn't form thick layer on top. Plastic wrap should be touching the top of the chocolate.  Once at room temperature, place in the bowl of a stand mixer and whisk on medium-high speed for 2 – 5 minutes. Again it will be not be too thick to pipe. Keep it for another 2 hours in order to firm up a little more for perfect piping consistency. It is lighter in colour.
MEASURING TOOLS USED : 240 ml cup, 15 ml tablespoon and 5 ml teaspoon.
The great thing about ganache is its versatility. With one simple recipe of just two ingredients, it is possible to make a glaze, frosting, filling, mousse or dip as mentioned here and here. Ganache can vary depending on the ratio of chocolate to cream, what type of chocolate is used, or at what temperature it is used. This chocolate ganache recipe is adapted from here and here . Allow the glaze to cool, and when it thickens, it can be used to frost or fill cakes. You can even whip ganache to make chocolate mousse.
Recipe Picture Above : Eggless Caramel Whole Wheat Cake topped with Dark Chocolate Ganache.