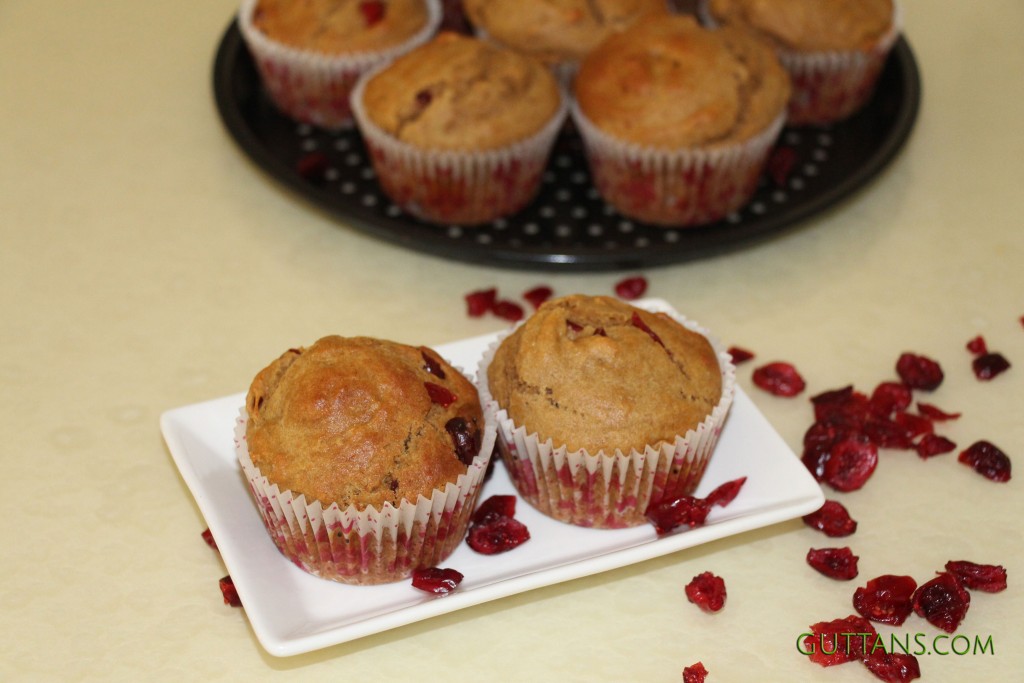 Whole Wheat Muffins are really moist, lightly sweetened and contain lots of nutritional power from the whole wheat flour and cranberry. This recipe makes healthier and moist muffins with a slightly richer flavour. Muffins are great for breakfast on the go and as an evening snack too.
INGREDIENTS
Whole Wheat Flour – 2 cups (260 grams)
Yoghurt – 1 cup (240 ml)
Brown Sugar, fine – ½ cup (100 grams)
Egg – 2, lightly beaten *
Oil – ½  cup (120 ml) sunflower/olive oil
Vanilla Extract – 1 tsp
Baking powder – 1 tsp
Baking soda – ½ tsp
Salt – ¼ tsp
Cranberries – 1 cup **
DIRECTIONS
Preheat oven to 375 degrees F (175 degrees C). Position rack in center of oven. Butter or line 12 muffin cups with paper liners. In a large bowl whisk together the lightly beaten egg, yoghurt, oil, sugar and vanilla extract.
In another large bowl whisk the dry ingredients, flour, baking powder, baking soda, and salt. Gently stir in the cranberries. Toss cranberries in flour mix to coat well. With a rubber spatula fold the wet ingredients into the dry ingredients and stir only until the ingredients are combined and moistened.
Evenly fill the muffin cups with the batter, using two spoons or an ice cream scoop. Place in the oven and bake for about 15 – 20 minutes or until a toothpick inserted in the center of a muffin just comes out clean. Transfer to a wire rack and let cool for about 10 minutes before removing from pan.
GUTTANS TIPS
*EGG SUBSTITUTE : All the below egg substitutes work well for almost all muffins, as eggs mostly act as binding agents in muffins and to add moisture. Flax seed or apple sauce or yoghurt or banana can be substituted in baking recipes where a light binding is needed, such as muffins, cookies, bars, crusts, some dense cakes and some enriched breads.

FLAX SEEDS : 1 egg = 1 tbsp ground Flax seeds + 3 tbsp Water. For each egg, combine 1 tablespoon of ground flax seed (measure after grinding) with 3 tablespoons of water. Stir well, and place in the fridge to set, for 15 to 30 minutes, until a gel forms. Allow to stand until thick, gelatinous and egg-like. The result should be a sticky egg-like substitute. A quick and easy egg replacement, featuring freshly ground flax or chia seeds.
APPLESAUCE : 1 egg = 1/3 cup applesauce or ¼ cup applesauce + 1 tsp baking powder
YOGHURT : 1 egg = ¼ cup yoghurt
BANANA : 1 egg = ¼  cup pureed banana

**FRUITS AND NUTS : Use fresh or frozen cranberries or blueberries or chocolate chips or chopped walnuts or almond flakes. If using frozen cranberries or blueberries do not thaw before adding them to the batter. Always toss cranberry or other dry fruits or chips with little flour to avoid it sinking to the bottom while baking.
QUANTITY : This recipe makes 12 big muffins  or 16-18 medium muffins.
MEASURING TOOLS USED :  240 ml cup, 15 ml tablespoon and 5 ml teaspoon.
These are delicious and soft muffins with a high health factor as any firm fruits like raisins, cranberries, blueberries, dried apricots, etc. or chopped nuts can be added as desired. This is a variation of the recipe found here. Plain flour used in the original recipe is replaced with whole wheat flour and made few additional modifications in the binding and moisturising ingredients.