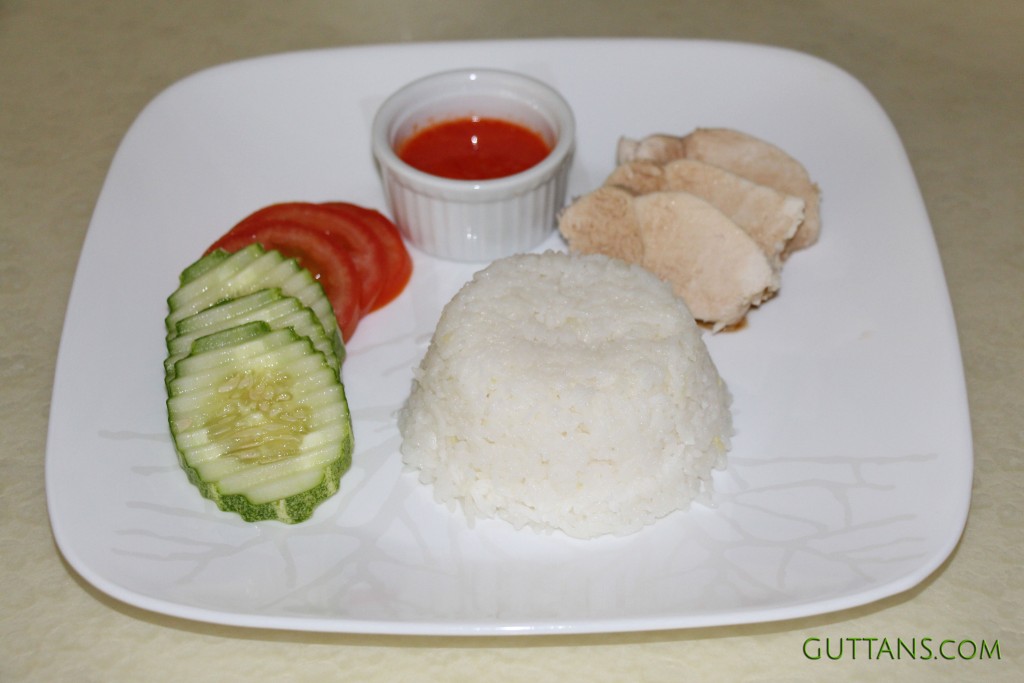 Hainanese Chicken Rice is a classic dish, beloved by people all over Asia. This chicken rice is adapted from Hainan province in southern China. It is considered one of the national dishes of Singapore. It tastes absolutely delicious with unique flavours and is very easy to cook.
INGREDIENTS
Rice – 2 cup (Long Grain Rice or Jasmine Rice)
Water or Chicken Stock –  4 cups
Ginger –  1 tbsp ( finely chopped)
Garlic – 1 tbsp ( finely chopped)
Pandan leaves – 4 (Tied into a knot)
Lemon Grass –  2 stalks (3.5" length thick bulb)
Sesame oil – 1 tbsp
Salt – ½ tsp
HAINANESE CHICKEN
Chicken – 1kg (breast)
Onion – ½ (medium-sized)
Green onion – 2 stalks (Scallion or Spring Onion)
Garlic – 3 cloves crushed
Ginger – 6 slices
Cilantro – 6 stalks (optional)
Salt –  5 tsp
Soy sauce – 1.5 tbsp (optional)
Water – 3 cups
Sesame oil – 2 tsp + Soy sauce – 2 tsp ( for brushing or rubbing)
CHILLI SAUCE
Red fresh chillies – 3 (large)
Chilli padi or bird's eye chilli – 3 (small)
Garlic – 1 tbsp (2 cloves)
Ginger – 1 tbsp(1" piece peeled)
Lime juice – 3 tbsp
Sugar – 1 tsp
Salt – ½ tsp
DRIZZLING SAUCE
Light soya sauce – 2 tbsp
Sesame oil – 2 tsp
Sugar – 1 tsp
Salt – ¼ tsp
Hot water – 2 tbsp
GARNISH
Cucumber, Tomato
Carrot, Scallion (optional)
Mushrooms, Soya beans (optional)
DIRECTIONS
PREPARING RICE : Wash rice till it is clear of starch, soak for 20 minutes and drain. Peel off outer layers of the lemon grass and take thick bulb end. Press the stem with the flat side of a knife to bruise the bulb to release the flavours.
Heat oil in a rice pan, add ginger and garlic. Stir fry until golden colour. Add rice and stir fry for 1-2 minutes. Add water or stock, lemongrass, pandan leaves and salt. Mix well.
When the rice starts to boil, cover with a lid (preferably glass lid with hole for steaming). Simmer and cook for 20 minutes in low fire. Don't open in between to lock the flavours.
When it is done, tiny steam holes will appear on the surface of the rice. Switch of the fire.
Keep it closed for another 10 minutes. Fluff with a chopstick or fork (wooden).
PREPARING CHICKEN : Marinate the chicken breast with 1.5 tsp of salt and 1.5 tbsp of soy sauce and keep for 15 minutes.
Place chopped onion, 2 stalks green onions (scallion or spring onion), 3 cloves of crushed garlic, ginger and cilantro in a pot. Add 3 cups of water. Bring to a rolling boil. Add the chicken into the boiling water.
Cover the pot and bring to a rolling boil over high heat. As soon as the water reaches a vigorous boil, reduce the heat to low and cook the chicken, covered, at a very slow boil for 5 minutes.
Then remove the pot from the heat and let it stand, covered, until the chicken is no longer pink in the center, 25 to 35 minutes. (The exact time will depend on the size of the chicken.)
Prepare the rub by mixing the 2 tsp soy sauce and 2 tsp sesame oil in a small bowl. When the chicken is done, remove it from the pot, using tongs or a slotted spoon. Transfer it onto a plate and massage or brush with the rub. Cover and set aside.
To serve, slice the chicken in Chinese style (2cm pieces, bite-size chunks) and arrange in a serving plate. Gently drizzle the drizziling sauce over it.
PREPARING CHILLI SAUCE : Grind the chillies, garlic and ginger in a blender or food processor until it is coarsely done. Transfer the mixture to a glass container; add lime juice, sugar and salt. Mix well and store in the refrigerator until ready to serve.
PREPARING DRIZZLING SAUCE : Mix ingredients in a small bowl, until sugar is well dissolved. Taste and adjust flavours accordingly. Gently drizzle the sauce over chicken
GARNISH : Serve the hot rice with chicken, cucumber slices, tomatoes, chopped scallion, carrots, and chilli sauce.
 GUTTANS TIPS
HAINANESE VEGETARIAN RICE (link) is the vegetarian  version of Hainanese Chicken Rice.
CHICKEN STOCK : Reserve the chicken stock in the pot after cooking chicken. This can be used as the stock for cooking rice instead of using water.  If the rice is cooked in water, this can also be served as clear soup after straining.