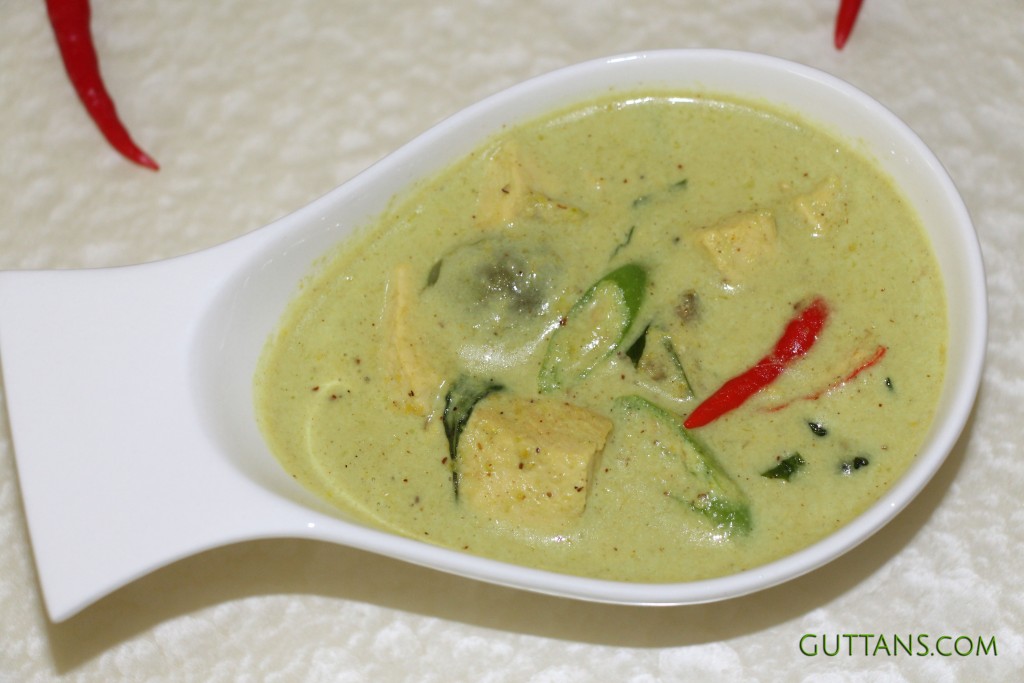 Thai Green Curry Chicken – delicious, fragrant and light Green Curry. This aromatic, creamy and extremely tasty chicken curry really packs a flavour punch. Green Curry, the classic South-east Asian dish is easy to make and is served with rice and steamed vegetables.
INGREDIENTS
Boneless Chicken – 400 gm
Apple Egg Plants – 3 (Quartered and halved)
Coconut Cream – 2 tbsp
Coconut Oil – 2 tbsp
Thick Coconut Milk – 200 ml
Kaffir Lime Leaves – 2 to 4
Grated Palm Sugar – 2 tsp
Thai Basil Leaves – ½ cup
Water – 1 ½ cup
Green or Red chilli – 2 to 4
Salt – to taste
DRY ROAST
Cumin seeds – ½ tsp
Coriander seeds– ½ tsp
White Pepper – ½ tsp
GREEN CURRY PASTE
Long Green chillies ( 5" length, mild hot) – 3 to 4 ( ½ cup, sliced round)
Small Green Chillies (2.5" length, very hot) – 3 (2 tbsp, sliced round)
Garlic – 2 cloves (1 tbsp, sliced )
Shallots – 3 to 4 (3 tbsp, sliced)
Lemon Grass (3.5" length , thick bulb end) – two stalks (2 tbsp, sliced round)
Galangal or Blue Ginger –  1" piece (1 tbsp, sliced)(It is white inside)
Coriander or cilantro roots – 2 (1 tsp sliced)
Kaffir lime zest – 1 cm piece (1cmx1cm)
Turmeric piece – ½ " (1 tsp sliced) or Turmeric powder  – ¼ tsp
DIRECTIONS
Toasting : Toast cumin, coriander and peppercorns in a pan until light brown. Once cooled, grind the toasted spices in a mortar and pestle and keep aside.
Prepping : All the ingredients for the curry paste need to be sliced small for easy grinding. Slice green chillies, garlic, shallots, lemon grass, blue ginger, cilantro roots (peeled) and turmeric (peeled) into small round pieces. Pare a strip of kaffir lime of about 1cmx1cm size. Take only green skin, so remove as much of the pith from the strip as possible with a small sharp knife. Cut chicken into bite size pieces and keep aside.
Grinding : Grind together all the ingredients of the green curry paste. Arrange the ingredients with more amount of water content go in first so that it helps the hard ingredients to grind with the juices from the soft ones. Grind without adding water. Add a dash of water only if necessary.
In a wok, add coconut oil, coconut cream and bring to medium heat. Stir till bubbles form and oil break out. Add the green curry paste and fry over a medium heat for 5-7 minutes, stirring occasionally. Saute and fry till fragrant, shiny and the oil separates. The paste is fried in coconut cream or oil until the oil is expressed (till the oil separates) to release the aromas in the paste.
Add the chicken pieces, mix and saute it well with the paste. Add half of the coconut milk and 1 ½ cup water. Mix well and bring to boil. Take out the veins from kaffir lime leaves, smush it with hands and add to the curry. Cook on low flame for 5 minutes.
Add egg plant, boil and simmer (cook on low flame) for another 15-20 minutes till egg plants are soft. Add balance coconut milk, boil for 1-2 minutes. Add in palm sugar, salt, ground spices and cook for another 1-2 minutes. To finish, add basil leaves, 2-4 slit green or red chillies and mix well, boil and turn off.
GUTTANS TIPS
LIME ZEST :  Take only the green part of the zest while peeling the kaffir lime skin. Don't take the white part as it is bitter.
COCONUT CREAM AND COCONUT OIL : Coconut cream can be replaced with coconut oil and vice versa. Use either 3 tbsp coconut cream or 4 tbsp coconut oil or 2 tbsp coconut oil + 2 tbsp coconut cream.  It can also be substituted with any vegetable oil.  If coconut oil and cream are not available, take ½ cup coconut milk, boil and reduce coconut milk until thick and the coconut oil starts to separate from the coconut milk. If the oil doesn't separate after it has reduced until very thick, just proceed with the recipe. Always, using of coconut cream or coconut oil or cooking in the oil from the coconut milk is recommended for  best taste and flavour.
TURMERIC  : Adding turmeric to non-veg dishes gives a great  taste and here it enhances the green colour too.
EGG PLANT : put the sliced eggplant in salty water after cutting to take out the bitterness and to avoid disolouration.
KAFFIR LIME LEAVES : As this recipe uses lime zest, this ingredient is optional. If used, the prominent flavour of the lime leaves distinguishes it from other curries and gives it outstanding taste.
CORIANDER ROOTS : Use the root and about 1.5 inch of the stem portion attached to each root. Wash well and peel the root, chop finely before grinding
LEMON GRASS : To use fresh lemon grass in your cooking, always cut off the lower bulb and remove tough, outer leaves.
BLUE GINGER : Galangal or Blue Ginger belongs to same family as ginger.  If galangal is not available, it can be substituted with ginger. Though its same family, galangal's flavour and pungency are distinctively different from normal ginger.
While making Green Curry, keep in mind that the amounts of each ingredient are only guidelines and can be adjusted based on your preference, so ingredients are not exactly fixed. If one or the other ingredients are not available, always replace with a substitute. But for typical authentic dishes, compromising on the ingredients will give a different end product. Only few ingredients can be substituted, not all. Although the spiciness varies, it tends to be more pungent than the milder red curries.
The name "green" curry derives from the colour of the dish, which comes from green chillies. As this is a Thai Curry based on coconut milk and fresh green chillies, the colour comes out creamy mild green. Delicious green curry is Thailand's most well-known chicken dish.  This Green Curry is adapted and is tweaked a bit from the recipe that I learned in Dining Inspirations Cookery School, Singapore.