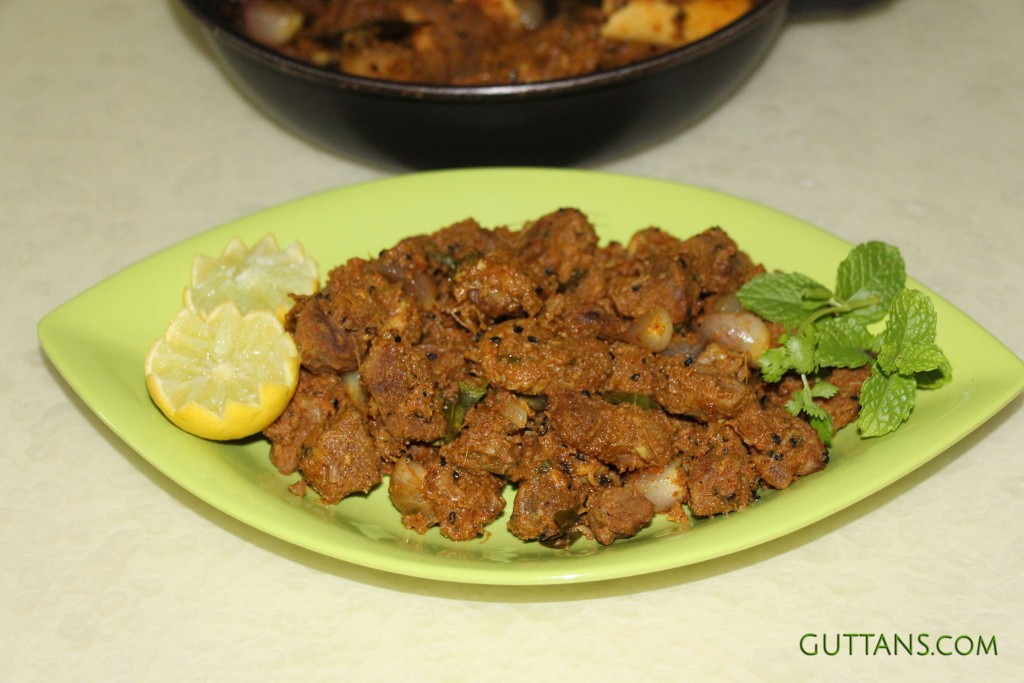 Lemon Mutton Stir Fry is delicious and succulent mutton bites with a dominant flavor of lemon juice and mild spices. It is slightly tangy, mildly hot and is aromatic with full of flavors. Lemon Mutton Stir fry is packed with spicy, rich flavors and is super easy to prepare.
INGREDIENTS
Oil – 2 tbsp
Onion Seeds (Kalonji) – 1 tsp
Ginger -1 tbsp (finely chopped)
Garlic – 1 tbsp (finely chopped)
Baby Onions – 16 (Shallots)
Lean Mutton – 500 gm
Cumin Powder – 2 tsp
Coriander Powder – 2 tsp
Chilli Powder – 2 tsp
Turmeric Powder – ½ tsp
Tomato Puree – 2 tbsp
Salt – 1 tsp
Lemon Juice – 4 tsp
Pepper Powder – ½ tsp
Curry Leaves – 4
Green chilli -1 slited
Fresh Coriander – 1 tbsp chopped
Fresh Mint – 1 tbsp chopped
DIRECTIONS
Mix together the mutton, turmeric, cumin, coriander powder, chilli powder, tomato puree, lemon juice and salt and keep in refrigerator for 15-30 minutes.
Half cook the mutton in cooker with enough very little water. (After first whistle, keep in low fire for 5 minutes).
Heat the oil in a wok or heavy based frying pan and stir fry the whole baby onions or shallots for about 3 minutes. Set aside to drain.
In the same pan, stir fry the onion seeds, ginger, garlic and curry leaves for 2-3 minutes.
Add the cooked lamb with gravy to the pan and stir fry for about 5-10 minutes until the lamb is cooked and the gravy is dried.
Add the green chilli, pepper powder, and half of the fresh coriander and mint and stir fry for further 2 minutes.
Finally add the baby oinions and stir fry for 2 minutes and add the remaining chopped fresh coriander and mint leaves.
GUTTANS TIPS
TASTES BETTER ON THE NEXT DAY : This dish benefits from being cooked a day in advance and kept in the refrigerator overnight.