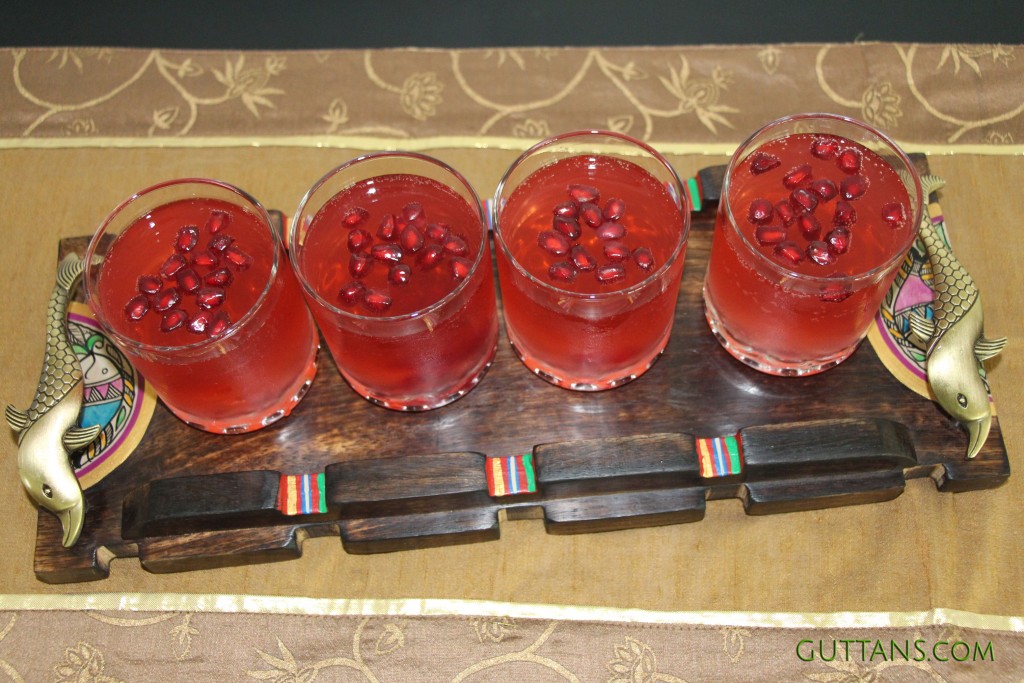 Pomegranate Fizz Mocktail is a refreshing sweet tart party drink.  This drink's got it all : fizz, juice and spice. It's gorgeous colors are the first cue and is sweetened with an extra layer of flavour from a secret ingredient : a simple, homemade cloves-infused syrup.
INGREDIENTS
Pomegranate Juice – 3 ¼ cups
Lemonade – 3 ¼ cups
Chilled Sprite – 3 ¼  cups
Pomegranate Arils – ½ cup
SUGAR SYRUP
Star Anise – 2
Green Cardamom – 1
Sugar – 10 tsp
Water – 10 tsp
DIRECTIONS
SUGAR SYRUP : To prepare the clove infused sugar syrup, combine the sugar, star anise, green cardamom and water in a small saucepan. Bring to a gentle boil over a medium heat. Simmer for 2-3 minutes, until sugar is dissolved, stirring occasionally. Remove from the fire. Cool to room temperature. Store in an airtight container and refrigerate. Longer the spices steep, better the flavour. Store in a glass bottle in the refrigerator (upto two weeks). This yields about ¼ cup syrup.
To make the drink, fill glasses with equal parts of all the liquids. Next, add 1 tsp of sugar syrup and 1-2 tsp pomegranate arils and ice cubes in each glass. Stir and serve. Add more sugar syrup according to the taste. This yields 10 servings.