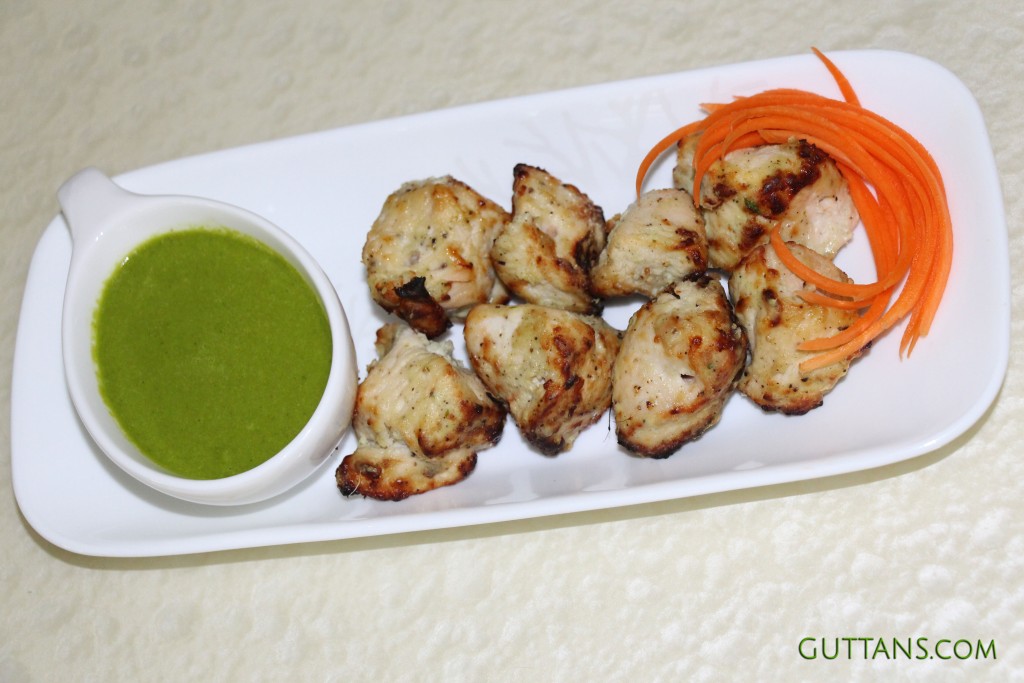 Chicken Malai Kabab, tender succulent pieces of chicken that melts in your mouth. This delicious, mildly spiced kabab is Creamy Chicken Tikka Kabab that is made by marinating chicken with malai (cream), thick yoghurt and spices.
INGREDIENTS
Chicken breast – 250gm
Green chilli – 1
Ginger Garlic paste – 2 tsp (1 tsp each)
Coriander leaves – 1 spring
Corn flour – 2 tbsp
Cream – 2 tbsp
Yoghurt – 1 tbsp (hung curd)
Lemon juice – 1 tbsp
Cardamom powder – a pinch
Pepper Powder – ¼ tsp
Oil – 1 tbsp
Salt – ½ tsp
DIRECTIONS
Cut the chicken into small bite size pieces. Clean and wash chicken pieces thoroughly. With a kitchen napkin or paper kitchen towel, pat dry the pieces to remove excess of moisture in it.
First Marinade : Marinate the chicken pieces with pepper powder, lemon juice and ginger garlic paste (or use ginger garlic juice). Cover with a cling wrap and refrigerate for 30 minutes.
Second Marinade : Make a fine paste of chilli and coriander with little thick curd (hung yoghurt). Add remaining curd, corn flour, cream, salt, cardamom powder and oil with this paste and mix well. Marinate chicken with this marinade and refrigerate overnight covered with cling wrap or a minimum of 2-3 Hours.
Take the marinated chicken from refrigerator and keep outside for 15 minutes. Preheat the oven to 200˚C in a grill or broil mode for 10 minutes. On a baking pan, place an aluminum foil sheet. Take the skewer rods and insert the chicken pieces. Keep it on the middle rack of the oven for 8-10 minutes. Takeout the chicken pieces from the oven, once you see small brown spots over the chicken pieces. Drizzle the remaining marinade on them and drizzle or spray little melted ghee or melted butter or olive oil over the chicken pieces. Once it is done, turn over the skewer rods and drizzle the remaining marinade and melted ghee or melted butter. Keep it in oven and grill for another 10 minutes until the juices run clear and there are little brown spots on the chicken cubes.
Once done, take out from the oven. Drizzle with butter and loosely cover and keep aside for 5 minutes. Serve the hot kababs with mint coriander yogurt chutney.
GUTTANS TIPS
HUNG CURD : Hung Curd is made by draining the liquid whey from fresh yoghurt.To get thick creamy curd, place a colander or sieve over a container or bowl. Line the colander with a thin muslin cloth. (If it is nylon sieve which has a very fine mesh, then no need to line it.) Now place the curd in it and place the whole thing in the fridge for 4 to 5 hours or overnight. Let it drain till all the extra liquid had drained out and just a thick mass of creamy curd remains.
SPICE LEVEL : These are mildly spiced kababs. For hot version, add more pepper and green chilli.
Also, check the doneness in between as each oven setting is different.
MARINATION : This can be kept in fridge overnight or for a minimum of 3 hours. Chicken marinated overnight is much juicer, flavourful and aromatic.
DRIZZLING : Drizzling with the leftover marinade and melted pure ghee or melted butter or olive oil keeps the chicken kebabs juicy and tender.
TIME AND QUANTITY : The kababs in this recipe can be cooked for 20 minutes in grill or broil setting in the oven. This kebab is tried in grill mode and broil mode in different ovens. Grill mode was made in 18 minutes and broil mode in 20 minutes. All oven temperatures vary and so the cooking time too.
MEASURING TOOLS USED :  240 ml cup, 15 ml tablespoon and 5 ml teaspoon.