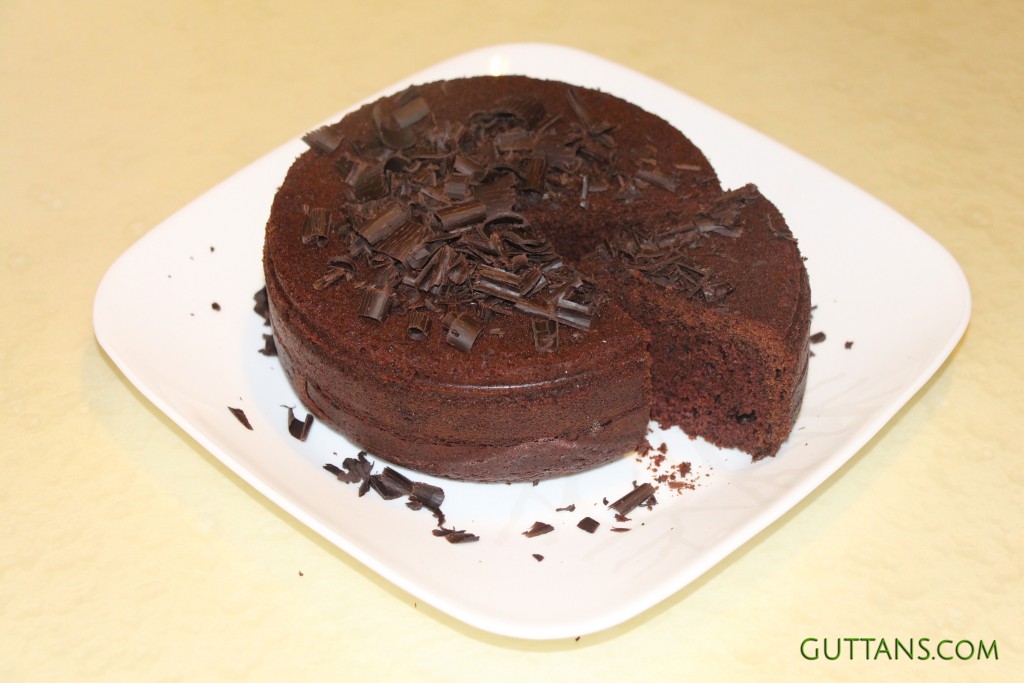 Super light and fluffy Dark Secret Chocolate Cake.  Delicious chocolatey treat, flavoured with special dark cocoa powder. Hershy's Special Dark Cocoa is used in this Dark Secret Chocolate Cake recipe for more deep dark colour. The darker the colour, better the flavour will be.
INGREDIENTS
Self-raising Flour – 2 cups
Cocoa Powder – ½ cup (Natural Unsweetened or Special Dark)
Baking Soda – ½ tsp
Eggs – 2
Vanilla Extract – 1 tsp
Sugar – 1 ½ cups
Butter – ½ cup
Water – 1 ½ cups
DIRECTIONS
Prepare two 8″pans or two 9″ round pans for making a layer cake. For sheet cake (single layer cake), use one 9″X13″ pan. Choose pans that are at least 2 inches deeper, to make sure batter won't overflow. Grease or line, baking pan, bottom with parchment paper and set aside. Preheat oven to 175°C degrees for 7-10 minutes.
Boil water in a sauce pan, add butter, sugar and cocoa powder. Mix well, heat until butter is melted and sugar is dissolved completely. Let it cool to room temperature. Sift and stir the dry ingredients flour and baking soda together and keep aside.
In a bowl, using an electric mixer, beat eggs and vanilla using the whisk attachment until smooth for about 2-3 minutes. Add the cooled cocoa mixture to this whisked egg. Add dry ingredients, fold this and mix well until combined using the paddle attachment.
Pour batter evenly into pans. Fill cake pans no more than 1/2 -2/3 full with batter. Smooth top and then tap cake pan several times on counter to eliminate air bubbles from cake batter. Bake in the middle rack for 30-35 minutes, until a skewer inserted comes out clean.
Allow to cool 10-15 minutes in pan, then run a knife along the edge of the cake to loosen the sides and turn out completely on wire racks and cool before cutting or frosting.
GUTTANS TIPS
CUPCAKES : This same batter can be used to make cupcakes too. Line muffin tins with cupcake papers.  Spoon or pour the batter into the cups about three-quarters full. This recipe yields 20-24 cupcakes.
PAN GREASING : Only grease the bottom of the baking pan. Never grease the sides of the pan, unless unusual shaped pan is being used. This will allow finished cake layers to rise much higher when baked.
TIME AND QUANTITY : All oven temperatures vary and so the cooking time too. Keep checking it after 20-25 minutes.
MEASURING TOOLS USED :  240 ml cup, 15 ml tablespoon and 5 ml teaspoon.
RECIPE PICTURE  :  Dark Secret Chocolate Cake (½  recipe) made in 6" pan and  decorated with Chocolate shavings.