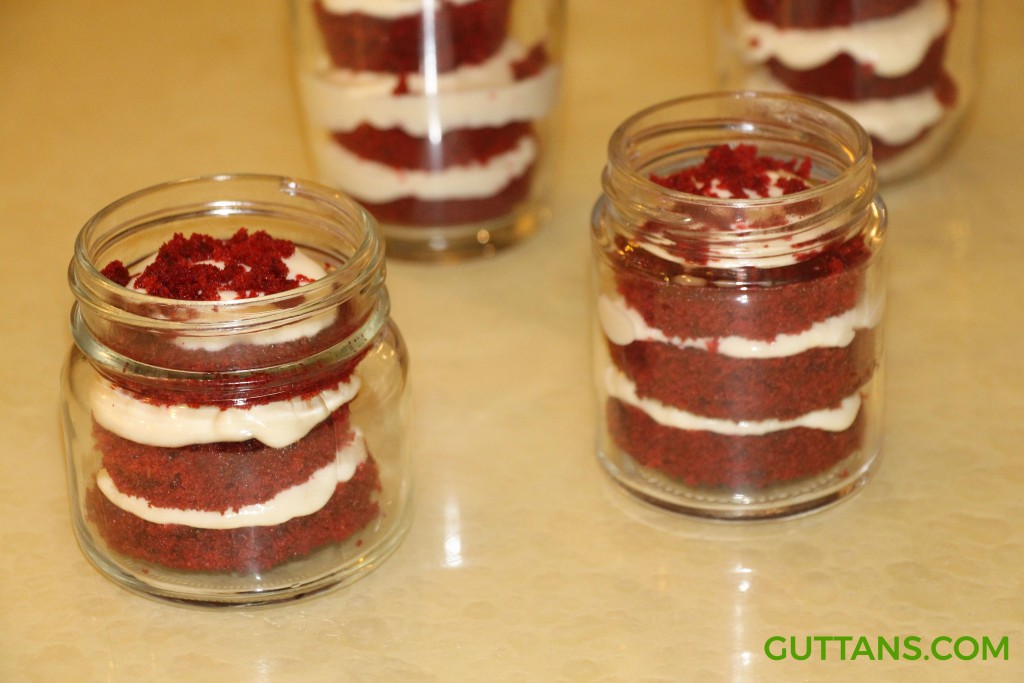 Red Velvet Cake is moist and flavourful with drooling soft velvety texture in every bite. It is delicious, festive and perfectly red. The cream cheese frosting combination makes it the finest of cakes.
CAKE INGREDIENTS
Cake Flour – 1.5 Cups (*read Guttans Tips)
Unsweetened Cocoa Powder – 1 tbsp
Baking Soda –  ½ tsp
Salt – ¼ tsp
Butter – ¼ cup (57 g)
Sugar – 1 cup (granulated)
Vegetable oil – ½ cup
Eggs – 2
Vanilla Extract – 1.5 tsp
White Vinegar – ½ tsp
Red Food Colouring – 1.5 tbsp (Liquid)
Buttermilk – ½ cup (room temperature)
CREAM CHEESE FROSTING
Cream cheese – ½ cup (113 g)
Mascarpone cheese – ½ cup (113 g)
confectioners' (icing) sugar – ½ cup (57 g), sifted
Heavy whipping cream  – ¾ cup (180 ml)
Vanilla extract – ½ tsp
BAKING THE CAKE
Prepare Pans & Preheat : Prepare two 6″pans or two 7″ pans for making a layer cake. For sheet cake (single layer cake), use one 9″X13″ pan. Choose pans that are at least 2 inches deeper, and ensure that the batter won't overflow. Grease or line baking pan with parchment paper and set aside.  Preheat oven to 180°C degrees for 7-10 minutes.
Mix Dry Ingredients : In the large bowl sift flour, cocoa powder, baking soda and salt and keep aside.
Beat Up the Wet Ingredients : Using a whisk or stand mixer fitted with a paddle attachment beat the butter (room temperature) and sugar on medium-high speed until smooth and creamy, for about 1-2 minutes. Add the oil, egg yolks (room temperature) , vanilla extract and vinegar and beat / whisk on medium-high speed for another 2-3 minutes. (After adding oil, butter may look curdled with small pieces and may not completely mix with oil. That's normal). Scrape down the sides and up the bottom of the bowl as and when needed.
Cake Batter : With the mixer on low speed, add the dry ingredients in 2-3 additions alternating with the buttermilk, beginning and ending with the dry ingredients, and mixing each addition just until mixed well. Beat in the food colouring, until you get the desired colour. Do not overmix. In another bowl, vigorously whisk or beat the 2 egg whites (room temperature)  until thick and foamy, for about 3 minutes. Gently, fold into cake batter with a rubber spatula or wooden spoon to get a slightly thick and silky batter. (If you still see small pieces of butter, that's is ok. It will melt inside as the cakes bake).
Baking : Pour batter in the pan and bake for about 30 – 35 minutes, until toothpick inserted in centre comes out clean with just a few moist crumbs attached. For layer cake, make sure to divide the batter evenly between the two pans. Allow to cool 15 minutes in pan, and then run a knife along the edge of the cake to loosen the sides and turn out completely on wire racks and cool before frosting.
Cream Cheese Frosting : Beat cheeses (softened in room temperature) in the bowl of your electric mixer with whisk attachment (or with a hand mixer whisk) on medium-high speed, for about 2-3 minutes. Add the confectioners' sugar and vanilla extract and beat in low speed for half a minute and then increase to medium-high speed and beat for about 2-3 minutes, until smooth. In another bowl, whisk the cream until we get stiff peaks (Heavy cream with about 35-40% fat gives stiff peaks. So make sure to use heavy cream). Gently fold the whipped cream with the cream cheese mixture.
Assembling the Cake : Cream Cheese Frosting should be soft and silky, not runny. Trim the top dome off of the cake / cup cakes to create a flat top. Evenly cover the cake / cupcakes with the frosting. Crumble the cake scraps (or the trimmed pieces of cake) with fingers and decorate. Refrigerate the cake for 30-60 minutes before cutting. It can also be kept, covered with a cake dome, for up to 2 days.
GUTTANS TIPS
CAKE FLOUR : It's a mix of all purpose flour and corn flour (corn starch). If you don't have cake flour at home, make your own cake flour. Here is the formula. 1 cup cake flour = 1 cup all purpose flour – 2 tbsp all purpose flour + 2 tbsp corn flour (Or in simple words, remove 2 tbsp flour from 1 cup of flour and replace with 2 tbsp of corn flour to get cake flour). Cake flour is usually used for classic red velvet recipes to make it light. You can also stick to all purpose flour if you can not make cake flour. Combination of all purpose flour and corn flour makes the cake tender and delicious.
VINEGAR & COLOURING : Vinegar is used in red velvet cakes to brighten the red colour. Use about use 1-1.5 tbsp of liquid food colour or 1 tsp of gel food colour to get dark red colour. Dye and fold the batter until you get the right colour.
BUTTER & OIL – Use butter and oil together to get moist, soft red velvet with cakey texture and buttery taste. Creaming butter and sugar makes it soft like any other classic cake. Oil in the cake makes it moist and bakes up with good crumb.
CAKE PAN – This recipe yields about 4 cups of batter and can be made in two 6" cake pan. (6"x2" cake pan) to make layer cake. You can use your choice or available pans at home. Make sure to pour batter into cake pans filling only 2/3 of the pan.
MEASURING TOOLS USED : 240 ml cup, 15 ml tablespoon and 5 ml teaspoon.
Delicious, Red Velvet Cake Recipe with Cream Cheese Frosting is adapted from here and here .