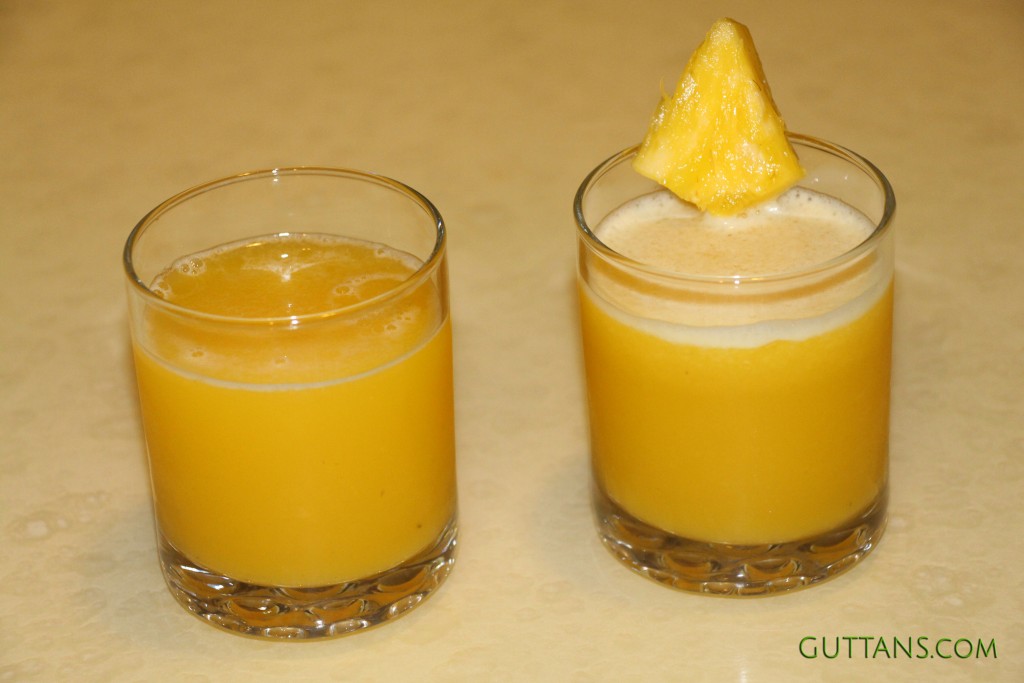 Apple Ginger Pineapple Juice Power Pack! Cool down with an energy booster! Pineapple aids digestion and prevents bloating. Ginger is a powerful anti-inflammatory and hormone balancer. Red apples contain an antioxidant that helps to boost and fortify your immune system…
 INGREDIENTS
Fresh Pineapple – ½ a medium pineapple
Red Apple – 2
Ginger – 1 inch piece
DIRECTIONS
Peel, remove pineapples's outer skin and cut half of the pineapple into smaller pieces.
Wash and cut apple without removing skin. Wash and peel the ginger root.
Cut all fruits into smaller pieces to fit though juicer's feeding chute.
Feed ginger, followed by other ingredients into juicer. Serve chilled with ice cubes.
GUTTANS TIPS
GINGER : Juice ginger first so that all the other ingredients push all the ginger juice through the juicer. Ginger is known for its effectiveness in soothing digestion.
APPLE : Apples are extremely rich in important antioxidants, flavanoids, and dietary fiber. The phytonutrients and antioxidants in apples may help reduce the risk of developing cancer, hypertension, diabetes, and heart disease.
PINEAPPLE : Pineapple benefits the health of your heart, bone and eye. It helps in digestion, it has anti-Inflammatory property, and this boosts the immune system.
QUANTITY : This yields about 600 ml juice.