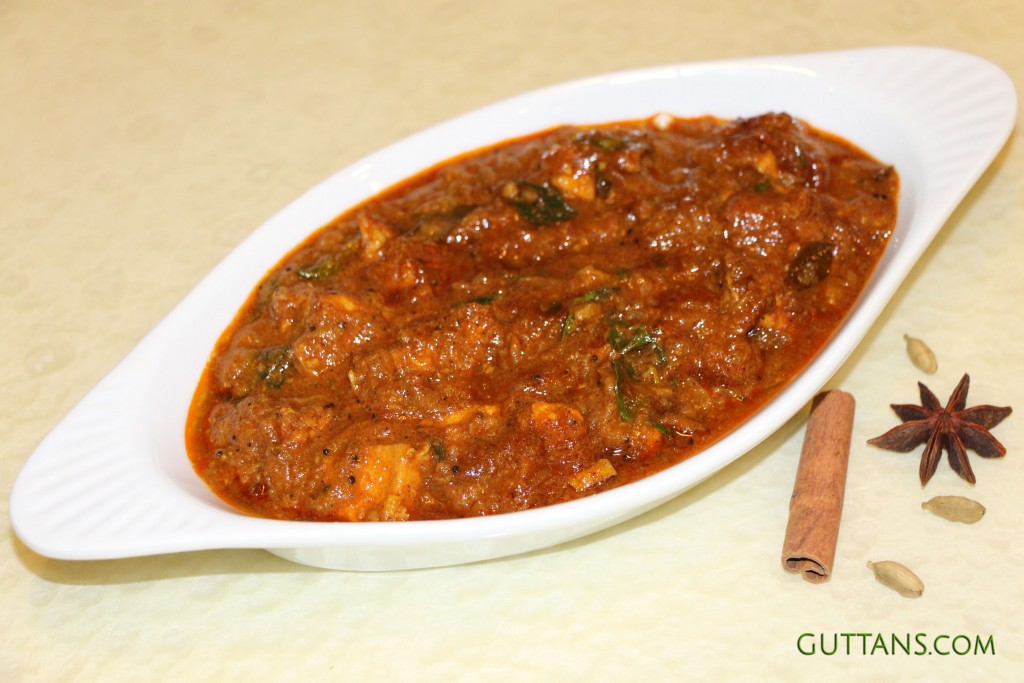 Rustic Chicken Curry is packed full of flavours and enticing aromas. Chicken cooked in mustard oil with a whole lot of spices, black pepper, cumin and lots of coarsely ground ginger and garlic. This authentic, Indian fiery chicken curry is very spicy and deliciously rustic.
INGREDIENTS
Chicken – 750 gm
Onions –   3-4 big size (2 cups sliced)
Tomato  –   2 medium size ( ½ cup sliced)
Coconut Pieces – ½ cup (small slices) (optional)
Chilli Powder – 1 tbsp
Coriander Powder – 1 tbsp
Turmeric Powder – ½ tsp
Mustard Oil – 3 tbsp
Mustard – ½ tsp
Curry leaves – 5 Sprigs
Coriander leaves – 2-3 Sprigs
Water – 1 ½ cups (360 ml)
MARINADE
Chilli powder – ½ tbsp
Coriander Powder – ½ tbsp
Turmeric Powder – ¼ tsp
Salt – 1 tsp (add more salt as required in the curry)
GRINDING
Garlic – 2 tbsp (1 bulb, with large cloves)
Ginger – 2 tbsp (1.5" pieces – 6 nos.)
WHOLE SPICES
Pepper Corns – 1.5 tsp
Cumin or Jeera Seeds – 1.5 tsp
Fennel Seeds – ¾ tsp
Green Cardamom – 5 nos.
Cinnamon – ¼ " piece
Star anise – ½ medium size
Mace – a pinch
DIRECTIONS 
Marinate the chicken pieces in marinade ingredients ½ tbsp chilli powder, ½ tbsp coriander powder, ¼ tsp turmeric powder and ½ tsp salt and refrigerate it for 30 mins.
Lightly dry roast the whole spice ingredients for grinding and keep aside. Coarsely grind the ginger and garlic and keep aside.
Heat mustard oil in a heavy bottom wok or big pan and add the coconut pieces. Saute and roast it well till the coconut pieces becomes light brown colour. Take out and keep it aside.
Add the mustard seeds and curry leaves in the same oil. Saute the curry leaves for a while to make it crisp, and when mustard seeds pops and sizzle, add the sliced onions.
Reduce flame to medium-low and fry the onions until the onions turn golden brown and soft. Add coarsely ground ginger and garlic. Saute till the raw smell goes.  It will take about 10-15 minutes to saute the onion, ginger and garlic.
Meanwhile, grind the roasted whole spices with little water and keep aside.
Add chilli powder, coriander powder, turmeric powder to the onion mix and saute for 3-4 minutes. Fry until the mixture turns a dark reddish brown and the spice powders are well roasted and fragrant.
Next, add the chopped tomato, mix well and cover and cook for 3-4 minute until the tomatoes turn soft. Uncover add ground masala, mix and saute for 1-2 minutes until the mixture turns fragrant. Add the roasted coconut pieces and mix well and saute for 2-3 minutes.
Dunk the marinated chicken pieces into this mixture, mix well and increase the flame to medium-high. Cook stirring frequently until the chicken pieces coated well with the masala.
Add about 1.5 cups of water. Chicken will let out more water as it cooks. Adjust the salt and mix well.
When the gravy starts rolling boiling, simmer and cover and cook for 15 minutes in low flame until the chicken is cooked soft.
Once the chicken is cooked, uncover, cook for another 10-15 minutes adding one sprig of curry leaves until your desired consistency is reached. Once done, adjust the salt, garnish with coriander leaves, mix well and remove from fire.
GUTTANS TIPS
OIL : Mustard oil can be subbed with any vegetable oil.
SHALLOTS: Using shallots enhances the taste of the curry. Substitute 15-20 (1 cup) shallots with 2 medium onions(1cup).
GRAVY CONSISTENCY : Add more or less water according to the required gravy consistency.
SPICE LEVEL : Adjust the amount of black pepper and chilli powder for less spicy or hot curry.  For more spicy, hotter version, add 1-2 green chilli.
MEASURING TOOLS USED :  240 ml cup, 15 ml tablespoon and 5 ml teaspoon.
This Indian Chicken Curry is cooked in the spicy gravy allowing the rich and redolent flavours to seep through. Rustic Chicken Curry recipe calls for the same ingredients which we use to cook the common chicken curry but the whole secret lies in the quantity of ingredients and the method of cooking. Along with mustard seeds, mustard oil is used in this curry as mustard oil always adds extra flavour to the dish. The fried coconut pieces (optional ingredient) are crunchy and make a great combination with the spicy chicken curry.  Serve this chicken curry with plain rice or roti  or naan to slurp up all that goodness. Enjoy!