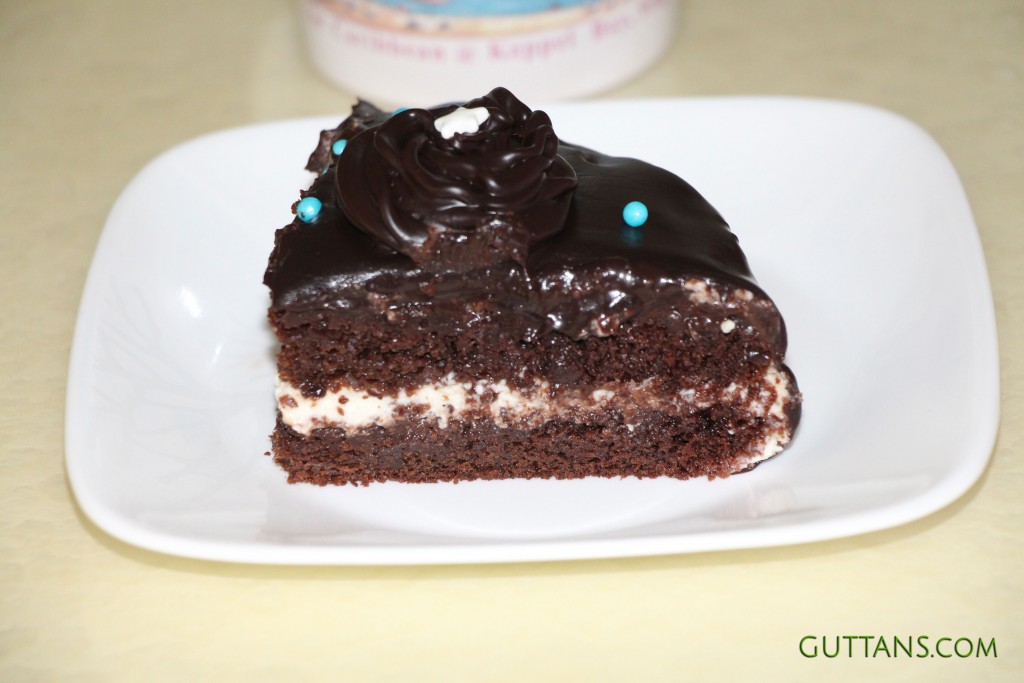 Squidgy, delicious Eggless Chocolate Cake.   It is a no-fail chocolate cake, perfect for parties and occasions, made without eggs.  Moisty Eggless Chocolate Cake makes a good base for butter cream cakes, chocolate ganache or black forest cake.
INGREDIENTS
All Purpose Flour – 1 ¾ cups
Brown Sugar – 2 cups (packed)
Unsweetened Cocoa Powder – ¾ cup
Baking Soda – 1 tsp
Baking Powder – ½ tsp
Salt – ¾ tsp
Yoghurt – ½ cup
Milk – 1 cup
Butter – ½ cup (melted)
Vanilla Extract – 1 tsp
Hot Water – ½ cup
DIRECTIONS : HOW TO MAKE CHOCOLATE GANACHE CAKE
Prepare two 8″pans or two 9″ round pans for making a layer cake. For sheet cake (single layer cake), use one 9″X13″ pan. Choose pans that are at least 2 inches deeper, to make sure batter won't overflow. Grease or line, baking pan, bottom with parchment paper and set aside.  Preheat oven to 175°C degrees for 7-10 minutes.
In the large bowl of a standing mixer, sift and stir together flour, sugar, cocoa, baking soda, baking powder and salt. Add lightly whisked yoghurt, milk, melted butter and vanilla extract and beat (or whisk) until smooth for about 2-3 minutes. Remove bowl from mixer and stir in hot water with a rubber spatula. Batter will be very runny.
Pour batter evenly in to pans and bake for about 30 – 35 minutes, until a cake tester (or toothpick) inserted comes out clean with just a few moist crumbs attached. For layer cake, make sure to divide the batter evenly between the two pans.
Allow to cool 15 minutes in pan, then run a knife along the edge of the cake to loosen the sides and turn out completely on wire racks and cool before frosting.
GUTTANS TIPS
PACKED BROWN SUGAR – As mentioned in Peanut Butter Granola recipe, packed brown sugar, unlike light or dark brown sugar, is not a type of brown sugar, but a reference to how you measure it.
EGGLESS VARIATION : Here an egg is replaced with ¼ cup yoghurt and ¼ tsp baking powder. Quarter teaspoon of baking powder is added along with the yoghurt to ensure that the baked good rises appropriately. Like applesauce (another baking egg substitute), yoghurt lacks leavening abilities, and the extra baking powder will make up for this deficiency.
BAKING SODA AND BROWN SUGAR : Baking soda (bicarbonate of soda), an alkaline substance, is a chemical leavener used when there is an acidic ingredient in the recipe. When baking soda comes in contact with an acidic ingredient and is moistened, the alkali/acid combination creates carbon dioxide. Acidic ingredients include: applesauce, soured milk or  buttermilk, honey, brown sugar, molasses, cream of tartar, lemon juice or vinegar, chocolate and cocoa powder (only regular cocoa, not Dutch-process). This recipe uses brown sugar and yoghurt to make the cake. So always recommend to use brown sugar for this recipe for best result.
HOT WATER : This recipe calls for hot water. The cake will bake fine without hot water. But the hot water allows the cocoa to bloom, which brings out a richer chocolate flavor in the cake.
MEASURING TOOLS USED :  240 ml cup, 15 ml tablespoon and 5 ml teaspoon.
This is an eggless variation of the Moist Chocolate Cake recipe. Egg used in that recipe is replaced with yoghurt and baking powder. Quantity of baking soda is maintained and baking powder is added in this recipe. Here, half quantity of baking powder is added as baking soda. This is to adjust the balance of baking soda and powder to get desired softness. Half cup of water together with yoghurt gives very soft moist cake. Buttermilk is replaced with milk to balance the sweet sour flavour of the cake and to avoid an overriding sour taste with buttermilk and yoghurt.
This same batter can be used to make cupcakes too.  Line muffin tins with cupcake papers.  Spoon or pour the batter into the cups about three-quarters full. This recipe yields 20-24 cupcakes.
Moist Eggless Chocolate Cake is great for birthdays and parties. Make this Eggless Chocolate Cake with Chocolate Ganache as in Chocolate Ganache Cake recipe for a toothsome chocolatey treat. This chocolate cake recipe with chocolate ganache topping holds the honour that this is the best chocolate cake my family and friends ever had. I have always been asked for the recipe whenever I serve this cake.  Every single person will enjoy this till last bite. Enjoy! Relish your Taste Buds!
Recipe Picture  : Eggless Chocolate Cake filled with Vanilla Whipped Cream  and topped with Dark Chocolate Ganache.