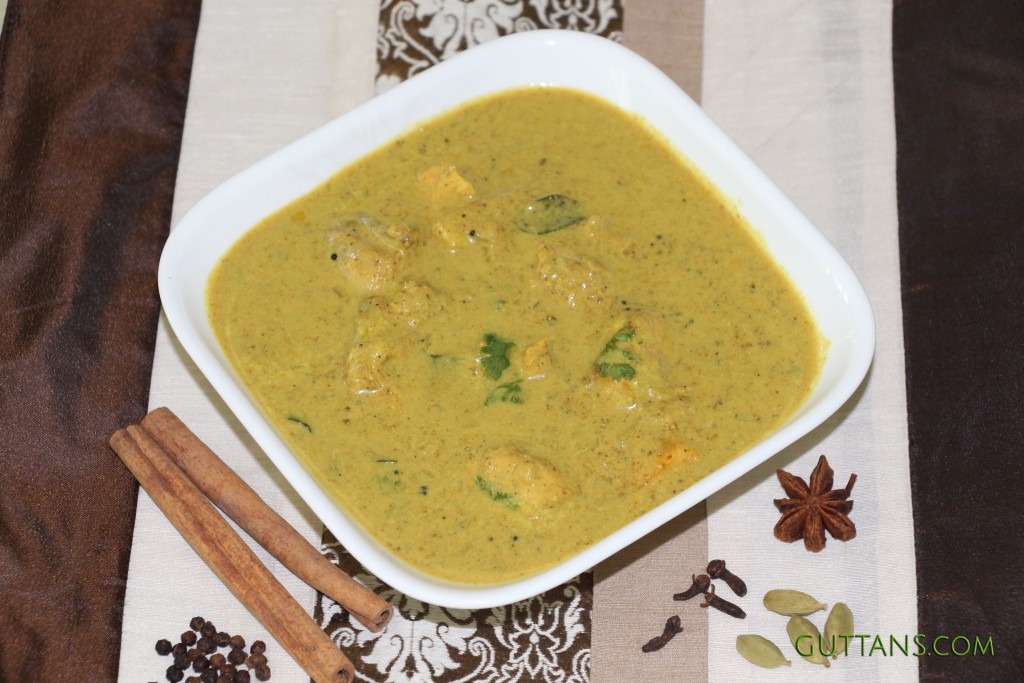 Kerala Chicken Stew Recipe – Creamy, rich Chicken Curry Stew prepared by slowly simmering the bite size pieces of chicken with plenty of spices. Vegetables like beans, carrot and peas can also be added to increase the nutritional value of chicken stew. Chicken Stew and Appam combination is simply awesome.
This aromatic and delicious chicken stew is very easy to make and there are many different variations of this mouthwatering dish in different parts of Kerala. Chicken Stew is traditionally served with Appam (Kerala's laced rice pancakes).
Chicken cooked in coconut milk base and flavoured with whole spices has an exceptional taste. The stew can be made of veggies, chicken, mutton etc.Chicken Stew is also called as Chicken Ishtoo in Kerala.
GUTTANS TIPS TO MAKE PERFECT CHICKEN STEW
COCONUT OIL : Using coconut oil in this recipe will give good aroma for the dish. Coconut oil can be subbed with any vegetable oil.
GRAVY CONSISTENCY : Add more or less water according to the required gravy consistency. The curry tends to thicken as it rests, so adjust the quantity of gravy accordingly.
QUICK & FAST ALTERNATIVE : whole Spice Masala + Ground Spice powders can be substituted with ready-made spice powders. This can be replaced with any store bought chicken curry masala and garam masala spices. Substitute these spices with 1 tbsp ready-made chicken masala (any brand Kerala chicken curry masala), 1 tsp coriander, 1 tsp cumin powder, 1 tsp pepper powder, ½ tsp turmeric and ½ tsp garam masala. Grind together ginger, garlic, chicken masala powder and garam masala spices.  And add 2 cardamom, 2 cloves, ½" cinnamon, 1 bay leaf for extra flavour.
SPICE LEVEL : Adjust the amount of black pepper for less spicy or hot stew.  For hotter version, add 1-2 green chilli.
KERALA CHICKEN STEW RECIPE
INGREDIENTS
Chicken – 1 kg
Onion – 2 medium chopped (1 cup)
Turmeric Powder – 1 tsp
Coconut Oil – 2 tbsp *
Mustard – ½ tsp
Curry leaves – 2 Sprigs
Coriander leaves – 2-3 Sprigs
Thin Coconut Milk – 2 ¼ cup (540 ml)
Thick Coconut milk – ½ cup (120 ml)
Green Chili – 4 medium
GRINDING
Garlic – 6-8 pods (1tbsp paste)
Ginger – 2" piece (1 tbsp paste)
Whole spices ingredients
Spices powder ingredients
WHOLE SPICES ***
Fennel Seeds – ½ tsp
Cumin / Jeera – 1 tsp (optional)
Cloves – 4
Green Cardamom – 4
Cinnamon – 1 " piece
Star anise – 1 medium size
Mace – a pinch
Fenugreek – 5 nos
Pepper corns – 1 ¼ tsp
Bay Leaves – 1 medium size
SPICES POWDER ***
Turmeric Powder – ¼ tsp
Chilli Powder – ½ tsp
Coriander – 1 tsp
DIRECTIONS
Clean and cut the chicken into small or medium pieces, per your preference. Peel ginger, garlic and onion. Finely chop the onion and keep aside.
Heat a dry saute pan over medium heat. When the pan is hot add the whole spices. Shake the pan so that the spices don't stick or burn (or stir with a wooden spoon). It will take from 30 seconds to a few minutes for them to become toasted. Toasting releases the essential oils in spices, making the spices more flavorful and aromatic.
Grind together all items under grinding ingredients to a fine paste adding a dash of water and keep aside.
Heat coconut oil in a deep pan. Add mustard seeds and when it pops, add the chopped onions and one sprig curry leaves. Saute till the onions become soft. Note that this recipe does not need the browning of onions.
Once the onions are soft, add turmeric powder and saute for a while. Next add the ground paste, green chili and saute for 2-3 minutes till the raw smell goes.
Dunk chicken into this masala mix, stir gently and saute for 2-3 minutes. Add 2¼ cup of thin coconut milk.  (If using store bought coconut milk, add ¼ cup of thick coconut milk and 2 cups water), mix well and bring to boil. Once it's boiled, cover and cook for 15 minutes on low flame.
Uncover the pan and cook on low flame for another 7-10 minutes. Add ½ cup of thick coconut milk and simmer and cook for another 3-5 minutes on low flame till the curry reaches desired thick consistency. Garnish with curry leaves and coriander leaves and turn off the flame. Keep it open for some time.
Serve warm with appam, rice, idiyappam (string hoppers), paratha or roti.
NOTES
MEASURING TOOLS USED :  240 ml cup, 15 ml tablespoon and 5 ml teaspoon.