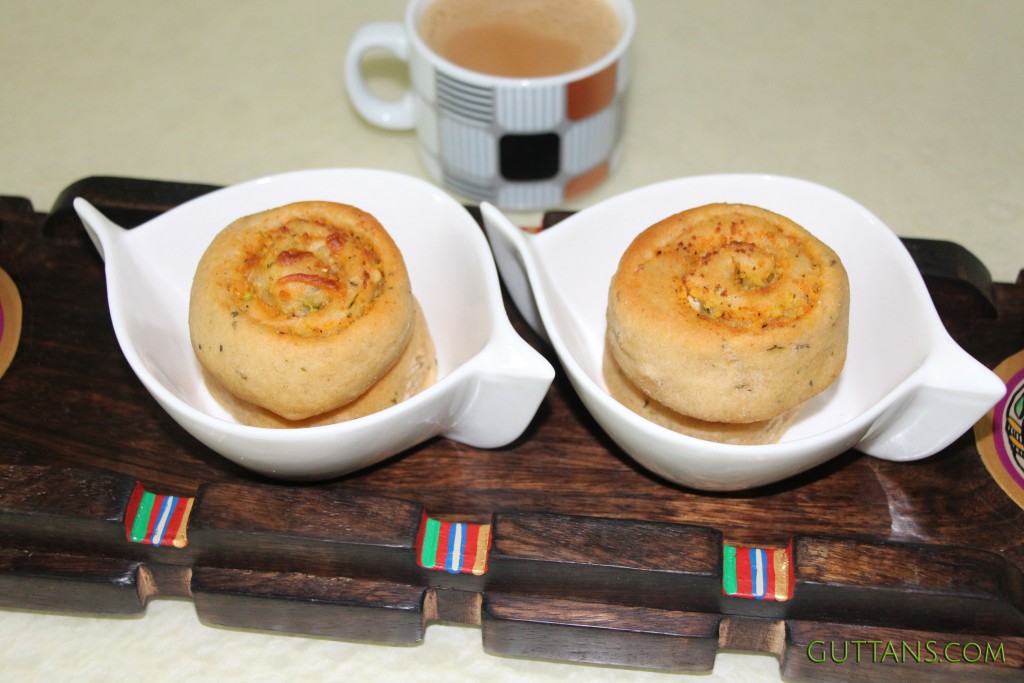 Delicious, soft and heart-healthy Wheat Bread Swirls. These savoury swirls are essentially whole wheat rolls stuffed with spiced paneer. This is an eggless bread dough recipe for preparing rolls with whole wheat. It can also be used to make buns, donuts and even pizza.
BREAD DOUGH
Whole Wheat Flour – 1.5 cup
All Purpose Flour – 2 tbsp
Yeast – 1 tsp
Sugar – 1 tbsp
Salt – ½ tsp
Olive oil – 2 tbsp + 1 tsp
Italian Seasoning – 1 tsp (optional)
Warm Water – ½ cup + ¼ cup
PANEER FILLING
Paneer – ½ cup (crumbed)
Tomato Ketchup/ Peri Peri sauce – 1 tbsp
Capsicum – 1 tbsp (finely chopped). Squeeze out excess water with hands.
Onion – 1 tbsp (finely chopped). Squeeze out excess water with hands.
Salt – ¼ tsp
Pepper Powder – ½ tsp
Curry Masala – ½ tsp (optional)
Cheese – 2 tbsp grated (optional)
Coriander stalks or Celery – 1 tbsp chopped. Squeeze out excess water with hands.
DIRECTIONS
Proof Yeast : Mix yeast with ¼ cup of warm water and one tbsp sugar in a bowl. Cover the bowl and set aside for 10-15 minutes until it dissolves and blooms. Mixture becomes foamy or bubbly and frothy.
Make Dough : Whisk together the flours (whole wheat + all-purpose flour), seasoning and the salt. Make a well in the center of the flour mix and add yeast mixture and warm water and knead (2-3 minutes in the mixer or 8-12 minutes by hand) till all the flour comes together into a ball of dough. Add the oil to the dough, half a tbsp at a time, and knead (6-9 minutes in the mixer or 12-18 minutes by hand) to get smooth dough. It is smooth and sticky dough, but a finger touched on the surface of the dough should not come away with any dough on it. Usually, the kneading process takes about 8-12 minutes in a mixer, 20-30 minutes by hand and 1-5 minutes in a food processor.
Proof Dough : Grease a large bowl with a tsp of olive oil, turn the dough in the oil so that it is evenly coated with the oil, and cover the bowl. Keep for 1 hour to 1.5 hour to double. Deflate and knead the dough for another minute until it makes a smooth dough ball.
Make Paneer Mixture Filling : For making paneer crumbs, take ½ cup paneer cubes in a bowl and pour hot water. Cover and keep for 5 minutes. Strain the paneer and keep it for another 5 minutes in the strainer. Make paneer crumbs using a food chopper or hand. In a bowl, toss all the filling ingredients except tomato ketchup and mix it thoroughly. Set aside.
Roll Out Dough & Add Filling : On a well-floured surface, roll out the ball into a rectangle. Add a thin layer of tomato ketchup or peri peri sauce. Spread the paneer mixture evenly over it.
Roll Dough into Log : Brush one edge of the dough with a little bit of water, which will aid in sealing the roll. Roll Dough into a log. Try to keep the sides of the log even as you roll. Press the moistened edge to seal the log. Pinch the seam to seal it well.
Cut Dough into Rolls or Swirls : Using a sharp knife, cut the log into equal portions of 1¼ " thickness. In well-greased baking tray, place the rolls cut side up. Make sure to leave gap between the rolls, because they will expand while they rest.
Proof Swirls or Rolls : Loosely cover the rolls with aluminium foil or plastic wrap or keep inside a covered space (can keep inside any covered kitchen cabinet) or oven to proof. Let the rolls rise for about 20-30 minutes and in the meantime, pre-heat the oven to 175 deg C.
Bake Swirls or Rolls : Bake for about 11-15 mins till top of the rolls turns golden brown. Keep checking it after 10 minutes. All oven temperatures vary and so the cooking time too. Stop the oven once its golden brown colour. Once it's done, keep in oven for another 5 more minutes.
Butter Glazing : Take a blob of cold butter and rub it over the top of the freshly baked rolls. This gives the rolls a lovely shine and soft crust.
GUTTANS TIPS
PLAIN FLOUR TRICK : Gluten is important for giving the dough – and final bread – structure and volume. Gluten is the house that bread lives in. Without it, bread tends to end up flat and dense. One trick is to add some white all-purpose flour (or vital wheat gluten) along with the whole wheat flour. As mentioned here, even just a little white flour has enough gluten to give the dough better structure. Usually eggs are added to the dough to help with rising. A bread dough rich with egg will rise very high, because eggs are used as a leavening agent. As well, the fats from the yolk help to tenderize the crumb and lighten the texture a bit. One egg can be substituted with 2 tbsp flour + ½ tsp oil + ½ tsp baking powder + 2 tbsp liquid. These substitution details were found here. This is the substitution used in this recipe. But here, no need to add the baking powder as the bread dough slow fermentation process with yeast produces enough leavening.
INGREDIENTS USED : Swirl Buns shown in the picture, is made with paneer crumbs, tomato ketchup, onion, capsicum, coriander stalks, pepper, curry masala, cheese and salt.
TIME AND QUANTITY : The rolls in this recipe are cooked in top to bottom setting with oven rack in the middle position. Cooking time is 11 minutes (170° C) in Siemens & Bosch Oven and 18 minutes (175° C) in Fagor Oven. All oven temperatures vary and so the cooking time too. This recipe makes 12-15 rolls.
MEASURING TOOLS USED : 240 ml cup, 15 ml tablespoon and 5 ml teaspoon.
Whole Wheat Paneer Bread Rolls made with whole wheat are healthier and fibre rich. This recipe is the whole wheat variation of bread dough of Paneer Bread Swirls recipe. Different variations of the flour mix were tried on that recipe and used more whole-wheat flour than is called for in that recipe. The recipes followed were found here and here. Whole wheat flour recipes can have all the allure of regular baked goods. We have the breads, scones, muffins, and cookies to prove it.
Paneer is a fresh, unsalted white cheese common in Indian cuisine. Paneer is also known as cottage cheese. Swirl buns can be stuffed with anything like cinnamon or garlic or chocolate. Sprinkle or spread grated cheese on top for gooey cheesy bread! Paneer rolls are great as an appetizer, a starter for parties and gatherings and a tasty roll that compliment any meal.
# PANEER BREAD SWIRLS # CHOCOLATE SWIRL BUNS # APPLE CINNAMON OATS SWIRLS