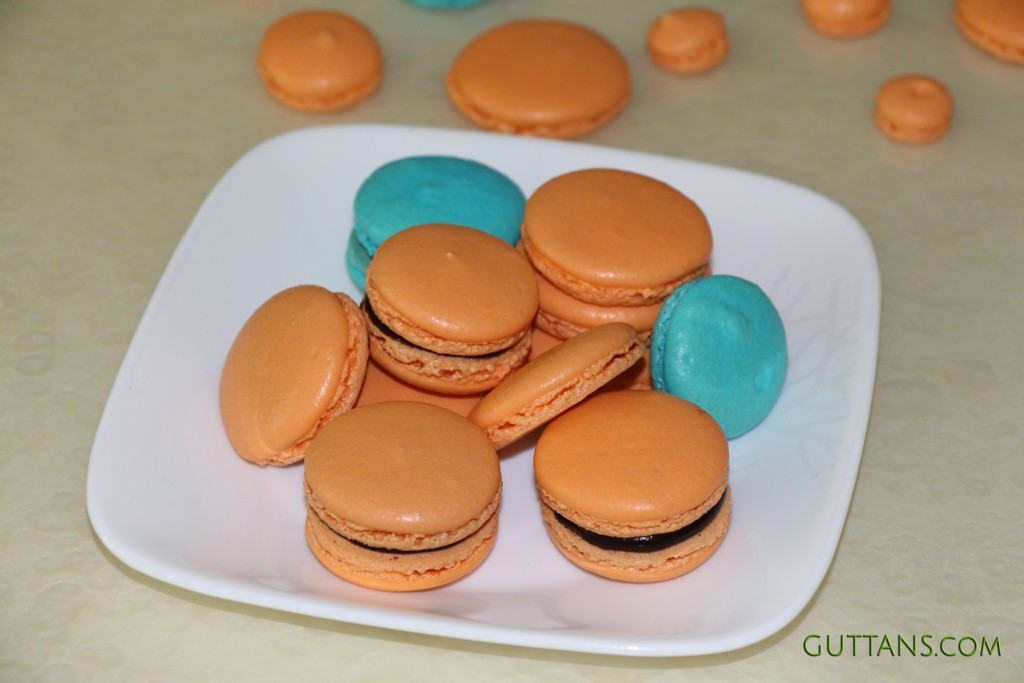 French Macaron specifically refers to a meringue-based confection made with almond flour, egg whites, and granulated and powdered sugar, then filled with buttercream, ganache or fruit curd. The delicate treat has a crunchy exterior and a weightless soft chewy interior.
INGREDIENTS
Almond meal – 1 ¼ cups
Confectioner's sugar – 1 ¾ cups
Salt – ¼ tsp
Egg whites – 4 (large)
Granulated sugar – ½ cup
Almond extract – ¼ tsp
Jam or Nutella or Chocolate *
DIRECTIONS
Whisk together almond meal and confectioner's sugar and sift over a large bowl.
Beat egg whites until frothy, 1 to 2 minutes. Slowly add granulated sugar, almond extract and salt, beat until medium shiny peaks, about 3 to 5 minutes.
Fold egg whites into almond mixture until combined. Mix with spatula until the mixture sinks easily into a smooth mass and has the consistency of honey.
Transfer mixture to a pastry bag, cut off 1/2 inch off tip. Pipe 1-inch rounds about 1 inch apart on parchment-lined sheets.
Let it dry for 30 minutes to 1.5 hours until tops are firm and dry.
Preheat oven to 350. Bake one sheet at a time for about 14 minutes, rotating once.
Let cool completely on wire racks before filling and sandwiching cookies together.
GUTTANS TIPS
ADDING COLOURS : Add 3 drops of gel colour with the egg and sugar mixture in step 2 and mix well in the mixer. Always use gel colour as liquid colour affects its consistency. If adding gel colours, reduce the almond extract to 1/8 teaspoon.
CHOCOLATE MACARON : Substitute 3 tablespoons of unsweetened cocoa powder for ¼ cup of almond flour.
WHIPPING EGG AND SUGAR : Egg whites must be at room temperature as they whip and hold better at room temperature.  Start beating the egg and sugar batter slowly, gradually increasing speed.  Make sure you beat the egg whites until stiff peaks. It should look very thick, glossy and flow off the whisk like a bird's beak. That is, when you take your whisk-head-attachment-thing out, it will hold the shape of a bird's beak. If there isn't, keep on beating until there is. When the bowl is inverted, the egg white does not flow and remains in the bowl and the end of peaks stand up straight.
PERFECT BATTER : Mixing and folding in step 3 is done in go-around and push-down pattern (gently do it almost 37-50 times, to make it perfect). The batter is ready if it form a ribbon when dropped from a spoon, but not too fluid. When it is ready, batter will change from a dull gritty surface with ridges and lines to a smooth shiny surface like a thick flowing magma. This basically means when you lift and drop the batter back on itself, after waiting for about 30 seconds, ridges slowly ooze back into the batter.
RELEASE AIR BUBBLES : Once all macaroons are piped, tap the pan 2-3 times against the counter top to release the air bubbles. This tapping process helps to get smooth top shells for the macaron.
MACARON TOP : Just after piping, there may be slight  peaks on macaron top. If you mixed the batter correctly, by the time they go into the oven it settles and becomes smooth and even. Top peaks don't settle if the batter is not mixed properly. Under mixed batter gives lumpy and domed top.  Macaron tops will be lumpy (bubbles) if it's not tapped to release the air bubbles.
MACARON SKIN : After piping the macarons, let the tray sit out for at least 30 minutes to 1.5 hours, until the tops of the macarons look dried out and are no longer spreading. This is the skin that needs to form in order for the "feet" of the macaron to properly develop. When the weather is humid or rainy, it can negatively affect the macaron shells. The extra moisture can interfere with the development of the skin that should form during the resting stage. If it is too hot and humid, all macarons will melt.
MACARON FEET : The ideal macaron should be a perfect circle, with "feet" along the edges, where it has risen in the oven. If the macaron is cooked in too high temperature, it may develop lopsided or protruding feet. If it is under mixed, the macarons doesn't get feet. If there is strong heat from bottom of the oven, it forms lopsided feet. Top to bottom setting in the oven enables the browning of the macaron shell, which we don't need. So always it is better to cook in hot air setting with fan than using top to bottom setting in oven. The fan helps to distribute heat more evenly throughout the oven cavity.  So the temperature remains consistent throughout the baking process. It's ideal to use middle rack position since it allows the hot air to circulate evenly around the food, resulting in balanced heat distribution.
MACARON DONENESS : Peel back the parchment paper and the macaron should peel off easily without sticking. If it sticks or tears the belly out of the macaron, it is not done. Use a spatula to lightly tap the feet, it should be firm and not push back. Once done, they should comfortably slip off your baking mat. If it is done, we can slide it off easily from the tray within 30 second to 1 minute after taking out from oven. If it doesn't pass the tests above, put them back in the oven and bake an extra 1 minute at a time.
FILLING OR SANDWICHING : Use strained Jams, Nutella, Melted Chocolate, Ganache (strongest/least moist), Cream Cheese, Buttercream or Jelly (softest/most moist) to sandwich the macarons.
MEASURING TOOLS USED : 240 ml cup, 15 ml tablespoon and 5 ml teaspoon.
French macarons is one of the most finicky, delicate, sweet, worthwhile and rewarding things to make. Attention, macaron-lovers! Follow the above detailed tips and tricks to perfect your macaron skills. Tips and tricks to perfect these finicky little delights were gathered from many trials and errors in macaron making. Also, followed the tips found here and here. This recipe is adapted from here. Perfect macaron is with smooth and shiny top, ruffled feet and with a soft and chewy interior. You will relish in every bite…