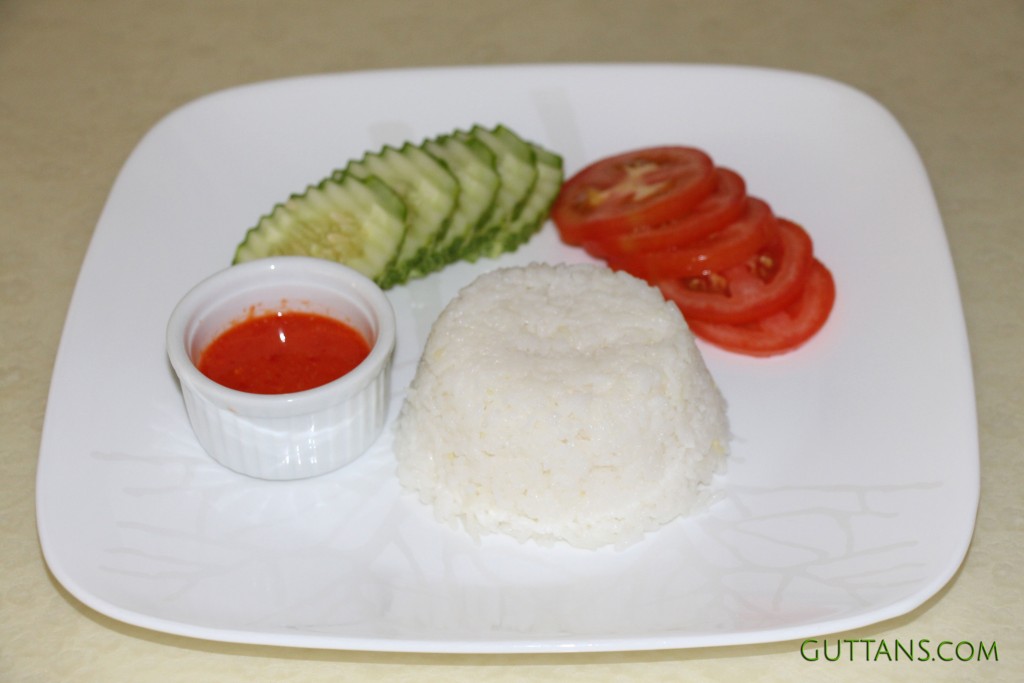 Hainanese Rice is a classic dish, beloved by people all over Asia. Hainanese Vegetarian Rice is the vegetarian version of the Hainanese Chicken Rice. This vegetarian rice tastes absolutely delicious with unique flavours and it is very easy to cook.
INGREDIENTS
Rice – 2 cup (Long Grain Rice or Jasmine Rice)
Water –  4 cups
Ginger –  1 tbsp ( finely chopped)
Garlic – 1 tbsp ( finely chopped)
Pandan leaves – 4 (Tied into a knot)
Lemon Grass –  2 stalks (3.5" length thick bulb)
Sesame oil – 1 tbsp
Salt – ½ tsp
CHILLI SAUCE
Red fresh chillies – 3 (large)
Chilli padi or bird's eye chilli – 3 (small)
Garlic – 1 tbsp (2 cloves)
Ginger – 1 tbsp (1" piece)
Lime juice – 3 tbsp
Sugar – 1 tsp
Salt – ½ tsp
GARNISH
Cucumber, Tomato
Carrot, Scallion (optional)
Mushrooms, Soya beans (optional)
DIRECTIONS
PREPARING RICE : Wash rice till its clear of starch, soak for 20 minutes and drain. Peel off outer layers of the lemon grass and take thick bulb end. Press the stem with the flat side of a knife to bruise the bulb to release the flavours.
Heat oil in a rice pan, add ginger and garlic. Stir fry until golden colour. Add rice and stir fry for 1-2 minutes. Add water, lemongrass, pandan leaves and salt. Mix well.
When the rice starts to boil, cover with a lid (preferably glass lid with hole for steaming).  Simmer and cook for 20 minutes in low fire. Don't open in between to lock the flavours.
When it is done, tiny steam holes will appear on the surface of the rice. Switch of the fire.
Keep it closed for another 10 minutes. Fluff with a chopstick or fork (wooden).
PREPARING CHILLI SAUCE : Grind the chillies, garlic and ginger in a blender or food processor until it is coarsely done. Transfer the mixture to a glass container; add lime juice, sugar and salt. Mix well and store in the refrigerator until ready to serve.
GARNISH : Serve hot with cucumber slices, tomatoes, chopped scallion, carrots, sautéed mushrooms, cooked soya beans etc and chilli sauce.