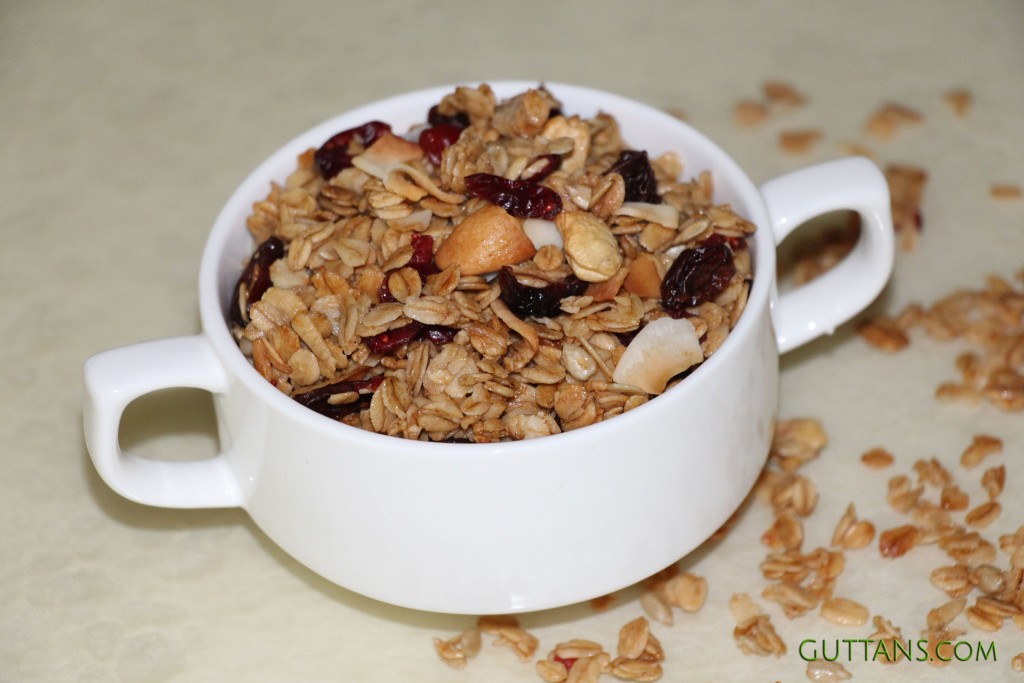 Cranberry Nut Granola is packed with nuts and dried fruits. This easy to make granola is a powerhouse snack and yes… it's homemade. Crunchy Granola is a breakfast and snack food consisting of rolled oats, nuts, seeds, and dried fruits with a hint of tartness from the cranberries.  
INGREDIENTS
Rolled oats – 3 cups (255g)
Dried Cranberries – ½ cup
Raisin – ¼ cup
Cashew Nut – ¼ cup
Sunflower Seeds – 2 tbsp
Coconut flakes – 2 tbsp
Cinnamon powder – ½ tsp
Vegetable oil – ¼ cup
Packed brown sugar – 1/3 cup (65gm) *
Cranberry Juice or Water – 2 tbsp (30ml)
Maple Syrup – ¼ cup
Vanilla extract – 1 tsp
DIRECTIONS
In a large bowl or pan mix oil, maple syrup, water (or cranberry juice), sugar and warm it on low flame for one to two minute. Remove from the stove or oven, and using a fork or spatula, stir until they are melted together and smooth. You may need to warm more seconds or so if needed.
Stir in vanilla until smooth. Add the oats, sunflower seeds, cashew nuts and cinnamon. Toss the mixture to coat everything. Make sure all of the oats are moistened.
Preheat oven to 150°C / 300°F. Line one large baking sheet with parchment paper or a baking paper. Spread the mix onto the prepared baking sheet and bake for 30minutes, stirring every 10 minutes or so. Add coconut flakes, cranberry and raisins and mix well after 20 minutes of baking and again bake for another 10 minutes.
It usually fits onto just one baking sheet or pan. If too crowded, use two baking sheets and bake at the same time on different racks or separately. Remove from the oven and allow to cool completely before enjoying.
GUTTANS TIPS
GRANOLA DUST : Healthy and nutritious granola breakfast for kids too… Grind this to an easy to eat granola dust. Put a serving size (about ½ cup) into a blender and blend until finely mixed. Serve with fresh fruit, some yoghurt and a little milk and have a perfectly healthy balanced breakfast.
*PACKED BROWN SUGAR : Packed brown sugar, unlike light or dark brown sugar, is not a type of brown sugar, but a reference to how you measure it. It means that rather than lightly spooning the brown sugar into a measuring cup and leaving lots of air pockets, you pack it into the measuring cup and squish it down until you can't fit any more in. So, packing brown sugar just means pressing it firmly into the measuring cup. We find it easiest to fill the measuring cup first, and then press the sugar gently down using the back of a spoon. If it's firmly packed, it will slightly retain the shape of the measuring cup after it's dumped out into the bowl,
SEEDS OR NUTS OF YOUR CHOICE – This granola can be made with any seeds or nuts of your choice. Like almond flakes or chocolate chips or peanut butter chips or Mini m&m candy. Allow the granola to cool for 10 minutes before adding peanut butter chips or m&m candies or chocolate chips. Sprinkle it on top and stir everything together gently on the baking sheet.
KEEP IT LONGER : Granola stays fresh for long. Store this in an airtight glass container at room temperature for up to 3 weeks. You can also freeze it for up to 3 months.
MEASURING TOOLS USED : 240 ml cup, 15 ml tablespoon and 5 ml teaspoon.
Granola, is often eaten in combination with yogurt, milk, honey, fruits etc. During the baking process the mixture is stirred to maintain a loose, breakfast cereal-type consistency.It can also serve as a topping for various types of pastries and/or desserts. Peanut Butter Granola  too is a healthy breakfast for peanut lovers.