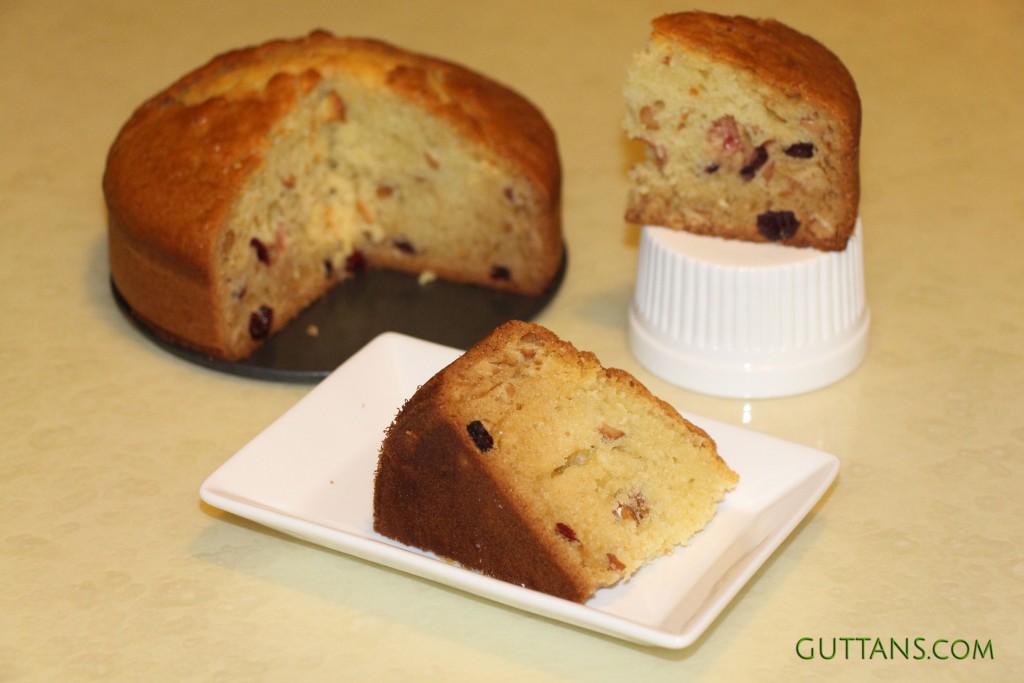 Super moist, delicious Eggless Moist Vanilla Cake.  It is soft and makes a good base for mango flower butter cream cake, strawberry cream cake or black forest cake. It is a light and fluffy moist vanilla cake, perfect for parties and occasions, made without eggs.
INGREDIENTS
All Purpose Flour – 2 ½ cups
Sugar – 1 ½ cups
Baking Soda – 1 tsp
Baking Powder – 1 tsp
Salt – ½ tsp
Yoghurt – ½ cup
Milk – 1 cup
Butter – ½ cup (melted)
Vanilla Extract – 2 tsp
Hot Water – ½ cup
Cranberry or Raisins – ½ cup (optional)
Cashew Nuts – ½ cup (optional)
DIRECTIONS
Prepare two 8″pans or two 9″ pans for making a layer cake. For sheet cake (single layer cake), use one 9″X13″ pan. Choose pans that are at least 2 inches deeper, to make sure batter won't overflow. Grease or line baking pan with parchment paper and set aside.  Preheat oven to 175°C degrees for 7-10 minutes.
Before making the batter, take a tablespoon of flour from the measured flour. Toss cranberry and cashew nuts together with this flour and keep aside. In the large bowl of a standing mixer, stir together flour, sugar, baking soda, baking powder and salt. Add lightly whisked yoghurt, milk, melted butter and vanilla extract and beat (or whisk) until smooth for about 2-3 minutes. Remove bowl from mixer and stir in hot water with a rubber spatula. Batter will be very runny. Add this cranberry (or raisins) and cashews. Gently stir it.
Pour batter in the pan and bake in lower rack for about 30 – 35 minutes, until toothpick inserted in centre comes out clean. For layer cake, make sure to divide the batter evenly between the two pans. Or else, make it in a deeper pan and cut into layers later.
Allow to cool 15 minutes in pan, then run a knife along the edge of the cake to loosen the sides and turn out completely on wire racks and cool before frosting.
GUTTANS TIPS
CUPCAKES : This same batter can be used to make cupcakes too. Line muffin tins with cupcake papers.  Spoon or pour the batter into the cups about three-quarters full. This recipe yields 20-24 cupcakes.
FRUITS AND NUTS : Always toss nuts and dry fruits with little flour to avoid it sinking to the bottom while baking. Before making the batter, keep aside a table spoon of plain flour for tossing with nuts and dry fruits.
TIME AND QUANTITY : All oven temperatures vary and so the cooking time too. Keep checking it after 20-25 minutes.
MEASURING TOOLS USED :  240 ml cup, 15 ml tablespoon and 5 ml teaspoon.
RECIPE PICTURE   :  Eggless Moist Vanilla Cake ( ½  recipe) made in 6" pan and filled with toasted cashew nuts and cranberry.