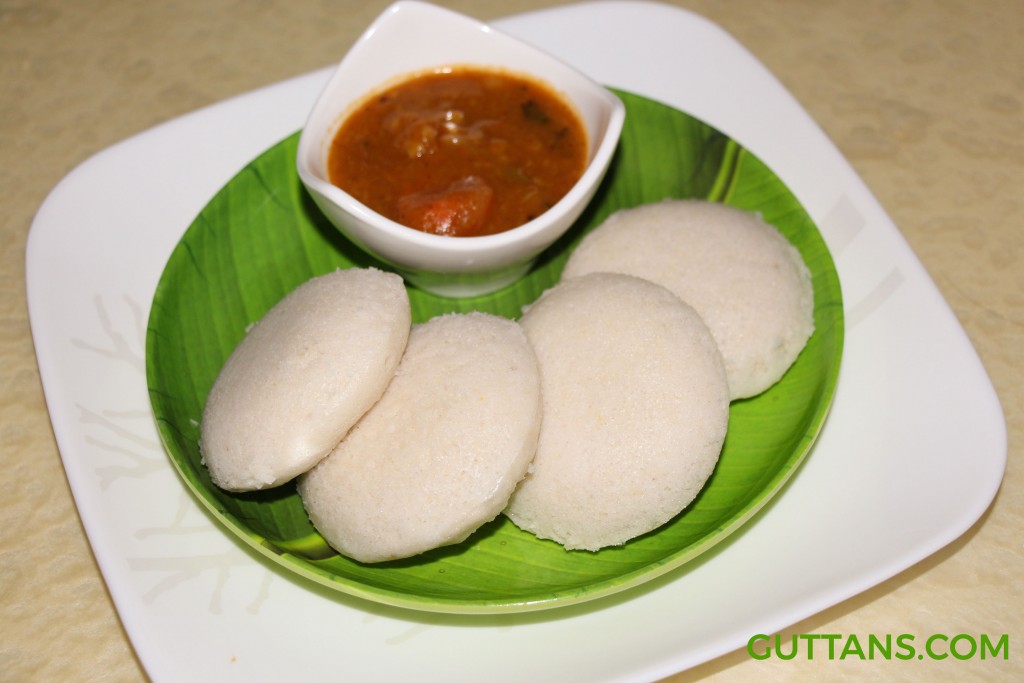 Idli Dosa Batter Recipe to make Idli (Steamed Rice Cake) and Dosa (Rice Lentil Crepe), staple South Indian breakfast dishes. This savoury steam cake, Idli, is very easy to make and is extremely healthy and easy to digest. This soft and scrumptious Idli is usually served with different types of Chutney and Sambar or Chickpeas Curry.
ALL-IN-ONE IDLI DOSA BATTER
All-in-One Idli Dosa Batter makes life easier, as we can prepare Idli, Dosa, savoury Uthappam, Paniyaram, soft Set Dosa (Sponge Dosa), crisp Masala Dosa and thin Ghee Roast. That's a big choice. Usually most of the restaurants and chefs use 4:1 rice, urad dal ratio for the batter. At home, it is good to use 3:1 rice, urad dal to get fluffy and soft idli and dosas. This recipe uses 3:1 rice, urad dal ratio. In this Idli Dosa Batter Recipe, good thing is that here, rice, urad dal and fenugreek are soaked together and ground together in Wet Grinder!! Its Easy and Best Homemade Idli Dosa Recipe!!
IDLI (RICE CAKE) MAKING PROCESS  
Idli is a round, fluffy rice cake that is usually two to three inches in diameter, made by steaming the fermented batter. Idli is a savory cake that is popular throughout India and it is a traditional breakfast in South Indian households. Idli is made from de-husked black lentils (urad dal), idli rice (or raw rice), salt, fenugreek seeds (methi) and water. The mixture is allowed to ferment prior to being steamed in an idli steamer. It is South India's most popular breakfast and also a very healthy dish. Check Guttans Idli Dosa Batter in Mixie Recipe to make same batter in Mixie.
TIPS TO MAKE BEST IDLI & DOSA
IDLI/DOSA RICE & DAL VARIETY
Idli can be made either with white idli rice (par boiled rice) or dosa rice (raw rice) or mix of both rices. Mix of dosa rice(raw) and idli rice(par boiled) can be used to get soft idlis and to make dosas. According to the availability, any variety of par boiled and / or raw rice can be used. Use dehusked whole urad dal or, if not available, use split urad dal.
GRINDING IDLI DOSA BATTER IN WET GRINDER
Grinding batter in wet grinder gives more aeration, makes the batter light, soft and more in volume. Grinding Idli Dosa Batter in Mixie doesn't give much aeration, so more quantity of Urad Dal is needed to get soft idlis.
IDLI BATTER FERMENTATION PROCESS
For proper fermentation, normal warm room temperature is very important. Fermentation always depends on the climate. Warm temperature is best for fermentation. During winter, or in a cooler climate, keep the batter in the oven for fermentation. For that, moderately preheat the oven at 175°C for 5-7 minutes, turn off. Keep the batter in oven with the door closed.
WILD YEAST TO AID FERMENTATION
Though not really necessary, adding fenugreek seeds helps to aid fermentation. The fermentation is caused by air-born wild yeast. Warm air and pure water aids fermentation. Urad dal and fenugreek seeds draw and absorb the wild yeast from air. Washing the soaked ingredients again, will wash away the collected wild yeast. So just need to drain and grind the ingredients.
IMPORTANCE OF SALT IN THE IDLI BATTER
For the survival of the developed yeast, use non iodized salt. Usually ½ teaspoon of salt is added for every one cup of dry ingredients plus more according to taste. Adding enough salt is important for proper fermentation.
TYPE OF WATER TO MAKE BEST IDLI DOSA BATTER
Use non-chlorinated or filtered water or boiled water at room temperature for making the batter, since chlorine inhibits growth of wild yeast which is essential for fermentation.
KNOW THE IDLI BATTER CONSISTENCY
To make idli, it should be thick batter. Adding too much water or too little will hinder fermentation. The batter should not be too thick or too thin, it should be like flowing easily. The consistency of the batter should be like condensed milk and it should fall down easily when you take and pour with a spoon or hand.
BATTER INCREASES VOLUME ON RISING
The batter can spill while rising, so always use a large container that can hold double quantity of batter. Also, keep a tray under the large container to prevent the possibility of over risen batter, spilling out.
HOW TO STORE AND KEEP IDLI DOSA BATTER LONGER
Once ground and ready, transfer the batter in to 3 or 4 more stainless steel deep or wide containers with lids to use the batter for 3 or 4 days. Keep it in the refrigerator. Take out and keep the steel container with batter on the night (about 10-12 hours before) to cook idli/dosa in the morning. Alternatively, fermented batter can also be stored in the refrigerator for few days and use as when required. Take out the batter two hours before cooking and gently stir. These two hours will bring the batter to room temperature before cooking.
★ We love your Feedback !! Have you tried this Idli Dosa Batter Recipe? Please click on the stars in the recipe card below to rate. You can also follow GuttansFood on Facebook, Instagram to see what's latest Guttans Kitchen
Idli Dosa Batter (Wet Grinder)
All-in-One Idli Dosa Batter to prepare Idli and varieties of Dosa.
Servings
48
IDLIS or 40 DOSA
INGREDIENTS
2

cups

Idli Rice

1

cup

Dosa Rice

1

cup

Black Gram Dal

(Urad Dal)

1

tsp

Fenugreek Seeds

(Methi)

5

cups

Water

2

tsp

Salt
INSTRUCTIONS
SOAKING RICE & DAL : Wash the rice, black gram and fenugreek well for two-three times in running water and drain . Soak all these ingredients together for 8 hours in enough (5 cups) water. Once it is fully soaked and ready, drain the soaked rice, dal and fenugreek mix, and reserve and keep the water aside. We get about 3.5 cups water after soaking. Use this soaked water to grind the batter, as the soaked water aids in fermentation.

PREPARING BATTER : Use reserved water for grinding. Add about ½ cup water in the wet grinder drum and start grinding about 2-3 ladle (handful) drained mix. Slowly, keep adding the drained mix, ladle by ladle (little by liitle). After about 3-5 minutes, once whole soaked ingredients are transferred to the wet grinder bowl, add another ½ cup of water for the grinder to run smoothly. Once the batter is half done, after about 5 minutes, start adding water little by little, about ¼ cup of water every 2-3 minutes. Wipe grinder walls with a scraper, every now and then for smooth and even grinding. Grind until smooth and grainy. It takes about 15-45 minutes depending on the grinder model. Usually, this batter is ground in Ultra Wet Grinder in 22-25 minutes.

FERMENTING IDLI DOSA BATTER : Once the batter is ready, take out the grinding stone from the drum, scrape it well and remove the stuck batter and add to the bowl. Add 2 tsp salt, and mix well with clean hand. Again, mixing with hands too helps in fermentation. Transfer the batter to a steel container. Just fill only half of the container, as the batter ferments and doubles. Cover, the batter container, with a lid and keep it in a warm place. Do not cover the batter container with an air tight lid, just cover it loosely. Leave batter untouched for at least 8-10 hours (overnight) for fermentation. After the rest, the batter would have doubled. The batter would be foamy after fermentation.

MAKING IDLI : Take a deep idli pot, pour about 1 cup water (about 1 to 1.5" height water) and keep it on medium flame. To make idli, gently mix the batter, grease the idli moulds and spoon batter into the moulds of idli plate. Put the idli stand with filled idli plates inside the idli pot. Steam cook it in an idli steamer for 10-15 minutes or until the idlis are done. To check doneness, prick the idli with a fork or tooth pick, it should come out clean. Turn off the stove, take out the idli stand, keep it out and leave it there for 5 minutes. Do not unmould the idlis immediately after taking out as it sticks. So wait for 5 minutes and then take out idlis with a wet spoon. Serve it with Coconut Chutney or Sambar or Dal Chutney Powder or Chickpeas Curry.
Notes
QUANTITY : This recipe make 48 idlis and 40 Dosas.
MEASURING TOOLS USED :  240 ml cup, 15 ml tablespoon and 5 ml teaspoon.
♥ Share The Recipe !! Did you try this Idli Dosa Batter Recipe? Please share the recipe link on facebook, pinterest and twitter. Mention @guttans or tag #guttansrecipes when you share in Instagram!! Thank you & Happy Cooking!!