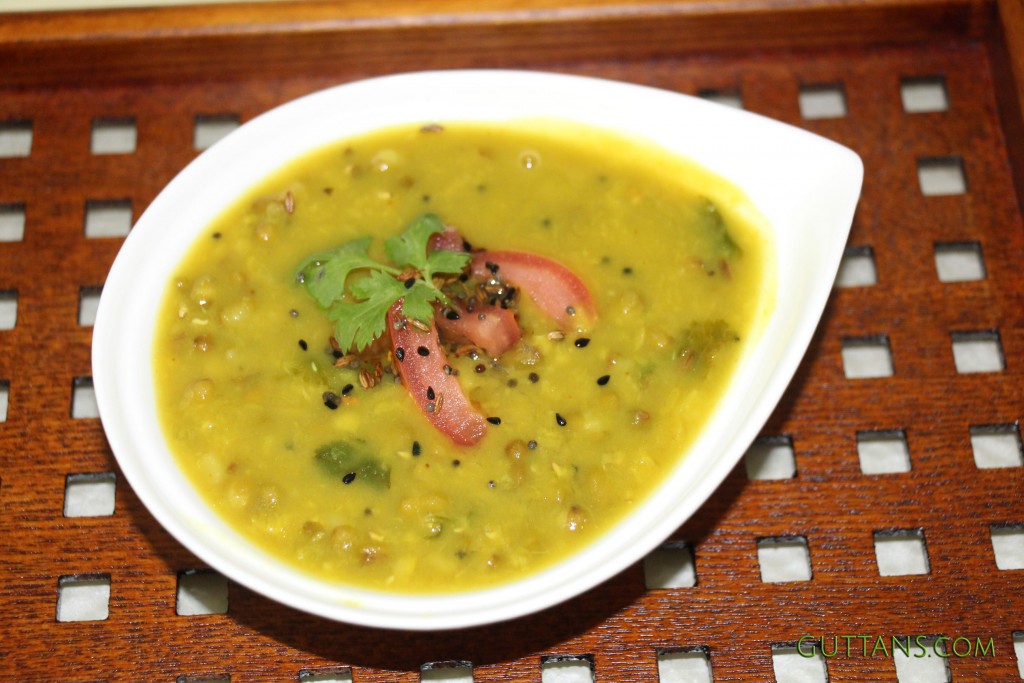 Mixed Lentil Curry (Dal) with five spice seasoning (panch phoron). This dal is made with a variety of lentils and beans and seasoned with five-spices to give a more interesting flavour. Dal is a staple dish in Indian meals and, for most Indian vegetarians, a frequent source of protein.

INGREDIENTS
Red split lentils (masoor dal) – ½ cup
Skinless split yellow mung beans (mung dal) – ¼ cup
Green whole mung beans with skin (mung dal) – ¼ cup
Turmeric – 1 tsp
Lemon juice – 1 tbsp
TEMPERING
Sunflower oil – 2 tbsp
Black mustard seeds – ¼ tsp
Cumin Seeds – ¼ tsp
Nigella Seeds – ¼ tsp
Fennel Seeds – ¼ tsp
Fenugreek seeds – 4-5
Green Chilli – 1 (half slit)
Dried chillies – 2
GARNISH
Tomato – ½ medium
Coriander leaves – 1 Sprig
DIRECTIONS
Mix the lentils and beans together and wash until the water runs clear. This dal can be cooked in pressure cooker or in normal saucepan. Both methods are below.
Pressure cooker method: Put all lentils into a pressure cooker, add 2-3 cups of water, turmeric and salt. Cook on medium high heat. Turn off the cooker after first whistle. Wait until all the steam has escaped, before opening the pressure cooker.
Saucepan method: Put all lentils into a sauce pan with hot water. Bring to the boil and reduce heat slightly. Let it boil for 5-6 minutes, and when the foam subsides, add turmeric and salt and reduce the heat to low. Cover and cook for 20 minutes.
Open the pan or cooker, dal should be soft and mushy. Add lemon juice and mix dal, and if needed, add more warm water to adjust thickness.
Tempering or seasoning: Heat oil in a small saucepan over a medium heat. When hot, but not smoking, add mustard seeds. As soon as they begin to pop, reduce the heat to low and add cumin seeds, nigella seeds, fennel seeds and fenugreek seeds, green chilli and dried red chillies. Let the spices sizzle until the seeds pop and chillies have blackened.
Pour the seasoning over the lentils, scraping off every bit from small saucepan.
Turn off the heat and garnish with tomato strips (tomato deseeded and cut into strips) and coriander sprigs. Serve with Indian bread or rice. Keep covered until serving.
This delicious, nourishing lentil dish (inspired by Everyday Indian book) can accompany any number of different meals. Lentils are very rich source of fibre and nutrients especially the green and brown lentils. Panch Phoron – five spices – are nigella seeds (black onion seeds or kalonji or kalo jeera), fennel seeds (mouri or saunf), fenugreek seeds (methi), black mustard seeds (rai) and cumin seeds (jeera). The aromatic spices works together to provide a considerable depth of flavour to any dish and especially to dal.
There are significant health benefits from eating the spices. Cumin aids digestion, fennel contains vitamin a, e and c as well as anti-oxidants, fenugreek aids metabolism, mustard seeds contains omega 3 fatty acids as well as being a good source of selenium and magnesium, nigella seeds balance the hormonal system and have healing qualities.