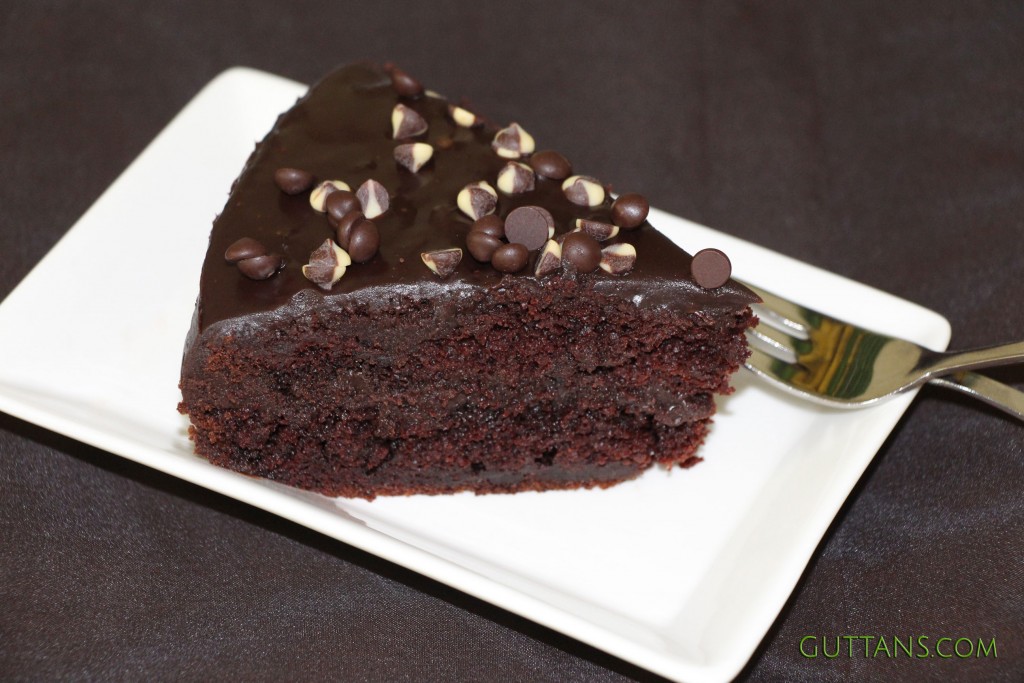 Rich and Moist Chocolate Cake, flavoured with cocoa powder and topped with chocolate ganache and chocolate chips. A chocolates lover's dream come true with this, delicious chocolatey treat, layered cake filled with ganache.
INGREDIENTS
All Purpose Flour – 1 ¾ cups
Brown Sugar – 2 cups (packed)
Unsweetened Cocoa Powder – ¾ cup
Baking Soda – 1 tsp
Salt – ¾ tsp
Eggs – 2
Buttermilk – 1 cup
Butter – ½ cup (melted)
Vanilla Extract – 1 tsp
Hot Water –  ½  cup
Heavy Whipping Cream – 1 cup
Dark Chocolate – 16 oz / 454 gms
SUGAR SYRUP
Sugar – ¼ cup
Water – ¼ cup
DIRECTIONS
Prepare two 8″pans or two 9″ pans for making a layer cake. For sheet cake (single layer cake), use one 9″X13″ pan. Choose pans that are at least 2 inches deeper, to make sure batter won't overflow. Grease or line baking pan with parchment paper and set aside.  Preheat oven to 175°C degrees for 7-10 minutes.
In the large bowl of a standing mixer, stir together flour, sugar, cocoa, baking soda, and salt. Add lightly whisked eggs, buttermilk, melted butter and vanilla extract and beat (or whisk) until smooth for about 2-3 minutes. Remove bowl from mixer and stir in hot water with a rubber spatula. Batter will be very runny.
Pour batter in the pan and bake for about 30 – 35 minutes, until toothpick inserted in centre comes out clean with just a few moist crumbs attached. For layer cake, make sure to divide the batter evenly between the two pans.
Allow to cool 15 minutes in pan, then run a knife along the edge of the cake to loosen the sides and turn out completely on wire racks and cool before frosting.
Chocolate Ganache : Prepare chocolate ganache and divide into two and keep aside.  For spreading and levelling the ganache filling, allow the ganache to cool completely. Cooled for about two to four hours, until it begins to set up but is still soft like buttercream. It always depends on the room temperature.
Sugar Syrup : Combine sugar and water in a heavy bottom saucepan. Bring to boil over a medium heat. Simmer for 2-3 minutes, until sugar is dissolved, stirring occasionally. Remove from the fire. Cool to room temperature.
Assemble Cake : Wait until the cake has cooled at least one hour before cutting and leveling. It is always better to level the cake for a more professional look. Cutting and leveling can be done using a serrated knife or cake leveler. Set a cake layer onto the cake board or turn table.  Brush this cooled layer with sugar syrup for extra moistness and prolonged freshness. Spread half of the thick chocolate ganache to completely cover the top of the first cake layer, try to make sure this is at least ¼" thick (This ganache should be like buttercream spreading consistency, cooled for minimum 2 hours). Let ganache set for a few minutes until firm, now place the second layer on top, making sure the ganache has firmly set; otherwise it will just squeeze out. Spread some of this thick ganache in a thin layer over entire cake, covering completely. Refrigerate until set, about 30 minutes. Layer cakes can be filled with chocolate ganache   or vanilla whipped cream.
Ganache Frosting : Transfer cake to a wire rack set over a rimmed baking sheet. Pour reserved (softened to pouring consistency) ganache over top, letting it run down the sides. If necessary, use a large offset spatula to spread from the center toward the edges, so that the cake is evenly and completely covered.  Decorate with chocolate chips or grated chocolate. Refrigerate until ganache has just begun to set, about 30 minutes.
Transfer cake to a serving plate or cake board. Serve immediately or refrigerate, covered with a cake dome, for up to 2 days.
GUTTANS TIPS
BUTTER MILK OR MILK : This cake can be made with butter milk or milk. Both came out soft and moisty. Butter milk gives each bite a tender, moist texture. Lactic acid in the buttermilk allows the baking soda to react and leaven the cake. To make instant buttermilk, measure 2 teaspoon of white vinegar or lemon juice in a measuring cup. Then add enough milk to the same measuring cup till it reaches ½ cup. Stir and allow it to sit for 5 minutes.
BROWN SUGAR : It has a subtle caramel-y taste, giving baked goods a better flavour than white caster sugar. The more flavour in the cake, the better. It is recommended for a flavourful cake. It can also be replaced with white sugar if needed.
PACKED BROWN SUGAR : As mentioned in Peanut Butter Granola recipe, packed brown sugar, unlike light or dark brown sugar, is not a type of brown sugar, but a reference to how you measure it.
HOT WATER : This recipe calls for hot water. The cake will bake fine without hot water. But the hot water allows the cocoa to bloom, which brings out a richer chocolate flavor in the cake.
MEASURING TOOLS USED : 240 ml cup, 15 ml tablespoon and 5 ml teaspoon.
This wonderful moist chocolate cake,  adapted from here and here, is really simple and very tasty cake. It only takes a few minutes to prepare the batter. This same batter can be used to make cupcakes too. Line muffin tins with cupcake papers. Spoon or pour the batter into the cups about three-quarters full. This recipe yields 20-24 cupcakes.
Recipe Picture  : Moist Chocolate Cake slice filled with Dark Chocolate Ganache and topped with dark chocolate ganache and chocolate chips.