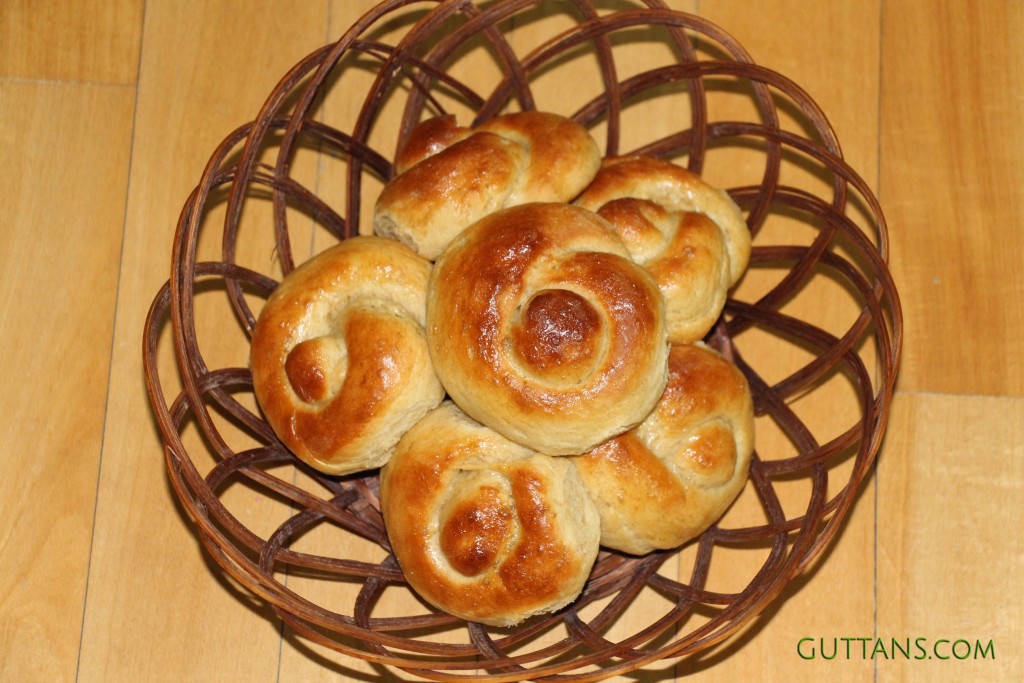 The smell of fresh bread is said to be the most universally loved smell. Fluffy, soft Wheat Bread Rolls or Dinner Rolls are made with whole wheat flour. These dinner rolls are heart-healthy and nutritious with really soft and delicate crumb.
INGREDIENTS

Whole wheat flour – 1 ½ cups
Unsalted Butter – 3 tbsp (45 gm)
Cold milk – ½ cup (120 ml)
Sugar – 2 tbsp
Salt – ¼ tsp
Egg – 1 large ( ¼ cup or 60 ml) * FIND SUBSTITUTE
Dry yeast – 2 tsp
GLAZING
DUSTING
Whole wheat flour – ¼ cup
DIRECTIONS

Melt the butter in a large heavy pot or bowl. Turn off the heat. Add cold milk, sugar, and salt. Mix well with a wooden spoon until thoroughly dissolved. Crack the egg, add to the mixture and mix well. Add dry yeast and let it all sit for 1 minute.
Add 1½ cup flour and mix well with the wooden spoon for about 1-2 minutes. The dough will be very sticky. Cover the pot or bowl with a cling film and let it rise for 1 hour until it doubles in size.
Deflate and knead the dough by hand for 1 -2 minutes and cover again. Let it rise for another 30 minutes. Deflate and fold the dough for another minute until it makes a smooth dough ball.
Transfer the dough ball to a lightly floured cutting board and knead for a while with enough flour to make it easy to handle. Next, divide the dough into 8 equal size pieces. You can dust your fingers with some flour to avoid the dough sticking to hand.
Shape the rolls into single knot rolls ** or simple rounded rolls***. Lay it on a rectangular or square nonstick baking pan lined with baking sheet. Repeat with the remaining dough roll pieces. Cover the dough balls loosely with a cloth or cling film while working with each roll.
Be sure to leave enough space (1 ½ to 2"apart) in between the rolls for them to expand. Cover the pan loosely with an aluminum foil or cling film. You can also keep it inside a covered kitchen cabinet or oven to proof. Let it rise for 20 to 30 minutes.
Preheat oven to 170°C or 340°F. Gently brush the rolls with the egg white and bake for 10 to 15 minutes or until light golden brown. Stop the oven once the rolls turn golden brown colour. All oven temperatures vary and so the cooking time too. Keep checking it after 10 minutes.
Take out and brush the remaining egg white onto the rolls. Bake for another minute more. Remove it from the oven and serve hot.
GUTTANS TIPS
*EGG SUBSTITUTE – Substitute egg with melted butter or yogurt or coconut oil . Here egg in the dough can be replaced with yogurt and the glaze with butter.
**SINGLE KNOT ROLLS : Shaping and making the knots: Take a piece of dough and roll the dough on the floured surface to create a smooth ball of dough. Now using a flat hand, roll the dough back and forth to create a small cylindrical shape. Now using both hands, roll the dough back and forth, and move your hands outwards (from the center to the ends) to elongate the strand of dough. Do this till it is about 6-8 inches in length. Now, take one end of the dough and place it over the other side, the one placed on top should be long end and the down should be short. It should form almost into a "9" shaped ribbon strand. Take the long end or upper strand of "9" through the bottom of the loop hole and bring it out over to the center of the loop. Take the lower strand and bring it down and stick to the bottom. Now shape the rolls perfectly, pick a prettier side and lay it on the baking pan.
***ROUNDED ROLLS : Using a circular motion with the palm of your hand, gently roll the dough on a floured surface to create a ball shape. The ball shape can also be created by rolling the dough between the palms of both hands using the same circular motion. The dough balls will enlarge during the final rising period
SHAPE AND TEXTURE: To bake bread with whole wheat bread it needs reinforcement like eggs and baking pans to keep shape and texture. Egg in this recipe helps to hold the mixture together. Adding butter to the bread results in a higher rise, a crisper crust, and a longer shelf life. Eggs offer flavor and color, and soften and lighten the crumb.
YEAST: Yeast is the driving force behind fermentation, the magical process that allows a dense mass of dough to become a well-risen loaf of bread. Its job is to ferment the flour, causing the bread to rise and develop flavor. In bread making, yeast has three major roles. Yeast is used for leavening (puff up or rise) the bread. Fermentation helps to strengthen and develop gluten in dough and also contributes to incredible flavors in bread.
SALT: Salt plays a role in tightening the gluten structure and adding strength to your dough. It helps the bread to hold on to the carbon dioxide gas that is formed during fermentation, supporting good volume.
FATS : Adding butter (unsalted) or oil (olive or vegetable) in small quantities to bread results in a higher rise, a crisper crust, and a longer shelf life. When fat is added in large quantities, it results in a softer texture and less volume. Butter and especially stronger oils, such as walnut, can also add flavor to bread.
TOPPING : You can sprinkle the rolls with sesame seeds or sprinkle them with whatever garnish you choose, a mix of white and black sesame seeds might look nice.
TIME AND QUANTITY : Made 8 rolls with 25 minutes final proofing of the dough. The rolls in this recipe are cooked for 11 + 1 minute in top to bottom setting in the oven.
MEASURING TOOLS USED : 240 ml cup, 15 ml tablespoon and 5 ml teaspoon.
Butter, milk and eggs in this bread make the rolls soft and delicious. Butter and egg rich breads give the dough a little extra support and rise without compromising its soft texture. These whole wheat knot bread rolls are made by replacing the plain flour in the original recipe found here. As it is a whole wheat recipe without vital gluten, proofing time is adjusted to avoid getting flat buns. Try this nutritious recipe with whole wheat and fill your house with the deliciously warm and homely aroma of baking bread.
When making breads with whole wheat flour, allow it to rise only 1 ½ times its size (rather than double). Whole-wheat flour makes dough less extensible, so if you let it double it will not be able to support the rise and will lose much of its loft. There are lot of online resources here and here to know more about bread making process tips and techniques.