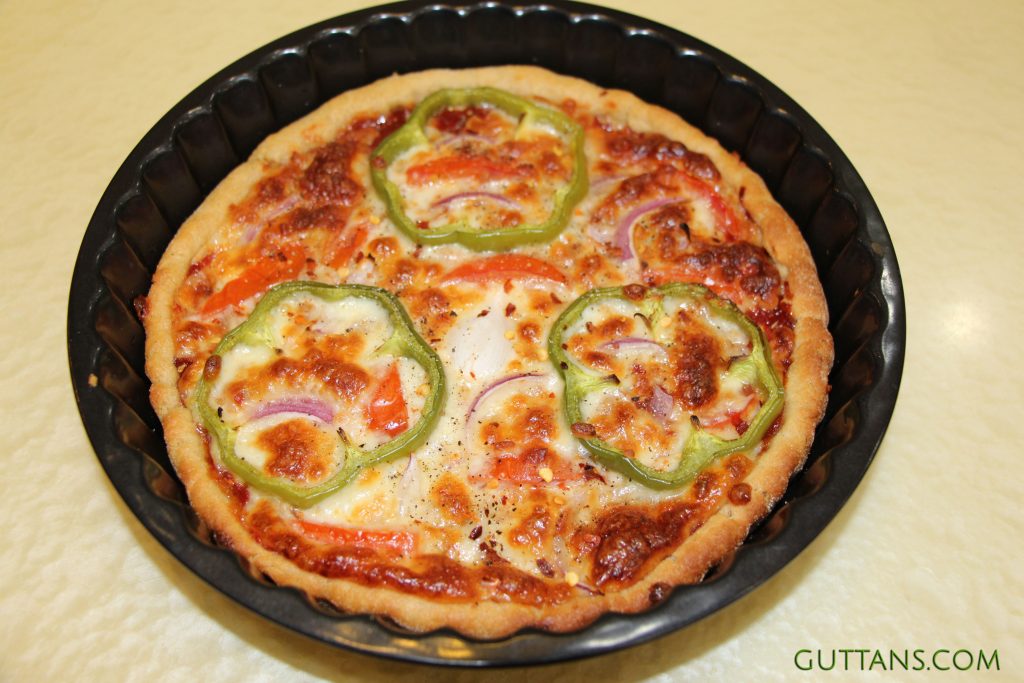 Veggie Pizza or Vegetable Pizza or Veg Whole Wheat Pizza, made with whole wheat is flavourful and delicious, same like plain flour pizza, with soft and chewy pizza crust. Easily make veg pizza at home with choice toppings and quick pizza sauce.
MORE PIZZA RECIPES
Paneer Pizza – Made with a mix of 50:50 Whole Wheat & Plain Flour
Chicken Pizza – Made with All Purpose Flour (Plain Flour)
TIPS TO MAKE HEALTHY WHOLE WHEAT VEGGIE PIZZA
PIZZA PAN & PIZZA SIZE
This recipe makes four 6″ small or three 8″ medium or two 12" large Medium-Thick Crust Pizzas. Divide the dough equally among the available size pans and bake accordingly. This recipe yields approximately 700-720g dough. So for baking medium 8" pizzas, divide and scale dough into 3 equal pieces (approx. 230-240 g each).
PIZZA TOPPINGS
Veggies are optional ingredients. Use your choice vegetable toppings to make Vegetable Pizza. You can completely avoid all toppings and use only cheese if you wish to make Cheese Pizza. Pinch and top pizza with small cheese pieces to make Extra Cheesy Pizza, about another 25-50 gms of cheese.
FINE SEMOLINA DUSTING
The dust that we see in all restaurant made pizza is fine semolina or corn meal. Fine semolina or corn meal is sprinkled on the bottom of the pizza tray or pizza stone to prevent the pizza dough from sticking to the pizza pan. Same way, sprinkle fine semolina or corn meal on the working surface (or Pizza Peel) to avoid sticking. Compared to corn meal, it is better to use semolina flour as it has a nutty texture and toasts well.
PIZZA PEEL (HOW TO TRANSFER PIZZA WITH OUT PIZZA PEEL)
Pizza Peelis a baking tool used to easily transfer the wet, sticky dough to the greased and dusted pizza pan or hot baking stone. Tip is to use a cutting board or flat cookie sheet as the working surface, to easily slide and transfer rolled pizza in to the pan. Pizza Peel is also used to retrieve the Pizza after when finished cooking.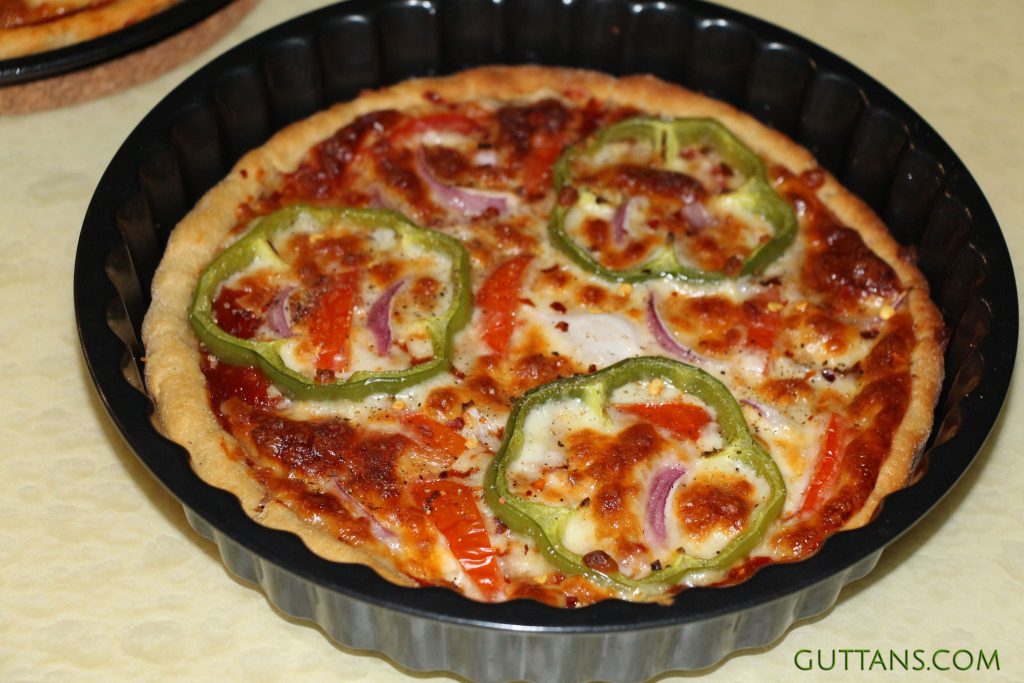 PIZZA STONE / CAST IRON SKILLET
Place Pizza stone on the 2nd lowest or middle rack position in your oven and preheat it at 225 degree C for an hour before placing the dough in the pan. Same way, preheat cast iron pan / skillet for at least 30 minutes at 220 degree C before placing your dough in the pan. This preheating helps in getting crisp bottom crust.
ITALIAN TOUCH WITH OLIVE OIL
Brushing with olive oil gives golden brown edges and avoid drying out while cooking. Adding olive oil to the dough gives a crisp crust with tender interior. Sprinkling oregano and chilli flakes gives more flavour and taste like Pizzeria pizza. Olive oil can be substituted with any other vegetable oil.
PIZZA SAUCE (QUNATITY NEEDED)
6" pizzas need about 3-4 tablespoons sauce per pizza. 8" pizzas need about 4-5 tbsp sauce per pizza. 12" pizzas need about 7-8 tbsp sauce per pizza. Use store bought sauce or, homemade pizza sauce or Quick Pizza sauce as in Paneer Pizza Recipe.
PIZZA DOUGH WITH PLAIN FLOUR
If you are making Pizza with Plain Flour, use 3 cups of plain flour and 1 cup + 2 tbsp water to make the dough. Use 2 tbsp water for yeast and add 1 more cup water to make the dough.
PIZZA DOUGH WITH HALF PLAIN FLOUR & HALF WHOLE WHEAT FLOUR
This dough recipe makes pizzeria or restaurant style pizza at home with whole wheat flour and plain flour combination. To reduce the plain flour usage, instead of using 3 cups of whole wheat flour, combination of plain flour and whole wheat flour can be used to make Pizza at home with less plain flour.  Check Paneer Pizza Recipe for ingredients and quantity.
SERVING SIZE : Four small pizzas / three medium pizzas / two large pizzas serves 4 people.
Veg Pizza Recipe (Whole Wheat Pizza)
Soft and Chewy Veggie Whole Wheat Pizza.
INGREDIENTS
PIZZA BASE DOUGH
Flour – 3 Cups Whole Wheat Flour

Yeast – 2 tsp

Sugar – 2 tsp

Salt – ½ tsp

Olive oil – 4 tbsp

(kneading + 2 tsp (greasing))

Warm Water – 1 cup + ½ cup
VEGETABLE PIZZA TOPPINGS
Capsicum – 1 cup

(1 medium)

Onion – 1 cup

(2 medium)

Tomato – ½ cup

(2 medium)

Olives – 1 cup

(16 pitted olives)

Jalapeno – ½ cup

(slices)
PIZZA – OTHER INGREDIENTS
Pizza Cheese – 2 cups / 225 g

(Or Grated Mozarella Cheese)

Pizza Sauce – 1 cup

Oregano – 1 tsp

(optional)

Chilli Flakes – 1 tsp

(optional)

Olive Oil – 4 tbsp

(Greasing the pan, brushing the pizza)

Fine Semolina / Corn Meal – 4 tbsp
INSTRUCTIONS
PIZZA DOUGH MAKING
Proof Yeast : Mix 2 tsp yeast with ¼ cup of warm water and 2 tsp sugar in a bowl. Cover the bowl and set aside for 10-15 minutes until it dissolves and blooms. Mixture becomes foamy or bubbly and frothy.

Make Pizza Dough : Whisk together the flours and the salt. Make a well in the center of the flour mix and add the yeast mixture and warm water (1 and ¼ cup) and knead by adding the oil to the dough, half a tbsp at a time, to get smooth dough. Usually, the kneading process takes about 4-7 minutes in a mixer, 12-15 minutes by hand and 1-5 minutes in a food processor.

Proof Dough : Grease a large bowl with 2 tsp of olive oil, turn the dough in the oil so that it is evenly coated with the oil, and cover the bowl. Keep for 1 hour to 1.5 hour to double. Depending on the temperature conditions in your place, it can take less or more time for the dough to rise. Deflate and knead the dough for another minute until it makes a smooth dough ball.
PIZZA TOPPING PREPARATION
Pizza Toppings : Slice onion, capsicum, tomato, jalapeno and olives. You can slice as round cuts as rings or square pieces or as medium long pieces.
BAKING VEGETABLE PIZZA AT HOME
Prepare Pans & Preheat : Choose pans, lightly grease the pizza pan with olive oil and sprinkle with fine semolina. . Preheat oven to 220 degree C for 10-15 minutes.

Divide the Dough : Once the dough is doubled, deflate and knead the dough for another minute until it makes a smooth dough ball. On a well-floured (dusted with fine semolina) surface, press the dough, divide and scale dough into 2 or 3 or 4 equal pieces (according to chosen pizza size).

Make Pizza Base : Shape each piece in to a ball. Flatten the dough ball to a disk, roll the dough out to form a circle, that fits the chosen pan, with ¼" thickness (to make medium-thick crust pizza). Gently, transfer the dough to a prepared pizza pan and shape it again to fit the pan, if needed. Using fingers start making dents around, leaving ½" rim. Make edges a bit thicker than center while forming the crust. Poke holes all over the inside portion of the pizza base, with a fork, to prevent pizza base from developing air bubbles and fluffing up during the baking process.

Adding Toppings : Brush the prepared pizza base with olive oil, add pizza sauce leaving ½" rim and spread it on the greased pizza base, spread some grated cheese, next top with veggies, then spread grated cheese. Drizzle some (1 or 2 tsp) pizza sauce on top and finally, sprinkle chilli flakes and oregano for more taste and flavour. (Note : Divide the topping ingredients to 2 or 3 or 4 equal portions to use in all pizzas)

Baking Pizza : Bake at 220 degree C for 10-15 minutes, till the base is cooked and cheese completely melts and turns slightly golden brown.
Notes
 Measuring Tools Used : 240 ml cup, 15 ml tablespoon and 5 ml teaspoon.