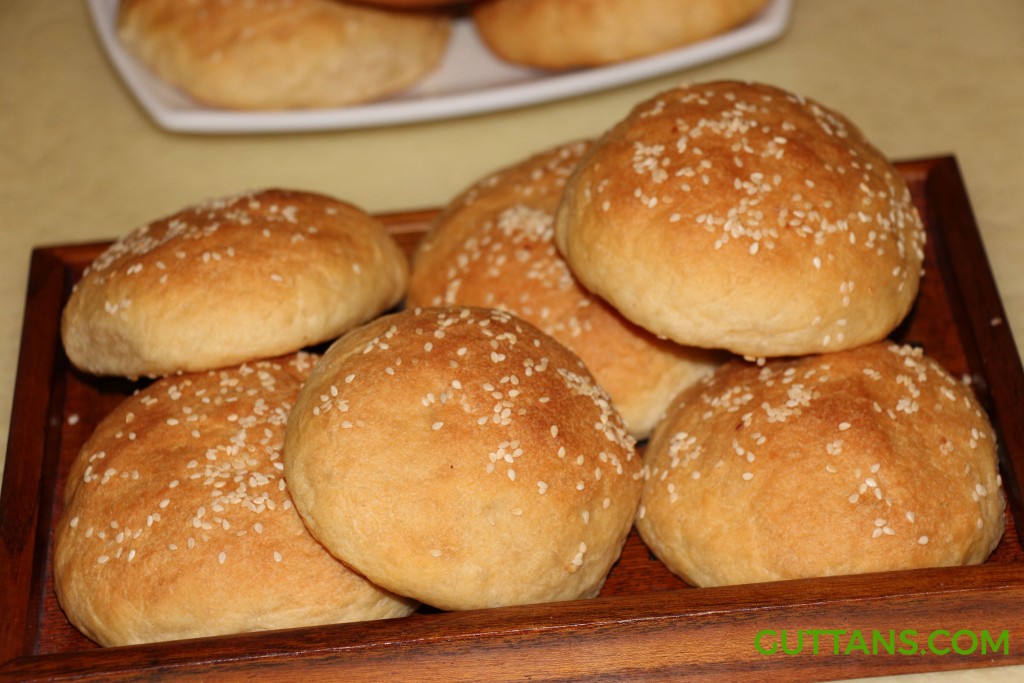 Soft, Chewy and Tender Wheat Burger Buns!! Knead, roll, shape and make Wheat Burger Buns or Pav Buns or Dinner Rolls or Wheat Bread or with this recipe. Cook and Relish at Home!! Homemade Eggless Wheat Buns!!
Guttans Pav Buns or Dinner Rolls  is made with all-purpose flour. Breads or Buns need protein (gluten) to hold the bun shape, texture and softness like the white wheat flour buns. Whole Wheat Flour is heavy and does not contain that much gluten (protein) like white plain flours. Gluten is a protein found in wheat and is activated and developed when it is moistened or kneaded and is hardened when we cook it (same like egg). It helps buns to hold its shape and texture.
Vital Wheat Gluten is used in 100% whole wheat recipes to make up the missing protein (gluten). Standard Vital Wheat Gluten ratio is 1 tbsp. for every 2 to 3 cups of flour. But it is not readily available in all home kitchens. So these eggless buns are made with a combination of White Wheat Flour (all-purpose flour) and Whole Wheat Flour or it can be made with egg as in this Whole Wheat Rolls  recipe.
WHEAT BURGER BUNS RECIPE
BUN DOUGH INGREDIENTS
Whole Wheat Flour – 1.5 cups
All Purpose Flour – 1.5 cups
Sugar – 2 tbsp
Yeast – 2 tsp
Water – ½ cup + 1 tbsp
Milk – ¾  cup
Butter – 4 tbsp (Or oil)
Salt – 1 tsp
 GREASING, BRUSHING & DECORATING
Melted Butter – 3 tbsp (Or Oil)
Milk – 2 tbsp
Sesame Seeds – 2 tsp
HOW TO MAKE BURGER BUNS
PROVE THE YEAST : Mix yeast with ¼ cup (4 tbsp) of warm water and 2 tbsp sugar in a bowl. Cover the bowl and set aside for 10-15 minutes until it dissolves and blooms. Mixture becomes foamy or bubbly and frothy.
MAKE BUN DOUGH : Whisk together the flours and the salt. Make a well in the center of the flour mix and add the yeast mixture, ¼ cup + 1tbsp warm water and ¾ cup warm milk and knead by adding the oil/butter to the dough, half a tbsp at a time, to get smooth dough. Usually, the kneading process takes about 4-7 minutes in a mixer, 12-15 minutes by hand and 1-5 minutes in a food processor. Knead until we get a smooth, sticky and elastic dough.  Do the windowpane test to see if the dough is ready. The dough should pass the windowpane test. (Find Windowpane Test details in Guttans Tips Section)
PROVE THE DOUGH : Grease a large bowl with 2 tsp of oil/butter, turn the dough in the oil/butter so that it is evenly coated with the oil/butter, and cover the bowl. Keep for 1 hour to 1.5 hour to double. Depending on the temperature conditions in your place, it can take less or more time for the dough to rise. Deflate and knead the dough for another minute until it makes a smooth dough ball.
SHAPING & 2ND PROOFING : Divide and scale dough equally into 9 equal pieces (about 80-85 g each). Push a piece of dough through the circle made with thumb and index finger, smoothing round into a ball. Roll into ball gathering seams at the bottom. Again, lightly shape into round balls, in a well-greased surface. Slightly flatten the balls. Line a baking pan with parchment paper and keep the shaped buns about 1-2" apart. Loosely cover the buns with a cloth to proof. Let the buns rise for about 45 minutes to 1 hour, until doubled.
PREHEAT, BAKING & BRUSHING : Fifteen minutes before baking, preheat the oven to 190°C. Just before baking, lightly brush the top of the buns with milk to give it a milk wash and sprinkle with sesame seeds. Bake the buns in the oven at 190°C for 18-20 minutes or until golden brown. Once done, take the buns out of the oven, brush melted butter over the baked warm buns. Cover the burger buns with a damp kitchen cloth. This will help the burger buns to retain the steam and to stay soft. For crisp buns, remove from the pan from allow to cool on a wire rack.
GUTTANS TIPS FOR BAKING BURGER BUNS
BUN SIZE : For Hamburger Buns, divide and scale dough equally into 9 equal pieces (about 80-85 g each) to get medium buns of 4" diameter. To make small Dinner Roll Buns, divide and scale dough equally into 12 equal pieces (65-70g) to get small buns of 3.5" diameter. For Frank buns, divide and scale dough equally into 9 equal pieces (about 80-85 g each) roll the balls into cylinders, 4 ½ " length. Flatten the balls/cylinders slightly. As the dough rises more in the center, so this will give a gently rounded top.
TYPES OF YEAST : DRY YEAST & INSTANT YEAST : Active dry yeast has a larger granule and needs to be dissolved in water before using, while instant yeast has a more fine texture and can be mixed right into dry ingredients. If using Instant yeast, it can be added to the recipe directly. But it is recommended to prove the yeast to find out if it is still active.  If the mixture bubbles and froths after proofing, the yeast is good.
WINDOWPANE TEST : The windowpane test is one of the best ways to tell if you've sufficiently kneaded your bread dough. First, cut off a small piece of the dough about the size of a golf ball. Hold it between your thumb and first two fingers. Next, gently spread your fingers and thumbs apart, stretching the dough into a thin translucent membrane (ie, a windowpane). If you can stretch the dough without it breaking that means the gluten is well-developed and your dough is ready to rise. Keep the cut piece back in the dough, and you are good to go! If the dough breaks then you need to knead it more.
USE MILK OR MILK POWDER : 3 tbsp Milk Powder + ¾ cup water  gives ¾ cup milk.
TIME AND QUANTITY : The buns in this recipe are cooked in top to bottom setting with oven rack in the middle position. Cooking time is 18-20 minutes. All oven temperatures vary and so the cooking time too. This recipe makes 9 buns.
MEASURING TOOLS USED : 240 ml cup, 15 ml tablespoon and 5 ml teaspoon.