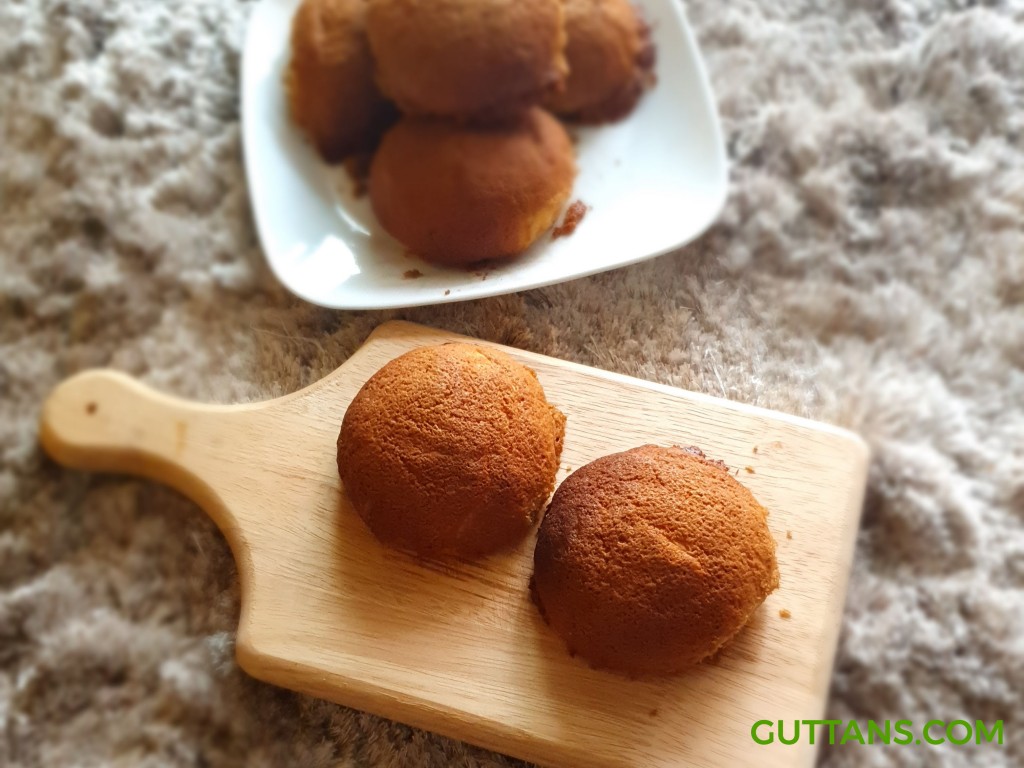 Mexican Coffee Buns or Pappa Roti or Rotiboy is a soft bun, with butter filling and sweet coffee crust topping, famous in Malaysia & Singapore.
DOUGH INGREDIENTS
Plain Flour – 3 cups (360 g)
Corn flour – 3 tbsp (20 g)
Sugar – ¼ cup (50 g)
Instant Yeast- 2 tsp (6 g)
Milk – ½ cup (120 ml)
Fresh Cream – ½ cup (120 ml)
Egg – 1
Butter- 3 tbsp (45 g)
Salt – ¾ tsp
COFFEE TOPPING
Plain Flour – ¼ cup (70 g)
Icing Sugar – ¾ cup (70 g)
Cocoa Powder – ¼ tsp
Instant Coffee – 1.5 tbsp
Butter – 7 tbsp (100 g)
Egg – 1
GREASING & FILLING
Vegetable Oil / Butter – 2 tsp
Cold Butter – About 50 g, cut into 12 cubes, approx. 4-5 g each
DIRECTIONS
Make Dough : In a mixing bowl, combine and whisk together the flour, sugar, cornflour and yeast. Make a well in the center of the flour mix and add milk, cream and egg and knead till all the flour comes together into a ball of dough. Add the butter to the dough, half a tbsp at a time and knead. Finally, add salt and knead to a smooth dough. Usually, the kneading process takes about 4-7 minutes in a mixer, 12-15 minutes by hand and 1-5 minutes in a food processor. Do the windowpane test to see if the dough is ready. (How to do windowpane test? See Guttans Tips as given in Pav Buns Recipe). The dough should pass the windowpane test.
Proof Dough : Grease a large bowl with a tsp of vegetable oil/butter, transfer the dough to the bowl and cover the bowl. Leave the dough covered for 1 hour to 1.5 hour to rise to double size. Deflate and knead the dough for another minute until it makes a smooth dough ball.
Shaping : Divide and scale dough equally into 12 equal pieces (60g each). Lightly shape into round balls. Next, flatten bun dough in your palm, and stuff a piece of butter cube, wrap it up, pinch edges together, seal and shape into round ball. Use your thumb and index finger to create a base for the dough so it looks likes looks like cupcake.
Proof the Buns : Line a baking pan with parchment paper and keep the shaped buns with wrapped seam side down. Loosely cover the buns with a cloth to proof. Let the buns rise for about 30 minutes and in the meantime, pre-heat the oven to 190-200 deg C
Coffee Topping : In a mixer bowl sift together flour, icing sugar, cocoa powder, instant coffee, add butter and egg. Beat for 2 minutes until ingredients are completely mixed. Don't overbeat, the topping should be creamy and soft, so just mix well. Keep the frosting inside the fridge to prevent it from being softened or getting melted.
Piping the topping : Transfer frosting to a pastry bag and pipe over the buns right before baking. Cut off the top of the piping bag, pipe over buns in concentric circles, start from the middle and pipe a circular swirl outward. Only cover about ½ – ¾ of the bun's top surface, the topping will melt and cover the rest.
Baking and Decorating : Bake for 15 – 20 minute until the top crust turns golden brown and crispy. Cool it for 5-10 minutes before serving or until the cookie crust becomes crispy. Decorate or pipe filling inside if needed. Decorate with Nutella, butterscotch, icing powder etc..
GUTTANS TIPS
SALT AT END : WHY ?? : Adding salt along with instant yeast can weaken the yeast's activeness. So add salt after combining all other ingredients in the dough.
SECOND PROOFING – Once the bun has risen by about 75-80% (by about 30 minutes) take out and start the coffee piping. Buns will finish 100% proofing while we do coffee piping on top. So total 45 minutes for second proofing.
TIME AND QUANTITY : The buns in this recipe are cooked in top to bottom setting with oven rack in the middle position. Cooking time is 15-20 minutes. All oven temperatures vary and so the cooking time too. This recipe makes 12 buns.
MEASURING TOOLS USED : 240 ml cup, 15 ml tablespoon and 5 ml teaspoon.
Made this buttery, soft Mexican Coffee Buns Recipe inspired by my friend, Divya Ratheesh Mathew and adapted from Mexican Coffee Buns Recipe By Indulgence By Shazneen.