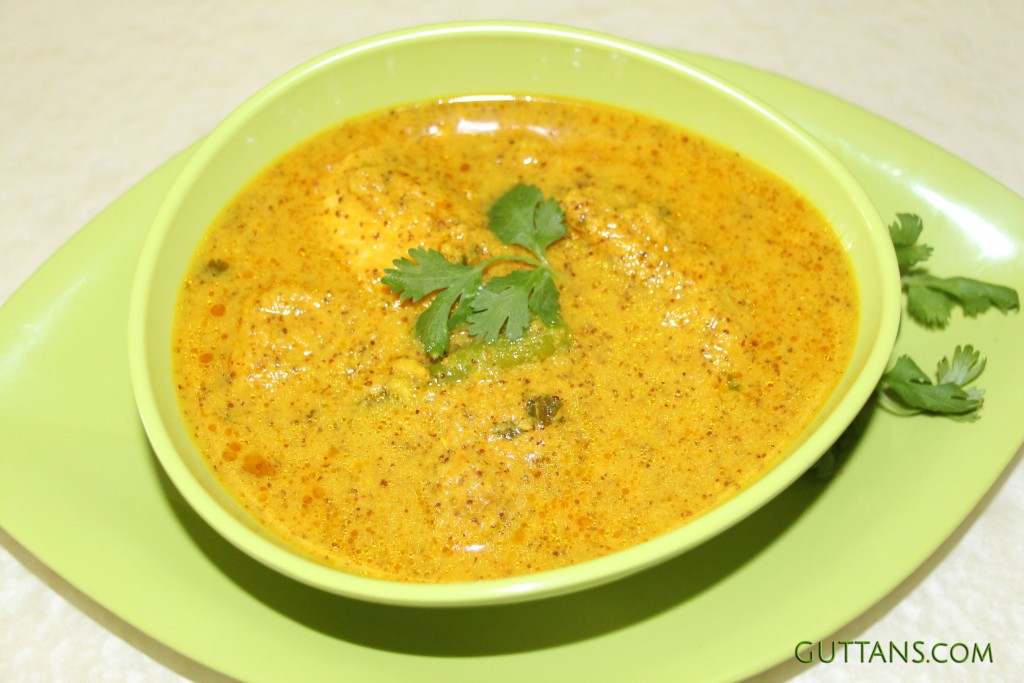 Mustard Fish Curry is robust and delicately sour with tomato, raw mango and spices.  This is mildly spicy, little pungent and cooked in mustard paste. The fish is really tender and soft having absorbed the wonderful flavours of the gravy and is best served with steamed rice.
INGREDIENTS
Fish – 500 g (firm variety)
Green Chillies – 1-2 or to taste
Raw Mango – 6-8 pieces
Turmeric Powder – 1 tsp
Red Chilli Powder – ¼  tsp or to taste
Cumin Powder – ½ tsp
Coriander Powder – ½ tsp
Ghee – 1 tsp (optional)
Mustard Oil – 2 tbsp
Salt – ½ tsp or to taste
Hot Water – 2  cups
Coriander Leaves – 2 tbsp
MARINADE
Turmeric Powder – ¼ tsp
Salt – ¼ tsp
GRINDING
Onion – 1 large ( 4 tbsp paste) (or 20-24 medium shallots)
Tomato – 1 large (4 tbsp puree)
Garlic – 7 to 8 large cloves (1 tbsp)
Ginger – 1 tbsp (1.5" inch piece)
Mustard Seeds – 1 Tbsp
Green Chilli – 1
DIRECTIONS
Soak the mustard seeds in water for 30 minutes or more. Marinate fish for 30 minutes with ¼ tsp of turmeric powder and ¼ tsp salt.
In a grinder make coarse onion paste (4 tbsp coarse paste). Grind ginger and garlic to a fine paste (2 tbsp fine paste). Puree the tomato (1 large tomato makes 4 tbsp puree). Grind green chilli and mustard seeds to a fine paste and keep aside. Make all these pastes separately.
Heat mustard oil in a pan till it reaches the smoking point. Fry the pieces of fish till each one is golden on both sides. Remove onto a paper towel lined plate and keep aside. In the same oil, add ground onion paste and fry till golden brown. Add ginger garlic paste and fry well. Once done, add tomato puree and fry until the oil separates from the mixture.
Next add cumin powder, chilli powder, turmeric powder, coriander powder and salt and saute for 1-2 minutes. Add mustard paste, fry for a while. Once done, add two cups of hot water (add more water if needed), raw mango pieces and salt and mix well bring it to rolling boil for 1-2 minutes.
Dunk the fried fish in the gravy and coat it with the mixture. Swirl the pan in such a way that all fish pieces are immersed in the gravy. Increase the flame and again bring to boil.
Once it's boiled, cover and cook for 5-7 minutes on low flame. Uncover, add ghee and continue cooking for few more minutes till it reaches desired consistency.
Garnish with fresh coriander and green chillies. Serve hot with rice or roti.
GUTTANS TIPS
MANGO PIECES : Peel and slice the mangoes lengthwise (cut into 2″ long ½" wide strips). Mango is added in small quantity as an optional ingredient as the curry uses tomato for the sourness. Mango makes the fish curry more tangy and sour. Usually, tomato or tamarind or raw mango is used to make sour fish curry. Mangos can always be replaced with tamarind water or lime/lemon juice.
MUSTARD SEEDS : Mustard used in this recipe is black mustard seeds. This can be replaced with yellow mustard seeds. Also, it can be taken as a mix of ½ tbsp black mustard seeds + ½ tbsp black mustard seeds too.
MEASURING TOOLS USED :  240 ml cup, 15 ml tablespoon and 5 ml teaspoon.
Fish Curry with Mustard (Maacher Jhol) is a very popular and authentic fish recipe of Bengal (recipe credit goes to my friend, Mona Mukherjee). This recipe is cooked in a typical Bengali style with mustard oil, green chillies and other spices. It goes well with hot steamed rice.