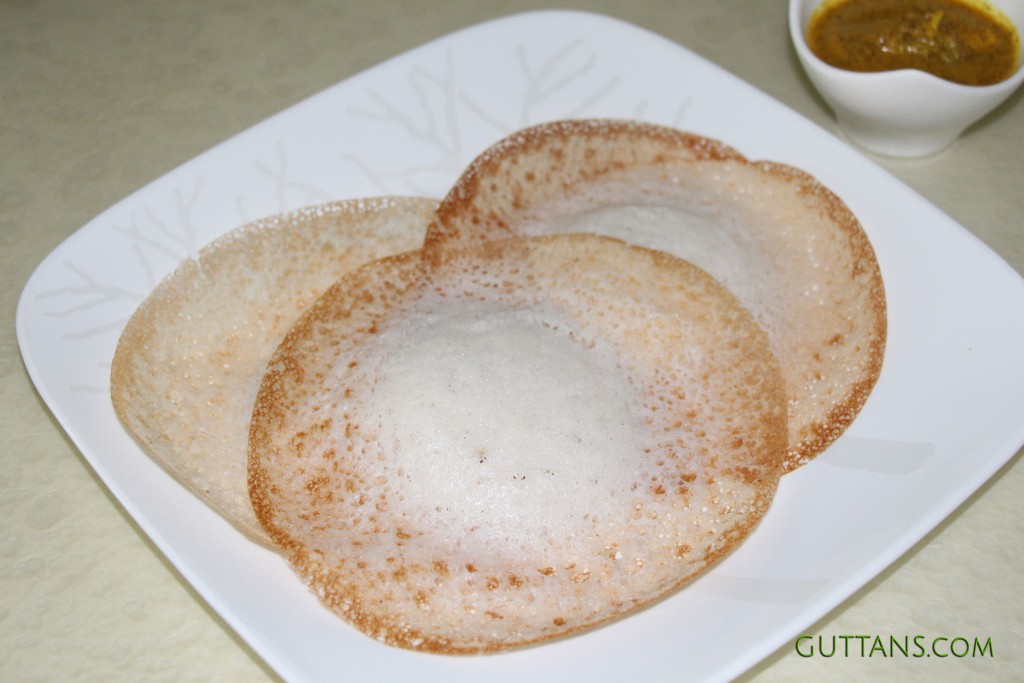 Kerala Appam Recipe. Palappam Recipe – Lacy Rice Pancake – made with rice and coconut.  These white lacy pancakes have a crisp side with an airy, soft on touch, fluffy center.  Lacy Rice Pancakes or Appam or Palappam is usually served with a range of sides like vegetable stew, chicken stew or chickpea curry.
INGREDIENTS
Raw rice – 2 cups *
Cooked Rice – 1 cup
Grated coconut – ½ cup
Yeast – 1 tsp
Cumin – ½ tsp
Water – 1 ½ cups + ¼ cup **
Sugar – 2 tbsp
Salt – ¼ tsp
DIRECTIONS
PREPARING BATTER
Wash the rice well for two-three times in running water. Soak raw rice for 8 hours in enough water. Drain the rice and grind it along with grated coconut, cooked rice, yeast, cumin (jeera) and 1 ½ cups of water in a wet grinder or mixer grinder to get a smooth fine paste. [Another method of soaking and grinding – Soak in 2 cups water, grind rice in the soaked water. After soaking, it yields only 1.5 cups water]
Cover, the batter bowl, with a lid and keep it in a warm place. Leave batter untouched for at least 8-10 hours (overnight) for fermentation. After the rest, the batter would have doubled. The batter would be foamy after fermentation.
MAKING APPAM
To make appam, add salt, sugar and ¼ cup water and mix well and keep aside for about 1-2 hours for second fermentation. Once the batter ferments and rises, it is ready to make appam. Mix well but do not over beat the batter.
Heat the appam pan on medium flame. Smear the pan with a drop of oil. Use a tissue to grease the pan all over. Preferably sesame oil, but any kind of oil should work. Lower the flame, pour a ladle (60ml ladle) full of batter in the center of the pan.
Hold the two handles of the appam pan, lift the pan (off the flame of the stove) and quickly twirl the batter in a clock wise direction so that the batter spreads out in a circular shape. The remaining batter will come and settle in the center of the pan.
Place back the pan on stove, cover with lid and cook on medium high flame for about 1-2 minutes. Covering with a lid is important as the steam from it will help the center part to get cooked. Check after two minutes. Once the sides are crisp, remove and serve. Continue to cook with lid for a little while longer for browner edges. The appam is ready when the sides start sticking off from the pan. Serve warm appam with vegetable or chicken stew or chick pea curry.
 GUTTANS TIPS
* RICE VARIETY : Appam can be made with white raw rice or basmati rice or ponni rice. Traditionally, regular white raw rice (pachari) is used to make appam or palappam than basmati or any other variety. 1 cup dosa rice (raw rice) and 1 cup idli rice (parboiled rice) combination gives good texture and softness for the appam.
** WATER OR COCONUT WATER : If the rice is rinsed well and soaked, soaking water can be used for grinding. In that case, add 2 cups of water for soaking. That yields 1.5 cups water after soaking. Adding coconut water with the appam batter enhances taste. If you are adding coconut water, add only a pinch of yeast. As fresh coconut water is not easily available, always it can be replaced with water.
SUGAR : Adding sugar while grinding the batter could lead to over fermentation, which will make the batter loose its sweetness.  Sugar fully activates the yeast and cause batter to rise further during second fermentation. Sugar and yeast together gives spongy and fluffy texture for appam.
BATTER CONSISTENCY : To make appam, extra ¼ cup water is added to make it to pouring consistency. This batter, made with 1.5 cups of water, can be used to make vellayappam or appam dosa (round thick pancake made in flat tava or pan).
GOLDEN LACED EDGES : Appam can be made as golden, lacy edges, around the sides. Just be patient and cook little longer.  Adding 3-4 tbsp sugar helps to get the golden laced appams. The sugar quantity can be adjusted to 2 tbsp to reduce the appam's sweetness and to make it in white colour.
CRISPIER EDGES : For more crispier side edges, add ¼ tsp baking soda to the batter. Add and mix it just before making. Don't add baking soda and keep it longer.
FERMENTATION : For proper fermentation, normal room temperature is very important. Fermentation always depends on the climate. During winter, or in a cooler climate, keep the batter in the oven for fermentation. For that, moderately preheat (150 degree C) the oven for five minutes. Turn off the oven. Keep the batter in oven with the door closed.
RISING : The batter can spill while rising, so always use a large container that can hold double to triple quantity of batter. Also, keep a tray under the large container to prevent the possibility of over risen batter, spilling out.
SWIRLING : Do not oil or grease the pan heavily. This will usually cause the batter to run all over the pan while swirling, instead of sticking to the pan. This can also happen if the pan is not hot enough. After swirling, there should be more batter in center, as the middle part is soft and spongy. Always, make sure that the pan is not too hot or cold. If it is too hot, the appams will not hold their shape and if too cold, the lace does not form properly. Twirl only once. If you make two twirls, the edges get too thick and you won't form proper laces. Swirl the pan to spread the batter towards the sides of the pan. Rotate it clockwise so that the batter is spread evenly to all side of the pan. There will be more batter in the center than the sides, which is fine. The batter, settled in the middle gives soft and spongy middle part for the appam.
STEAMING : While cooking, do not lift the lid of the appam pan many times to check if appam is ready. This will prevent proper cooking of the appam in steam. It needs, a minimum of 1-2 minutes to get cooked on medium high flame. There is no need to flip the appam to cook the other side.
APPAM PAN : Appam Pan or appachatti is a type of kadai or wok, with lid, that is specially used to make appams. It is a rounded non-stick pan with lid.
KEEPING LONGER : Batter can be stored in the refrigerator for up to 3 days and use when required. Take out the batter two hours before cooking. Add sugar, salt and water and keep for second fermentation. After two hours, batter will rise. Also, these two hours will bring the batter to room temperature before cooking.
APPAM WITH IDLI DOSA BATTER : Mix 4 cups idli dosa batter + ¼ cup thick coconut milk + ½ tsp yeast + 2 tbsp sugar. Keep for 1-2 hours until doubled. Add 2 pinches of baking soda instead of ½ tsp yeast to make it quickly.
MEASURING TOOLS USED :  240 ml cup, 15 ml tablespoon and 5 ml teaspoon.
Kerala Appam Recipe – Lacy Rice Pancake – is a bowl shaped thin pancake made from fermented rice batter. This shape is from the appachatti or appam pan (special pan for making this pancake) in which they are cooked. Appam is a famous dish from the Kerala, South Indian cooking. Appam or palappam can also be served with side dishes like egg curry, vegetable korma,  dry coconut chutney or sweetened coconut milk.